An Oasis in the Desert: Tianti Bookstore Opens in Hong Kong
Sept. 25, 2020 | By Minghui correspondent Huang Yusheng
(Minghui.org) Tianti, a bookstore specializing in Falun Dafa books and audio-visual materials, opened its first Hong Kong branch on September 19, 2020. Local residents, business leaders, and a singer came to celebrate the store's grand opening.
Falun Dafa, also known as Falun Gong, is a meditation system based on the principles of Truthfulness-Compassion-Forbearance and has five sets of gentle exercises. Introduced to the public by Mr. Li Hongzhi in 1992, it is now practiced in over 100 countries by more than 100 million people. The book containing the main teachings of Falun Dafa, Zhuan Falun, was a best seller in mainland China in 1996 and has since been translated into more than 40 languages.
The first Tianti Bookstore opened in New Jersey in November 2007 to provide Falun Dafa books to people from all walks of life. The Chinese characters that comprise the store's name mean "Ladder to the Divine." Tianti currently operates online at Tiantibooks.org and has branches in New York, South Korea, Sydney, Melbourne, and now Hong Kong.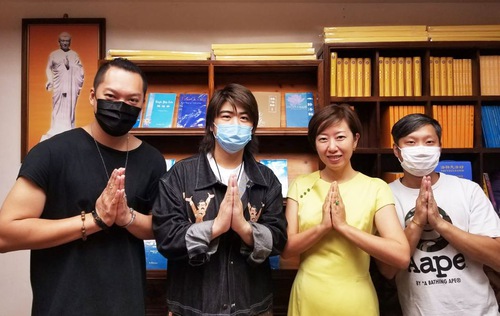 Renowned singer Tommy Yuen (second from the left), Explorer Fusion Restaurant Operations Director Li Juncheng (far left) and Executive Chef Tan Zhiyuan (far right), and Tianti bookstore manager Liang Zhen (second from the right) celebrate the opening of the Tianti Bookstore in Hong Kong.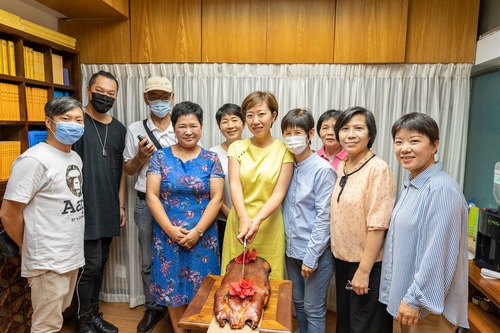 Local residents and staff members join the celebration
A Window of Hope
Given the complicated situation in Hong Kong, Tianti is like a desert oasis, explained Liang Zhen, Hong Kong Falun Dafa Association coordinator and the bookstore's branch manager. Located in the Star House building in Tsim Sha Tsui, a popular shopping and tourist district, the store is adjacent to other renowned bookstores, making it convenient for people to visit.
"For the past 21 years, practitioners in Hong Kong have joined in sharing the beauty of Falun Dafa with communities and raising awareness of the persecution in mainland China," Liang said. The Chinese Communist Party's (CCP) recent adoption of the national security law in Hong Kong has led local residents to witnessing the human rights violations expanding out from mainland China.
The new developments in Hong Kong, coupled with the ongoing coronavirus pandemic, have opened people's eyes to how deceptive the CCP really is.
"People are more eager than ever to find out about Falun Dafa, especially its benefits for the mind and body, hoping to find a path towards health and peace," Liang said.
Renowned Singer: A Place of Serenity
Tommy Yuen, a renowned singer in Hong Kong, joined the grand opening. "Thank you for providing this opportunity, so that people will have a chance to learn about Falun Dafa instead of blindly following the CCP," he said.
Having witnessed and supported the democratic movement in Hong Kong, Yuen said more people are now aware of the CCP's brutality and lies. He praised the factual and timely reporting by the news media run by Falun Dafa practitioners and said he looked forward to seeing the public gain more understanding of the practice through the bookstore.
Even the name of Tianti ("tian"=divine, "ti"=ladder), provides a feeling of peace, security, and inspiration, he said. "I strongly recommend people come here and get a book to read. Even reading a few minutes a day would help a lot," he said.
After Liang gave an introduction to attendees about the bookstore, Yuen said he likes the following poem from Mr. Li Hongzhi (the founder of Falun Dafa) very much and read it in Cantonese:
The Great Law looks at a person's heartThe world's people would do well to rouseDivinity, human, ghost, animal, disintegration—The position is decided by oneself("Untitled", Hong Yin Vol. II)
Restaurant Executives: From Sympathy to Support
Explorer Fusion Restaurant Operations Executive Li Juncheng and Executive Chef Tan Zhiyuan also attended the celebration.
Li said he had seen Falun Dafa practitioners introducing the practice to pedestrians during his childhood. "I felt sorry for them because the persecution in mainland China is so bad," he recalled. Other than feeling fear and sadness, he did not know how to help. Now the bookstore has given people a place to gain more of an understanding of Falun Dafa.
Tan also said he is inspired by practitioners' courage to safeguard their faith. "As the name Tianti explains, I hope more people will be better citizens and fulfill their aspirations of helping society," he explained, "This bookstore will help a lot with this and the books are really good too."
The Suppression Is Heartbreaking
Huang, 76, came from Cheung Chau for the event. He said the practice is very good, and he would like to buy some books to show his support.
He knew a lot about the persecution in mainland China and said what practitioners have suffered there for their belief is heartbreaking. "Especially forced organ harvesting, it is such a horrible crime," he said.
"The practice is great and from what I hear, it makes one a good person and improves physical health. Please keep it up," he said.
With the Mid-Autumn Festival, also known as the Moon Festival, around the corner, Huang sent his best regards to Mr. Li Hongzhi, the founder, and wished practitioners well.