Guangdong Woman in Serious Condition after Another Arrest for Her Faith
Aug. 4, 2020 | By a Minghui correspondent in Guangdong Province, China
(Minghui.org) A Zhuhai City, Guangdong Province, resident is incapacitated and in serious condition after over one year of detention for her faith in Falun Gong, a spiritual and meditation discipline that has been persecuted by the Chinese communist regime since 1999.
Ms. Zhang Yuzhen was seized by the police in a group arrest of twelve practitioners on July 12, 2019. She held several hunger strikes to protest the persecution at Zhuhai No. 1 Detention Center and was subjected to physical abuses. More details about her situation remain to be investigated.
Four of the other eleven practitioners are also still in detention. Three of them have been sentenced to prison, with Ms. Wang Zhijun for 3.5 years, Mr. Lin Wuyong for one year and two months, and Ms. Zhu Qing for one year. Mr. Wang Weibin is facing indictment. Mr. Lin developed some medical conditions while in custody and was hospitalized around March 2020.
Mr. Fan Huaming's current situation is unknown. The remaining six practitioners have been released after being detained for various lengths of time. Mr. Li Liuguang and his wife Ms. Li Jianqing were released after two days of detention; Ms. Li Sujuan and Ms. Zhang were detained for 15 days; Ms. Su Xianghong, nearly 80, was released after the police dismissed her case due to her advanced age; Mr. Jin Yuan was released in March 2020 after eight months of detention.
Prior to her latest arrest, Ms. Zhang, a native of Jianxian County, Jiangxi Province, was sentenced to six years in November 2000 for going to Beijing to appeal for Falun Gong.
While serving time at the Jiangxi Province Women's Prison, she was hung up by her wrists behind her back for 11 hours on September 19 and 3 hours on September 20, 2005. Her arms became disabled. She is still unable to completely extend her arms, make a fist, or extend her fingers. She also suffers from wrist drop, a condition in which the person cannot extend their wrist, and it hangs limply. Her upper limbs hurt and her hands quiver constantly, and she has occasional sharp pains in her chest, neck, and shoulders.
When her prison term expired, the authorities directly sent her to Jiangxi Province Women's Forced Labor Camp on November 10, 2006, and gave her three more years. She was released on November 9, 2009.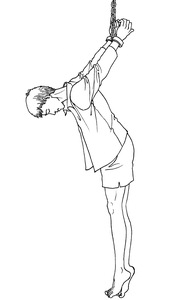 Torture illustration: Hung by wrists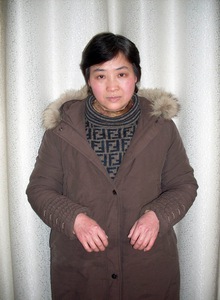 Ms. Zhang after her arms became disabled
Ms. Zhang was arrested two more times, in May and October 2010, and detained briefly for talking to people about Falun Gong.
She was sent to a brainwashing center on March 18, 2011, and held there for three months. She held a hunger strike to protest the arbitrary detention and was force-fed. The officers twisted her arms behind her back and tied up her thumbs, which caused further damage to her already disabled arms.
Related reports:
Ms. Zhang Yuzhen Disabled as a Result of Nine Years of Torture and Imprisonment
Ms. Zhang Yuzhen from Nanchang City, Jiangxi Province Sentenced to Forced Labor After Six Years of Illegal Imprisonment
Ms. Zhang Yuzhen's Arms and Hands Disabled from Torture
Related article in Chinese: