Japan: Practitioners Peacefully Protest 21-Year Persecution in Front of the Chinese Embassy
Aug. 1, 2020 | By a Falun Gong practitioner in Japan
(Minghui.org) Twenty-one years ago, on July 20, 1999, the CCP (Chinese Communist Party) initiated the persecution of Falun Dafa, a peaceful self-cultivation practice. Practitioners around the world hold various events every year to commemorate fellow practitioners who have died due to this persecution. Practitioners distributed information and peacefully protested in front of the Chinese Embassy to remind people that the persecution is on-going and to protest the CCP's brutality.
Falun Gong practitioners from all round Japan not only held outdoor events to raise awareness of the persecution in their own areas, on July 18 and 19, 2020, they also went to railway stations and busy districts in their cities to distribute informational materials to local residents. On July 20, 2020, Falun Gong practitioners in Kanto peacefully protested in front of the Chinese embassy.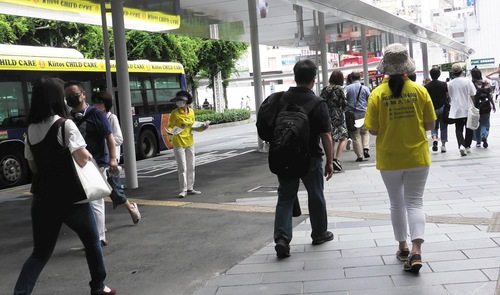 Practitioners distribute information at the Chiba Railway Station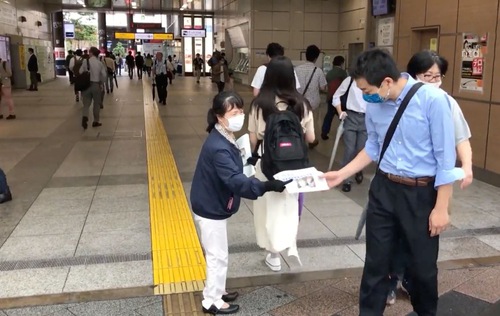 Practitioners distribute information about Falun Gong in front of the Akihabara Railway Station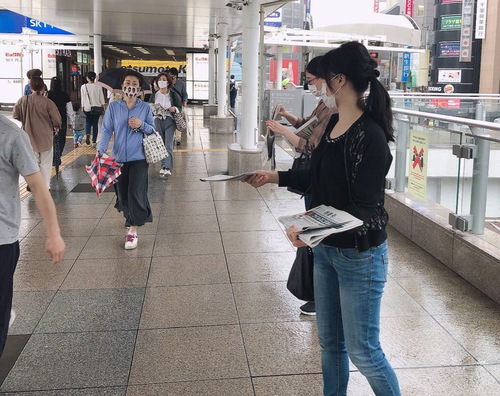 Practitioners distribute information about Falun Gong at the Tobu Railway Station
Daily Protest in Front of the Chinese Embassy for 21 Years
On July 20, practitioners came to the Chinese Embassy to take part in the protest activity from 10 a.m. to 5 p.m. Although practitioners have maintained a presence there every day, many more practitioners joined them to help raise awareness. One practitioner traveled 4 hours from Kumagayashi City in Saitama Prefecture.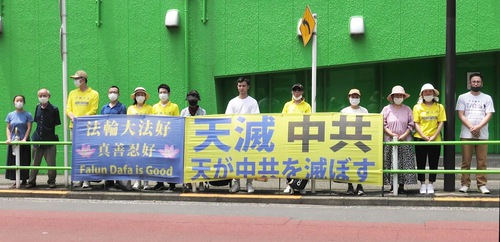 Practitioners peacefully protest the persecution in front of the Chinese embassy.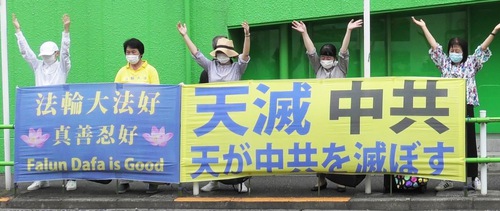 Practitioners took turns protesting and demonstrating the exercises, as the streets in front of the embassy were quite narrow
The Chinese embassy is located in Minato Ku district, Tokyo, and the streets are quite narrow. Practitioners took turns protesting in front of the embassy. The other practitioners went to the nearby park to do the exercises. They distributed materials to the policemen on duty and people in the area to tell them about the CCP and clarify the truth.
Japanese Practitioner: Hope the Persecution Ends Soon
This was the first time that Mr. Nakamura has participated in the protest in front of the Chinese embassy. He said that his wife, Yuan Yuan, is originally from Heilongjiang Province in China. Her father, an engineer, was persecuted to death in 2006 by the CCP for practicing Falun Gong.
Mr. Nakamura said that millions of Falun Gong practitioners are cruelly persecuted and some even lost their lives just because they were not willing to give up their belief in Truthfulness-Compassion-Forbearance. He hopes that more Japanese people will learn how wonderful Falun Gong is, and that the persecution ends soon.
Practitioners Describe How They Were Persecuted
Many of the practitioners who participated in this event were from China. Most of them were persecuted in China and escaped to Japan. Mr. Yang Guiyuan, a former professor at Southern Medical University (formerly known as Guangzhou Top Army Medical University), is one of them. He suffered many types of torture in the Guangzhou City No.1 Forced Labour Camp. The most cruel was having his entire body tied into a ball using ropes.
Mr. Zhou Bin was imprisoned and persecuted in the Shanghai Tilan Bridge Prison for 12 years and nearly died. Ms. Li Min worked in the Zhejiang Province Human Resource Department. Due to her belief in Truthfulness-Compassion-Forbearance, she was detained in the Zhejiang Province Women's Prison.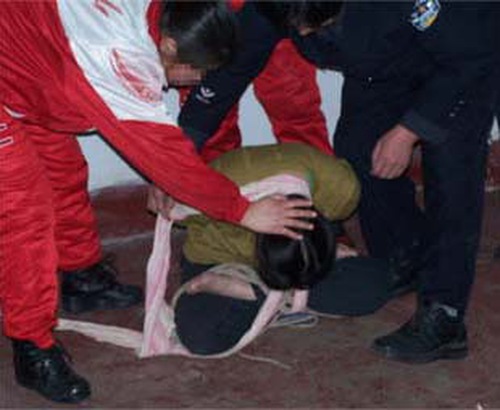 Torture Demonstration: "Tying a Person into a Ball"
Ms. Li Min said that there are many lessons in history where people suffered serious retribution for persecuting religious believers. She hopes that all Chinese people, including the emabssy's employees, can learn about the truth of the persecution of Dafa soon, and quit the CCP and its affliations so that they can have a safe future. Otherwise they may be held accountable for the CCP's crimes.
Up till July 17, 2020, there are already 3,655,302 people from 37 countries and areas worldwide, who participated in the criminal investigation procedure to bring Jiang Zemin to justice for his persecution of Falun Gong. In Europe, there are 29 countries which have participants, including Ukraine, Israel, Spain, Russia and Romania.