Taiwan: "Falun Dafa Is a Stream of Positive Energy"
July 4, 2020 | By a Minghui correspondent in Yunlin, Taiwan
(Minghui.org) Four hundred Falun Gong practitioners gathered at 228 Memorial Park in Gukeng, Yunlin County, to hold activities on June 28, 2020. They demonstrated the exercises and told people about the benefits of practicing Falun Gong (also known as Falun Dafa). Much to people's delight, the Tian Guo Marching Band gave several performances.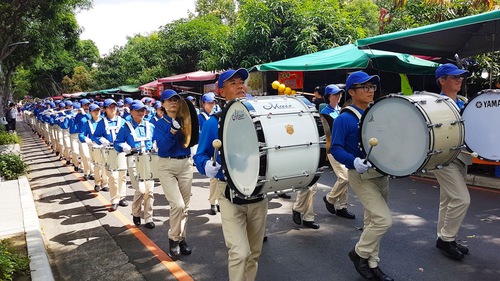 The Tian Guo Marching Band attracted tourists who gathered to listen and take photos.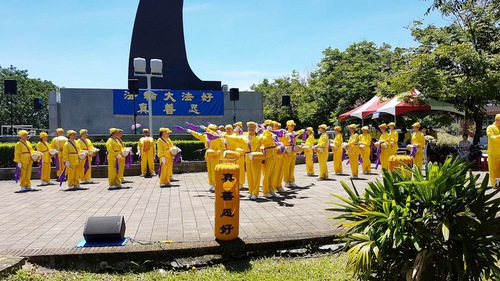 The lively Waist Drum Team performs. 
When the Tianyin Chorus also sang, several tourists took out their cameras to record them. As they listened, many asked for Falun Dafa fliers and little lotus flower keepsakes that practitioners were handing out.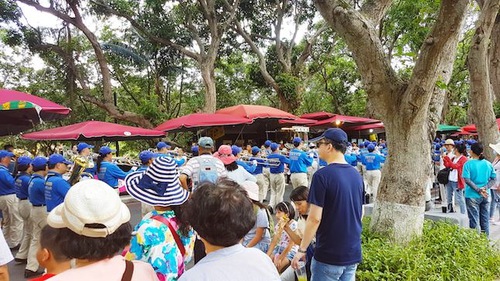 The Tian Guo Marching Band drew people's attention and added to the joyous atmosphere. 
A passerby praised the Tian Guo Band's performance, saying that it was uplifting and, "Carries a stream of strong and positive energy." Another passerby regretted not bringing his family, "I should have brought them here to experience such energy."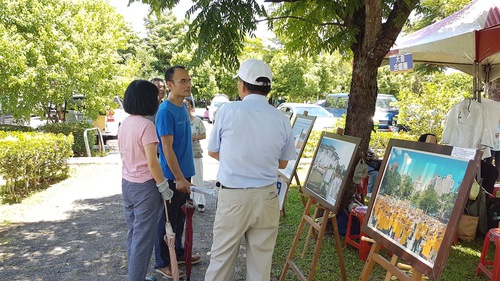 A practitioner talks to a passerby about Falun Dafa.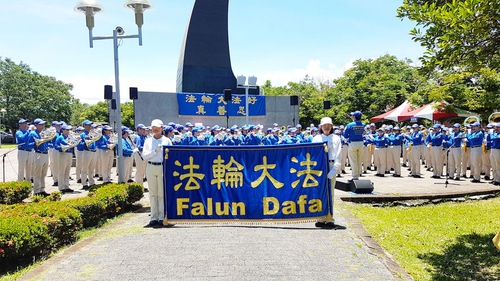 The Tian Guo Band's performances added to the celebrations. 
Learning to Read Zhuan Falun in Chinese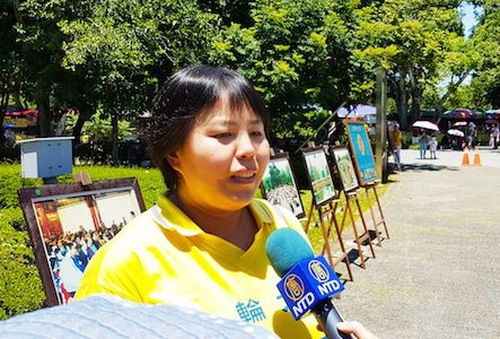 Ms. Gu Baojiao from Indonesia is Chinese. 
Ms. Gu Baojiao was born in Indonesia. She didn't know any Chinese before she came to Taiwan. She liked meditation, so a coworker introduced her to Falun Dafa and encouraged her to read the book Zhuan Falun, the main teaching. 
"I didn't know any Chinese, but the three characters Zhen-Shan-Ren (Truthfulness-Compassion-Forbearance) caught my attention. My coworker was very patient and read the book to me every day after work. The things in the book are amazing," said Ms. Gu. 
One day she picked up Zhuan Falun and began to read it. "I was able to recognize every character as I read. Unbelievable!" she said. 
"When Master Li talked about the universe, molecules, and particles, images came to my mind and I was able to understand what he was talking about. Master explained everything with those images." 
Within a year, she finished reading all of Master's books. 
Before learning Falun Gong Ms. Gu's life was meaningless. "After I became a practitioner, I was able to look at many things based on Truthfulness, Compassion, and Forbearance. The reasons why things happened the way they did was so clear. Now I am able to let go of self-interest and my ego. I am not as bothered by conflicts. All these improvements came naturally as I practiced," she said. 
Following the principles of the practice, Ms. Gu gave her best at work and won the trust of her supervisor. 
Rediscovering Falun Dafa after 20 Years 
Ms. Fang Yingzhen became a practitioner in 2019. "I heard about Falun Dafa in 1999, when my husband and I were in China on business. The persecution prevented me from learning the practice."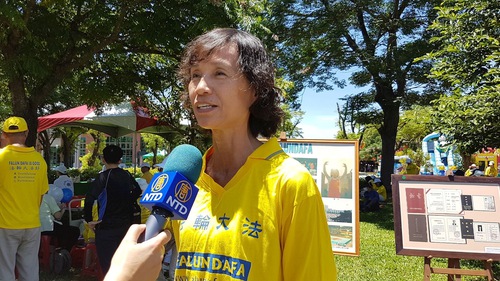 Ms. Fang Yingzhen. 
For 30 years, Ms. Fang explored different Buddhist teachings, but she still felt empty and insecure. "I kept looking and being disappointed. I wanted to find a righteous practice. I had many questions: 'Why are we here, who am I, and where am I going? Finally, I found Falun Dafa again."
She realized that Falun Dafa was nothing like any other practice she had tried. She said, "I was so happy I couldn't sleep. Why did I wait so long? I was unbelievably fortunate to have found the true way to cultivate. I finally knew why I was here. 
"The difficulties and sadness I always felt just dissolved once I studied the teachings. The power of Falun Dafa clears away all the negativity and uplifts my spirit. 
"My health improved. I am full of energy all day and I'm never tired after working all day," Ms. Fang said.