Florida: Vigil in St. Augustine Calls Attention to Communist Regime's 21-Year Persecution of Falun Gong
July 25, 2020 | By practitioners in Florida, USA
(Minghui.org) St. Augustine, Florida is America's oldest city, founded in 1565 by Spanish explorers. It is a popular tourist destination with a historic fort, impressive cathedral, interesting architecture, and nightlife. A park in the city center commemorates the Constitution of 1812 when Florida was not yet part of America.
Florida Falun Dafa practitioners held an event and vigil in the park on July 18, 2020, to let people know that the Chinese Communist Party has for 21 years been persecuting their faith in Truthfulness, Compassion, and Forbearance, the core teachings of Falun Dafa. All these years, practitioners in China have been harassed, fired from their jobs, beaten, and even tortured to death.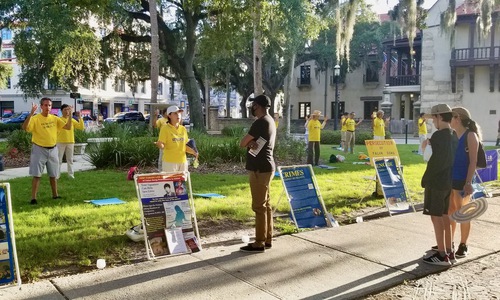 Large display boards showed Falun Dafa's introduction in the 1990s and how it benefited millions of people in both their health and relationships. Other display boards documented the start of the persecution, due to the jealousy of Party leaders, and how it quickly escalated into the arrests of large numbers of innocent men and women, young and old, simply for exercising together and believing in Falun Dafa. 
Passersby stopped to listen to practitioners explain why they were doing this and how important it is to understand the nature of the communist government, especially with the cover-up and spread of the virus that originated in Wuhan, China. Petitions were available to sign, and nearly everyone who read the display boards or spoke with practitioners signed in support of Falun Dafa's peaceful opposition to an unjust and unwarranted persecution.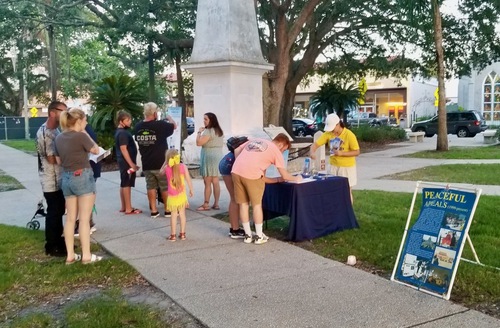 A young practitioner stood by the petition table and spoke very well on the nature of communism and how Falun Dafa practitioners suffer greatly to uphold their faith. An elderly Western practitioner, who had driven several hours to participate, was impressed and complimented the parents on raising their child with upright principles.