Finnish National Public Radio: China's Spy Activities in Finland Target Falun Gong and Other Groups
June 5, 2020 | By Falun Gong practitioner in Finland
(Minghui.org) Yleisradio (Yle), Finland's national radio company, published an article on May 21, 2020, outlining some of the ways the Chinese Communist Party (CCP) is spying on Chinese ex-pats inside Finland, titled "Under the Watchful Eye of China" (Kiinan Valvonvan Silmän). The report was produced by Kirsi Skön and published in both text and video format.
The report referred to these types of spy activities by a foreign power against its former or current citizens as "refugee espionage." In the article, Yle documented incidents of Chinese spies monitoring and harassing Falun Gong practitioners, supporters of the Hong Kong demonstrations, Tibetans, and Uyghurs living in Finland. The report said that these acts of spying are monitored by the Finnish Security and Intelligence Service (SUPO), also known as the Finnish security police. 
Similar grassroots infiltration by the CCP exists in other countries. Amnesty International Canada released a report in early May 2020 detailing how CCP officials and their subordinates have harassed Falun Gong practitioners, dissidents, and advocates for Chinese democracy in Canada.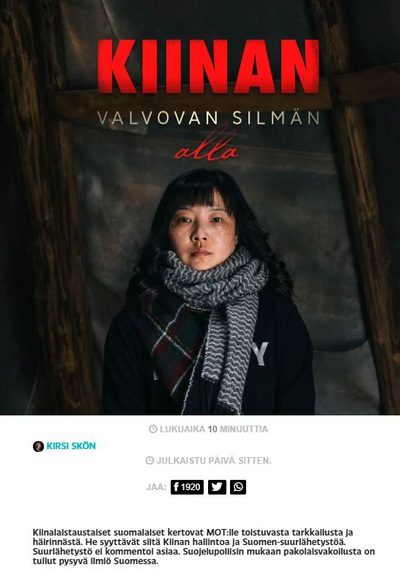 The Yle report on the Chinese Communist Party's influence in Finland
Yle reported on Ms. Jin Zhaoyu, a Falun Gong practitioner who has lived in Lapland in northern Finland since 2008. She campaigned in Finland against the human rights violations in China for years. Because of her peaceful activities, she has been on the receiving end of harassment by people affiliated with the Chinese Embassy in Finland. 
Yle noted that Falun Gong is a meditative practice that has been suppressed in China since 1999. Human rights organizations have found that practitioners have been imprisoned for their belief and thousands have died during the persecution. Falun Gong practitioners have been raising awareness of the suppression, especially the forced organ harvesting from practitioners in China. 
Because of her belief, Ms. Jin's mother was jailed for seven years, while Ms. Jin's younger sister fled to Finland through Malaysia and Thailand. "For several years, the daughters feared that their mother would no longer be alive," according to the Yle report. 
Yle said that Ms. Jin's efforts to rescue her mother and other detained practitioners garnered media attention. Ms. Jin's story was run in Helsingin Sanomat, the largest subscription newspaper in Finland. Amnesty International also showed support for Ms. Jin's rescue efforts and considered her mother a prisoner of conscience. 
After Ms. Jin's mother was released in 2015, she was able to join her daughters in Finland with the help of Amnesty International. 
Though five years have passed since her mother was released, Ms. Jin is still being harassed, the Yle report said. Her tourism company, which provides nature experiences, including northern lights trips and dog safaris, has been attacked by employees of mainland Chinese companies.
Of those companies, the largest one is Arctic China. "A couple of years ago, Zhaoyu heard from her customers that Arctic China employees had warned them not to do business with her," reported Yle.
Ms. Jin reported this to the police station in Rovaniemi, the capital of Lapland, and testimonies were collected from her clients in support of her defamation claim. Yle verified this claim with the police station. In one instance, a member of the board of Arctic China defamed Ms. Jin and her business on WeChat, a popular Chinese social media platform. 
Yle also contacted Arctic China CEO Tang Chao about the alleged defamation of Ms. Jin's business. Mr. Tang said he did not know Ms. Jin and ended the call. He did not reply to any of Yle's later attempts to contact him.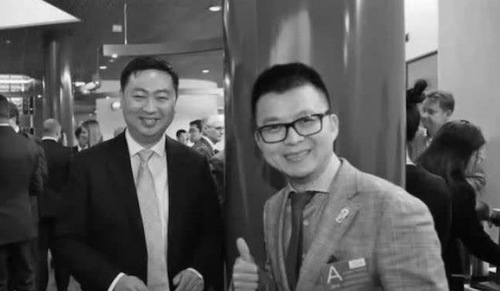 Arctic China CEO Tang Chao (right) with Chen Li, China's ambassador to Finland
The Yle report said that, according to the Chinese Embassy in Finland, Mr. Tang has been the contact person for the Chinese Consulate in Rovaniemi since 2017. Arctic China also represents the partially state-owned, partially publicly traded Chinese alcohol company Kweichow Moutai in Finland.
Refugee espionage is an intelligence activity in which a foreign power obtains information and pressures or threatens its own or former citizens living in Finland. Those targeted usually belong to dissident or persecuted groups.
As early as in 2012, the Finnish security police had proposed criminalizing espionage, according to Yle. New intelligence laws that became effective in 2019 have extended the investigative powers of Finnish authorities. 
Hong Kong Demonstration Supporters Targeted
Other cases of refugee espionage identified by Yle included Sheung Yiu, a photography student at Aalto University, who tried to organize an event in Helsinki to show support for Hong Kong's demonstrators. As soon as he posted the date and time of the protest on Facebook, the chairman of the Chinese organization "Finland Association for Promoting Peaceful Reunification of China" (FAPPRC) launched a counter-protest that supported the CCP. 
Mr. Yiu received a suspicious email from a university email address the evening after the protest. The sender claimed he was also from Hong Kong and wanted to meet up, but Mr. Yiu suspected the message was from a Chinese spy. He forwarded the email to the university's IT department, and they verified that, although the email looked like it was from a university student, it was sent from a fake email address. 
Back in March, Yle reported on the CCP's infiltration in Finland, including incidents of espionage related to FAPPRC. Finland's "Association for Promoting Peaceful Reunification with China" is one of more than 200 branches worldwide operating under China's United Front Work Department. 
Yle said FAPPRC's website says members of the group gather to "study [Xi Jinping's speeches] in-depth" to keep Chinese ethnicity "strong and prosperous forever" and they also "want the reunification to take place as soon as possible."
In 2017, Yle reported, a man was caught and fined for spying on Tibetan acquaintances living in Sweden.