Australia: Practitioners in Melbourne Express Gratitude for Falun Dafa
May 21, 2020 | By a Minghui correspondent in Melbourne
(Minghui.org) May 13 is celebrated every year by Falun Dafa practitioners worldwide. On this day 28 years ago, Master Li Hongzhi, the founder of the practice, first taught it to the public in Changchun, China.
This year, due to the Australian government's restrictions to control the coronavirus, practitioners in Melbourne were not able to gather and hold large-scale activities to celebrate the occasion. Instead, they sent photos and cultivation stories to the Minghui website to mark the event.
Practitioners both new and veteran expressed gratitude for the benefits they had gained through the practice. They feel it is an honor to be a Falun Dafa practitioner and are determined to practice cultivation diligently and save more sentient beings.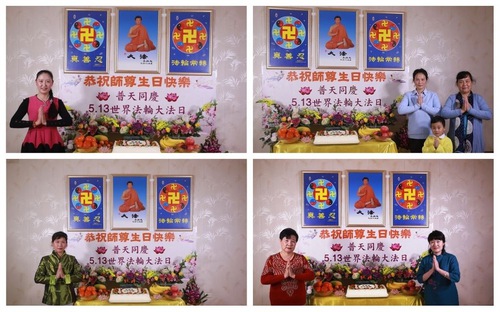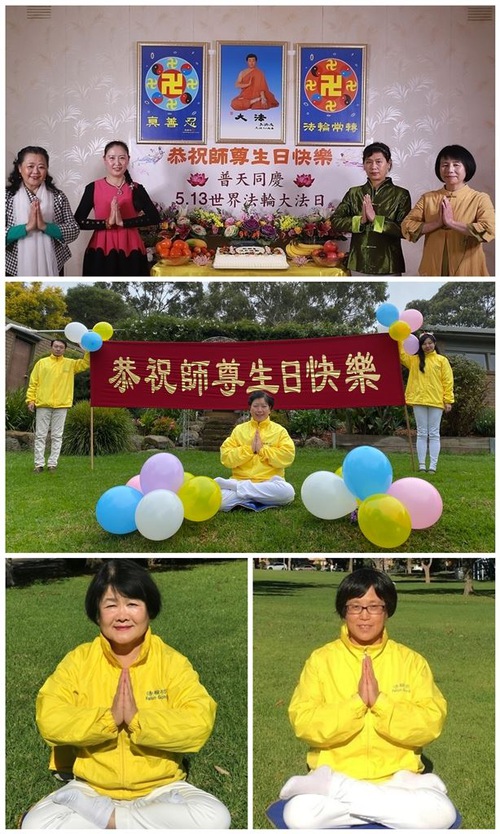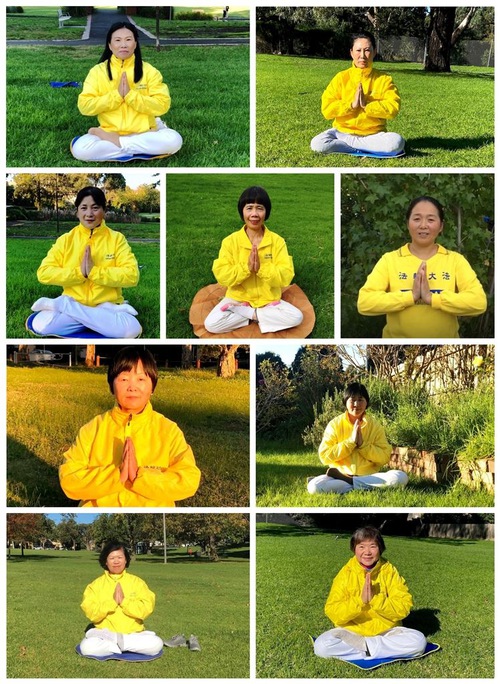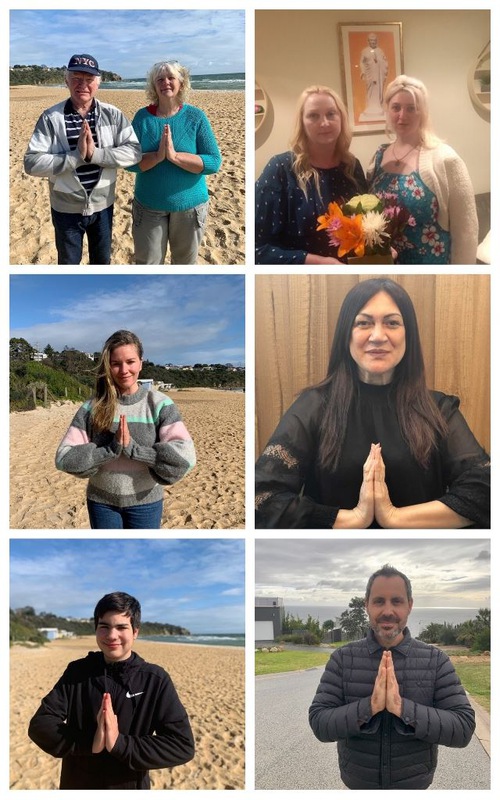 Melbourne practitioners celebrate World Falun Dafa Day and wish revered Master a happy birthday.
Finding Falun Dafa the Day After Praying to God
Mr. Liu has practiced Falun Dafa since 1995. After being tormented by a strange illness for a year, he prayed to God for help and miraculously found Dafa.
He recalled, "I don't know what it is, but I often felt as if someone was pressing against my chest with all their might. I couldn't breathe. On top of that, it seemed as if there were two knives churning in my stomach. My intestines felt as if they were being slashed. I was nauseous and had diarrhea. It was like that nearly every day. I went to the hospital many times, but the doctors did not know what was going on or how to treat it."
"I didn't want to live anymore, but my child was only one year old then. If I died, my family would be miserable. I decided to bear the pain day by day."
After more than a year, Mr. Liu thought of praying to God. He said, "One night in 1995, I lit incense and asked God to help me get better. The next day, my prayers were answered. I saw the main book of Falun Dafa, Zhuan Falun,and began to practice it."
Mr. Liu says he was reborn after practicing Dafa.
After the persecution of Dafa in China began, he posted information on the streets, handed out brochures, and later on went to Tiananmen Square to appeal for an end to the persecution. As a result, he was sentenced to one and a half years in a labor camp.
He and his family emigrated to Australia in 2013. Since moving to Australia, he has been going to tourist attractions to tell Chinese tourists about Dafa and the persecution. He also joined the Divine Land Marching Band and has taken part in many parades.
Western Practitioner: It is Wonderful to Practice Dafa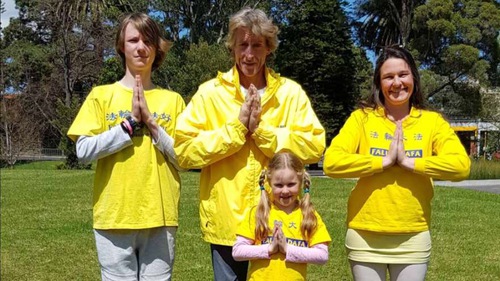 Dean Flynn and his family wish Master Li a happy birthday.
Dean Flynn says he has much to be thankful for: "I'm extremely grateful for Master's teachings. I used to be selfish and arrogant. I pursued material things to gain people's attention, thinking they will respect me then. But when I got what I wanted, my heart felt empty. We can't take away material things when we die, so what's the point of pursuing these things, then?"
He searched for answers for two decades, until one day in 2004. He said, "I found Falun Dafa that day, and my life was changed forever." His health improved tremendously after taking up the practice. He did not have to take medications anymore, and his eyesight returned to normal. "I learned to use the principles of Dafa–Truthfulness, Compassion and Forbearance–as guidance in everything I do. I did better at work and no longer did things for my own benefit. I felt fulfilled," he said.
His wife, Peta Flynn, said, "Words cannot express my gratitude towards Master Li. Dafa has given me and my family the opportunity to practice cultivation and improve our character. It is wonderful to practice Dafa. At times I didn't want to give up certain pursuits, but when I finally let go, I discovered that I didn't lose anything; instead, I gained something. I got rid of my shortcomings, and in return I gained wisdom and blessings."
"As parents, the best way to teach our children is to set an example. Falun Dafa guides me every day, teaching me to put into practice how to be a better person and at the same time setting an example for my children," she said.
Their eldest child, Reuben, is 13 years old. His mother took up Dafa soon after he was born. He said, "I feel lucky to be born into a family who practices Dafa. The teachings helped me overcome difficult situations, and I have become a more mature person."
Their seven-year-old daughter shares Dafa's goodness in her everyday life: "Kindness and forgiveness are beautiful traits. I share things with friends at school because Dafa teaches me to be a good person. I wish Master Li a happy birthday."
Vietnamese Practitioner: Words Can't Express My Gratitude to Master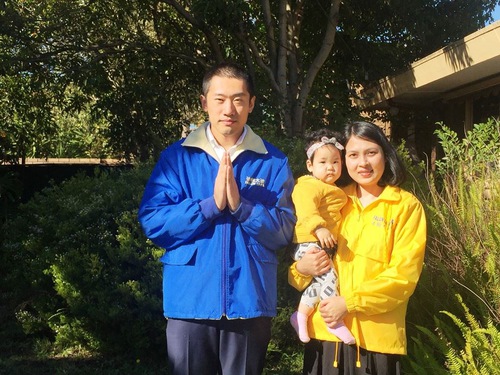 Vietnamese practitioner Hanna and her family wish Master Li a happy birthday.
Hanna from Vietnam began to practice Dafa in July 2017. She met her Chinese husband, and they now have a happy family. She said, "I am very grateful to Master Li. He taught me to be a better person and more. In the past, I did not know what was right or wrong because no one told me. I struggled to handle adversity and fought for petty gains. It was exhausting. Dafa gave me hope and helped me find purpose in life."
"I strive to live by the principles of Dafa in daily life. I often look at my own faults and try to apply the teachings in handling things."
Young Practitioner Returns to Cultivation
Ms. Yang, a young practitioner, counts herself lucky to be able to return to cultivation after moving outside China. She began to practice Dafa with her mother at the age of 11. A year later, the Chinese Communist Party (CCP) launched its persecution of Falun Dafa, and her mother was targeted for refusing to give up her faith.
"I often heard practitioners were either arrested or forced to leave home to avoid persecution. Police harassed us many times. Every time my family was persecuted, I felt as if it was the end of the world. Consequently, I was against my mother practicing Dafa."
Ms. Yang stopped practicing while studying at university and found a job in a different city after she graduated. "At that time, I thought I was still young and should focus on my career. I often worked late at night and did not have enough rest. My health deteriorated."
She chose to stay on after completing further studies in Australia. She got a job at a local Chinese media outlet. There were many young Falun Dafa practitioners in the company. She saw that these practitioners worked hard and none of them complained about the heavy workload.
"At my former workplace, coworkers fought with each other intensely. But in this environment, even if we have conflicts, everyone would look at what they've done wrong, and the matter would be resolved quickly," she said.
She knew this time she shouldn't miss the opportunity to practice Dafa again and resolved to be a diligent practitioner. She makes use of every opportunity to tell people about Falun Dafa.
She shared an incident. "One day I caught up with a friend over a meal. She brought up the topic of Falun Dafa, and I naturally told her I practice it. I then went on to clear up the misinformation she got from the CCP's propaganda. Two days later, she sent me a message saying she felt she had been deceived by the government for many years."
Ms. Yang has a simple message for Master Li: "Thank you, Master, for your compassionate salvation."