New England Practitioners Express Their Gratitude to Master and Respectfully Wish Him a Happy Birthday
May 21, 2020 | By a Minghui correspondent in Boston
(Minghui.org) May 13, 2020 marks the 28th anniversary of Falun Dafa's public introduction and the birthday of its founder, Mr. Li Hongzhi. Falun Dafa practitioners in New England were not able to gather or hold large-scale activities this year due to the coronavirus pandemic. Instead, most practitioners did the Falun Dafa exercises and studied the teachings near their homes to celebrate this historic day. They also expressed their gratitude to Master Li through paintings, poems and songs.
Video: Practitioners in New England respectfully wish Master a happy birthday!
Yolanda Smith began reading Zhuan Falun shortly after seeing Shen Yun Performing Arts in 2012 in Rhode Island. But she didn't know how to go about taking up cultivation. One day, her friend phoned her and said, "Master wants you to stop doing drugs... you're a practitioner." She said it was her wake-up call. "I started practicing right then. It was as if Master himself had said that to me."
She started to do the exercises, study the teachings and improve her character. She said, "Over the past eight years, Dafa has truly helped me rectify and let go of my unhealthy habits, negative mindset and immoral lifestyle..." She expressed her gratitude to Master, "Thank you, merciful and revered Master."
Joan Erickson from Massachusetts has practiced Falun Dafa for eight years. She said, "I felt the benefits physically, and even more I liked the spiritual connection and the idea of looking within to solve problems instead of blaming others."
She wrote a poem for Master and explained, "My poem, 'Shen Yun,' came about after seeing the performance many times over the years and each time having the same strong emotions—especially at the end with the tears and the feelings of connection and hope."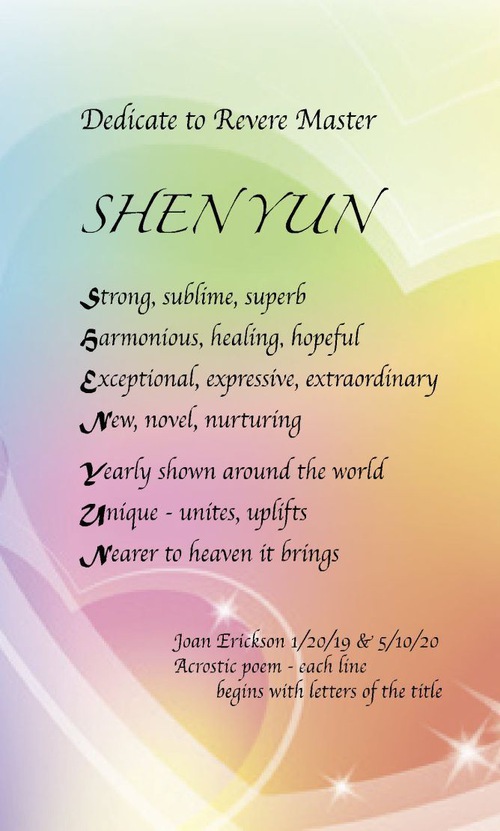 Joan Erickson from Massachusetts dedicated her poem, "Shen Yun," to Master Li to express her profound gratitude.
Artist Mary Byrom presented her watercolor painting to convey her gratitude to Master for his great benevolence.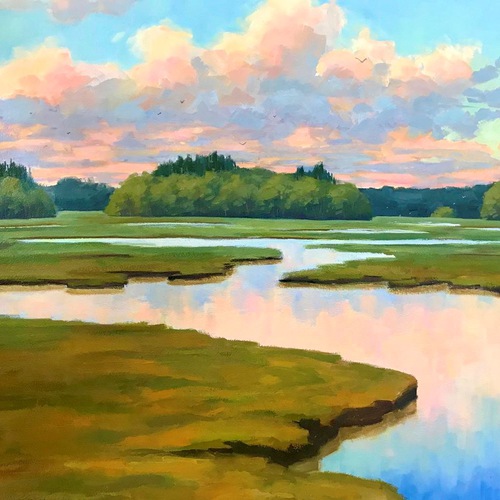 Mary Byrom sends birthday greetings to Master with her painting
She said, "I am extremely grateful to Master Li for everything he has given me and the profound wisdom of Dafa. I am aware of his mercy and benevolence every minute. Every day I think of one thing, cultivation, first; everything else is second. My priority is to see everything through the eyes of a cultivator. I am a landscape painter, and I try to capture the beauty of nature in my paintings. This peaceful and serene painting is like the feeling I have from practicing Falun Dafa. I send birthday greetings to Master Li with this painting to express my gratitude for his great benevolence."
Practitioners in New England present their greetings to Master. They are determined to be more diligent and steadfast in their cultivation, do the three things well, and help more people learn about Dafa and benefit from it.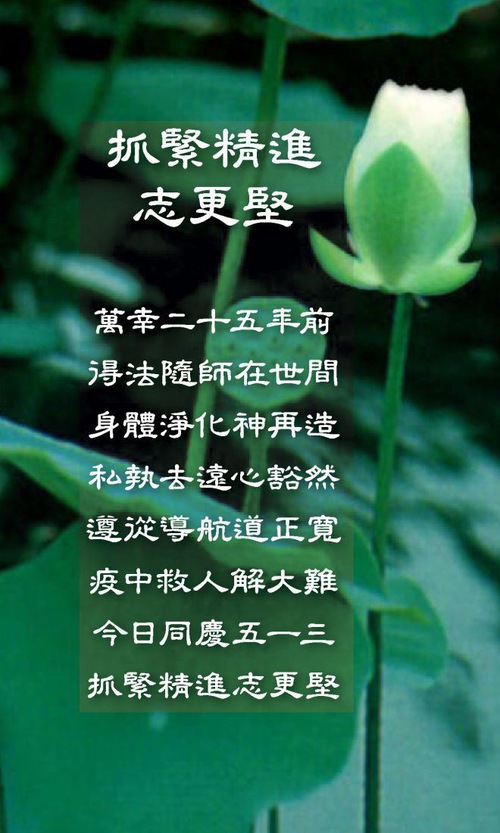 Greetings to Master Li from practitioners in Massachusetts