Taiwan: Elected Officials and Scholars Wish Master Li Hongzhi a Happy Birthday
May 21, 2020 | By Li Hui-rong, Minghui correspondent in Taiwan
(Minghui.org) May 13 is World Falun Dafa Day, which coincides with the birthday of Master Li Hongzhi, the founder of Falun Dafa. On May 13, 1992, Master Li introduced Falun Dafa to the public. This traditional mind-body cultivation practice has benefited over 100 million people in 100 nations.
Practitioners of Falun Dafa (also called Falun Gong) in Taiwan celebrated World Falun Dafa in many counties and cities. Legislators, representatives and scholars sent greetings to commemorate the event and wish Master Li Hongzhi a happy birthday.
Falun Gong Benefits Society
Su Zhi-yun, director of the Institute for National Defense and Security Research, said World Falun Dafa Day is an important day because it promotes the principles of Truthfulness-Compassion-Forbearance and highlights the freedom of religion enjoyed by countries not under the dictatorship of the Chinese communist regime.
"I want to express my greatest respect," said Su, "to the founder of Falun Gong and Falun Gong practitioners. You showed mankind wisdom and courage. I often traveled to foreign countries, and when I saw people practicing Falun Gong there, I felt a sense of stability and peace. Falun Gong [practitioners] cultivate mind and body, and they are considerate and kind to others. The practice can stabilize society."
He Cheng-hui, a researcher at Taiwan's Association for Strategic Simulation, said that Falun Gong practitioners maintain peace with great courage and wisdom despite the persecution and tyranny of the Chinese Communist Party (CCP). All who support democracy and freedom will support them, he said.
Chang Qi-lu from Taiwan People's Party said that Falun Gong is a positive civil group and has contributed to the improvement of moral and social ethics.
Respect for Falun Gong Practitioners' Exposing the Persecution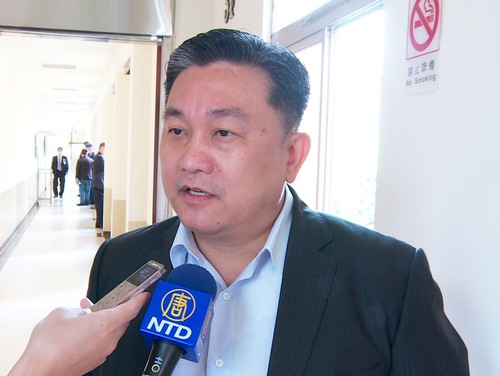 Legislator Wang Ding-yu thanked Mr. Li Hongzhi for introducing Falun Gong to the world.
Legislator Wang Ding-yu wished Mr. Li Hongzhi a happy birthday and thanked Falun Gong practitioners for demonstrating the principles of Truthfulness-Compassion-Forbearance in their daily lives.
Wang had seen Falun Gong practitioners persuading Chinese tourists to quit the Communist Party at many international airports. He said, "They don't have any government support, no resources, but they are opposing a massive Communist Party who owns a large state apparatus. Mr. Li Hongzhi is a great teacher. I am very fortunate to live in an era together with Mr. Li and his outstanding students."
Legislator Guan Bi-ling praised Falun Gong's contribution to human rights around the world. She noticed that many intellectuals practice Falun Gong and attach importance to morality and self-cultivation. She said that in practitioners "I see the power of kindness and compassion."
Li You-tan, a professor at National Chengchi University, said that he most appreciated Falun Gong practitioners' pursuit of truth. He said some faculty members at Chengchi University are Falun Gong practitioners. "They are healthy, energetic, and courageous. They do their best to expose the CCP's persecution [of Falun Gong]. I truly respect them," he said.
Legislator Zhao Tian-lin thanked Master Li Hongzhi and Falun Gong for helping many people regain their health. He said, "Falun Gong benefited a lot of people in Taiwan. Falun Gong practitioners also participated in many art and cultural events. We express our gratitude."
"Truthfulness-Compassion-Forbearance" Is for Everyone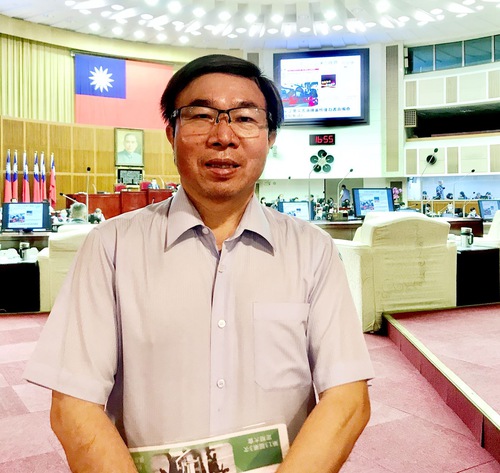 Councilman Mr. Chang Mao-nan of Taipei
Councilman Chang Mao-nan of Taipei said Falun Gong's principles of Truthfulness-Compassion-Forbearance should be praised and followed by the public. Practitioners' "persistence and not yielding to the evil force are what our society should learn," he said.
He said Falun Gong practitioners have demonstrated truthfulness in their actions and not just in their talk. He explained that Falun Gong "promotes compassion. It is not limited to a small kindness, but a compassion at a high realm. It also promotes Forbearance, and it does not mean a temporary tolerance but rather perseverance."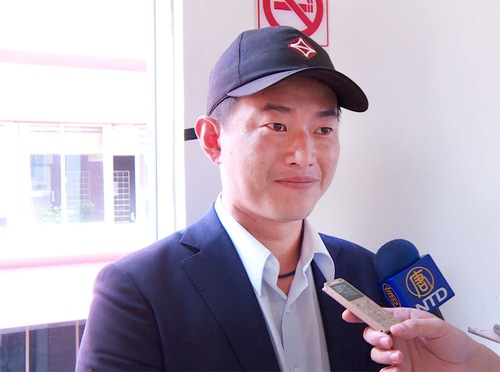 Legislator Chen Bai-wei, representing the Taiwan Statebuilding Party
Chen Bai-wei, a legislator and spokesperson of the Taiwan Statebuilding Party, said that while Falun Gong has been persecuted by the CCP, they opposed the persecution with peaceful actions, such as a sitting protest, and establishing a news media outlet. Other civil groups in Taiwan can learn a lot from Falun Gong, he added.
Chen said that Taiwan is a democratic country with a large Chinese population and that it will side with persecuted and disadvantaged groups.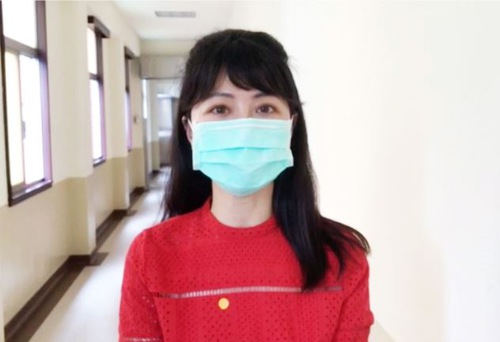 Legislator Kao Chia-yu
Legislators Kao Chia-yu and Tsai Shih-Ying both recognized Falun Gong's contribution to social welfare matters, and wished the founder of Falun Gong, Master Li Hongzhi, a happy birthday.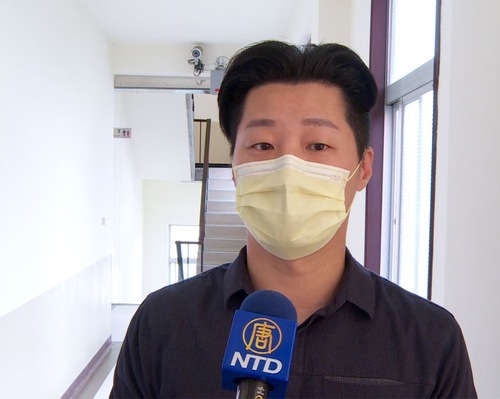 Legislator Lim Tshiong-Tso said that the world sees the merits of Falun Gong after practitioners have shown their steadfastness with their faith and have opposed the persecution for two decades.
Wishing Master Li a Happy Birthday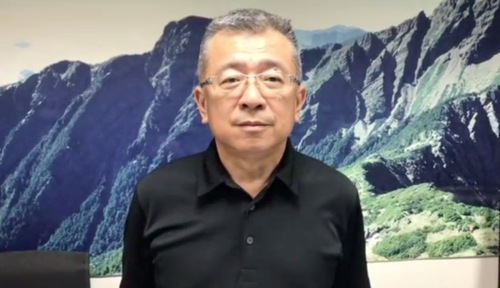 Councilman Liu Yao-Ren sent congratulations for the 28th anniversary of Falun Gong's introduction to the public and wished Master Li Hongzhi a happy birthday.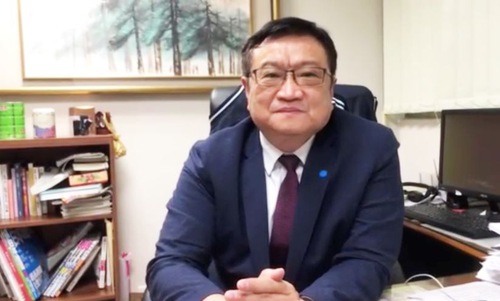 Councilman Chiang Chi-Ming of Taipei said he wishes more people worldwide would practice Falun Dafa.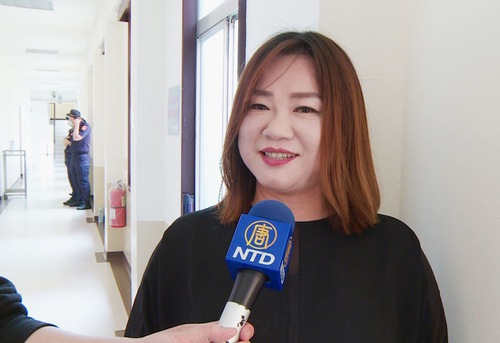 Legislator Ma Wen-chun wishes Master Li a happy birthday and "wishes that Truthfulness-Compassion-Forbearance will make the world a better place."
More Congratulatory Remarks
Ms. Wang You-Ling, a member of the Control Yuan (a branch of the Taiwanese government that audits other branches), said religion can help people be compassionate and that everyone should have freedom of religion. She noted that the CCP persecutes all religions, including Falun Gong, Catholicism, and Buddhism, and she encouraged Falun Gong practitioners to continue opposing the persecution and exposing the true nature of the CCP.
Legislator Liu Chian-Kuo thanked Falun Gong for its contribution to social stability and wishes practitioners a peaceful and happy World Falun Dafa Day.
Councilman Hong Chian-Yi of Taipei thanked Master Li Hongzhi for benefiting so many people of the world and wished him a happy birthday.
Mr. Hong said that every Falun Gong practitioner wants to be a better person and live by the principles of Truthfulness-Compassion-Forbearance to improve themselves.