British Columbia, Canada: Elected Officials Congratulate World Falun Dafa Day
(Minghui.org) May 13, 2020 is the 28th anniversary of Falun Dafa's public introduction and the 21st World Falun Dafa Day. Elected officials in Canada issued proclamations, recognition and letters to mark the occasion.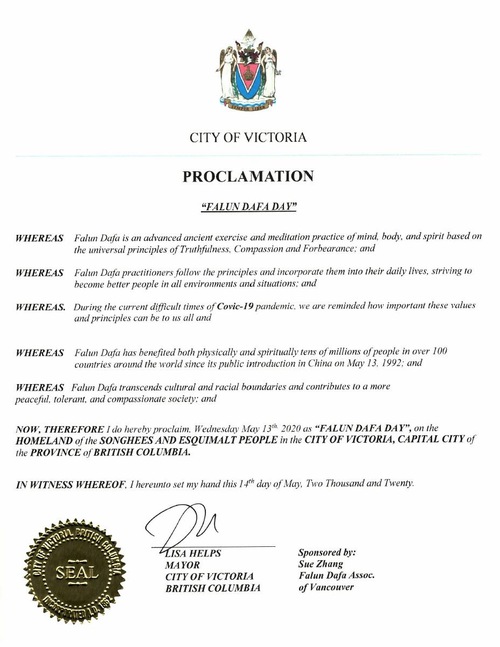 Proclamation of Falun Dafa Day in the City of Victoria, Capital City of the Province of British Columbia.
The Mayor of Victoria and Tamara Jansen, Member of Parliament from Cloverdale-Langley City, issued a proclamation and letter.
"Falun Dafa is an advanced ancient exercise and meditation practice of mind, body, and spirit based on the universal principles of Truthfulness, Compassion and Forbearance," the proclamation states.
"During the current difficult times of Covid-19 pandemic, we are reminded how important these values and principles can be to us all."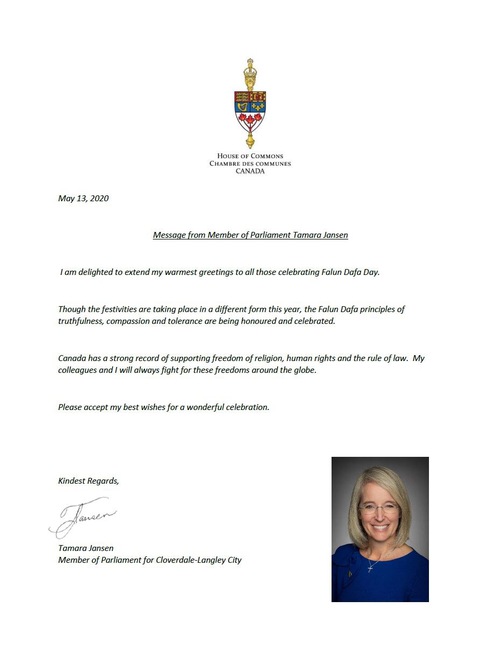 Letter from Member of Parliament Tamara Jansen of Cloverdale-Langley City
"I am delighted to extend my warmest greetings to all those celebrating Falun Dafa Day," wrote MP Tamara Jansen. "Though the festivities are taking place in a different form this year, the Falun Dafa principles of truthfulness, compassion and tolerance are being honored and celebrated."
"Canada has a strong record of supporting freedom of religion, human rights and the rule of law. My colleagues and I will always fight for these freedoms around the globe."