Eastern Taiwan Residents Support Falun Gong
Nov. 8, 2020 | By a Falun Gong practitioner in Taitung County, Taiwan
(Minghui.org) Falun Gong practitioners visited Guanshan Town in eastern Taiwan on November 1, 2020, to introduce the health benefits of the practice and expose the ongoing persecution in China. 
Falun Gong is a traditional meditation practice based on the principles of Truthfulness-Compassion-Forbearance. The Chinese Communist Party (CCP) launched a nationwide persecution campaign against Falun Gong practitioners in 1999. Thousands of practitioners in China have lost their lives as a direct result of the persecution.
Guanshan Town is located in a valley in eastern Taiwan. The town is known colloquially as the Green Town of Rice because of the importance of rice production to the area. 
The practitioners demonstrated the Falun Gong exercises in front of a shrine in Guanshan Town before going door-to-door to talk to people and raise awareness of the persecution. 
Many people, after learning about what has been happening in China, signed the practitioners' petition calling for an immediate end to the persecution.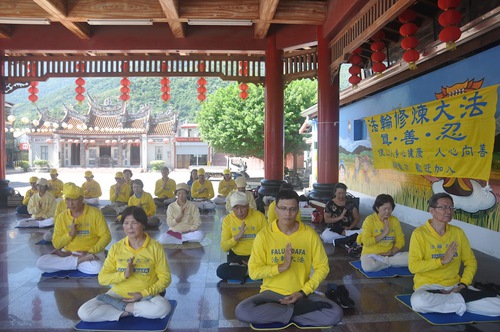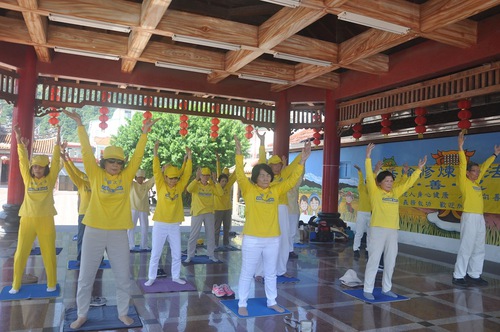 Falun Gong practitioners demonstrate the tranquil exercises in Guanshan Town, Taitung County. 
Guanshan Town Official Supports Practitioners' Efforts 
Mr. Tai Wen-ta, chief of Guanshan Town, warmly received the practitioners. "I know Falun Gong. I've been to many countries and have seen practitioners talking to the public about why the persecution is wrong. They collect signatures for petitions to end the persecution. You have worked hard!" he said. 
Mr. Tai enthusiastically signed the petition to show his support for practitioners' efforts. The practitioners presented him with a paper lotus flower attached to a bookmark bearing the words "Falun Dafa is good, Truthfulness, Compassion, Forbearance is good." Mr. Tai was very pleased to receive the beautiful handmade keepsake.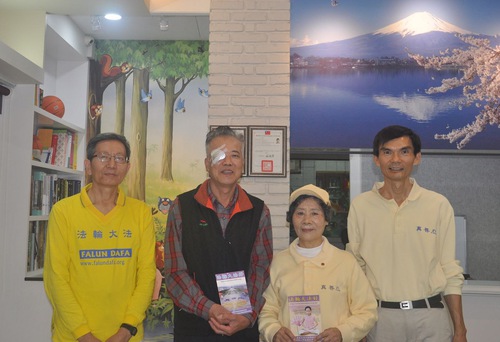 Mr. Huang Chao-Jen (second from left), chief of Fuli Village, shows his support for practitioners. 
Mr. Huang Chao-Jen is chief of Fuli Village in Guanshan Town. He made a pot of tea for practitioners as he waited for them to arrive. After practitioners explained how the CCP tortures practitioners incarcerated for their faith and forcibly harvests their organs while they are still alive, he said, "So cruel, so immoral." 
Mr. Huang signed the petition without hesitation and offered to donate money to the practitioners. The practitioners declined his donation. Mr. Huang helped the practitioners connect with other local representatives to help make more people aware of the persecution. 
Residents Hope the Persecution Ends Soon
The owner of a grocery store told practitioners that she has seen the beautiful Falun Gong processions in parades on TV and in newspapers. She said she supports practitioners' efforts to safeguard human rights and hoped the CCP's persecution would end soon.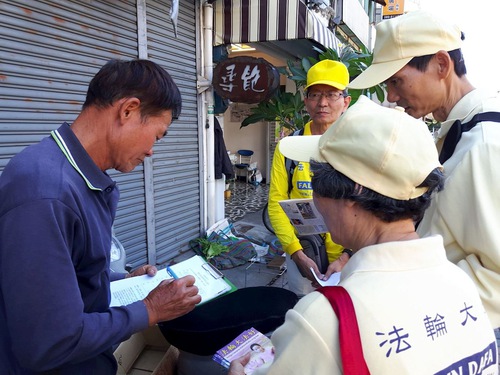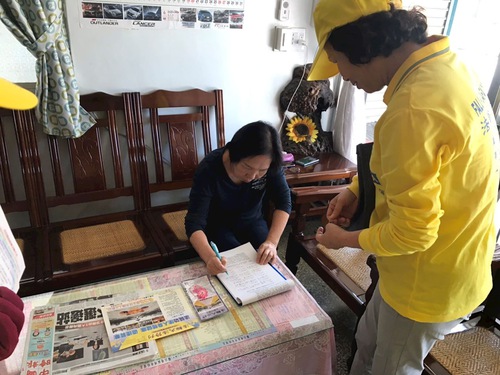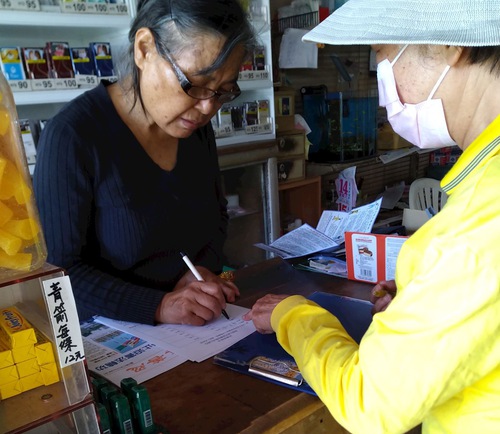 Residents of Guanshan Town in Taitung sign a petition demanding an immediate end to the persecution of Falun Gong in China. 
A flower farmer came over to practitioners and said, "Please give me the petition and allow me to sign." He said his whole family has heard about the persecution of Falun Gong and are sympathetic to practitioners' suffering. "One should not commit evil deeds," he said. 
Another resident said that he believed the CCP is evil. "I heard that someone went to China to receive an (illegitimate) organ transplant that cost 1.5 million yuan," he said.
Many residents expressed support for the practitioners' activities and condemned the CCP's brutal persecution. Many people also offered the practitioners water and encouraged them to keep up their efforts.