Northern California: Falun Dafa Activities in the East Bay Mark Mid-Autumn Festival
Oct. 1, 2020 | By a Minghui correspondent in the San Francisco Bay Area
(Minghui.org) To celebrate the Mid-Autumn Festival, Falun Dafa practitioners in the East Bay in northern California did the exercises in Marina Park in San Leandro on September 26, 2020. They also took a group photo to send their greetings to the founder of Falun Dafa, Mr. Li Hongzhi, to mark the traditional Chinese holiday. Attracted by the graceful exercise movements, several people came by and learned about the meditation practice.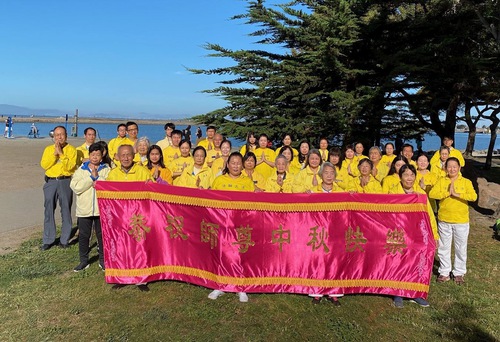 Practitioners in the East Bay in northern California wish Master Li Hongzhi a happy Mid-Autumn Festival.
The scene of several people peacefully meditating near the water attracted many people's attention. They stopped to learn about the traditional self-cultivation practice and signed a petition calling for an end to the Chinese Communist Party's (CCP) persecution of Falun Dafa. Some were interested in learning the exercises.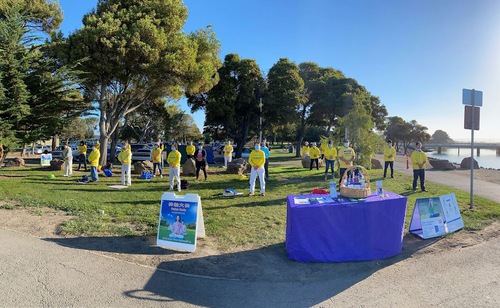 Group exercise in Marina Park in San Leandro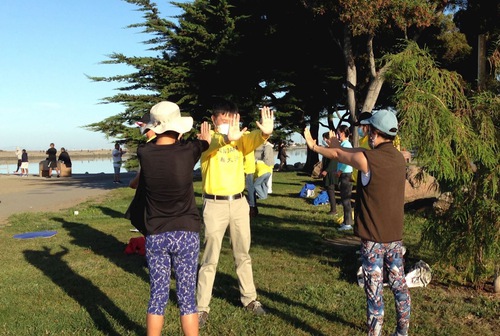 Passersby learn the exercises.
A couple from Vietnam stopped to listen to a practitioner's introduction and said they were following the news about the persecution. The husband said, "I think Falun Dafa is a peaceful but powerful practice. My wife and I would like to learn the exercises." They took information about the local group exercise schedule.
Referring to the persecution, the husband said, "The Communist Party has done many wicked things. We Chinese Vietnamese were also persecuted by the Communist Party in Vietnam. What you are doing is great!"
An Indian family watched practitioners. The father said, "The exercises look great!" After hearing about the mind, body, and spiritual benefits of practicing Falun Dafa, the man wanted to learn Falun Dafa and wrote down the group exercise information.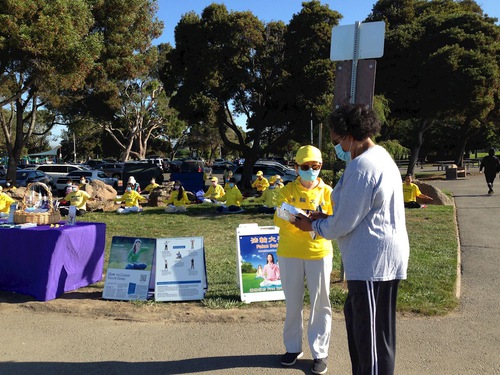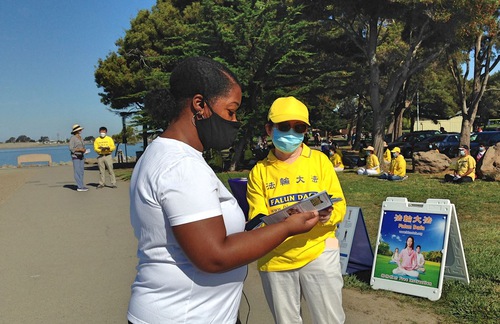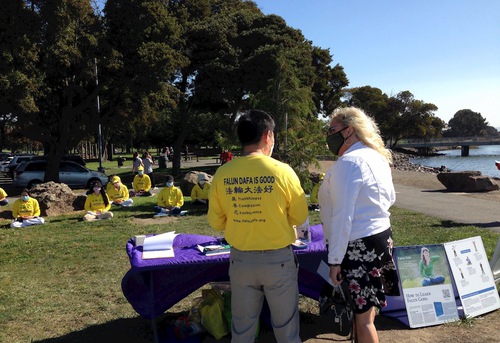 Passersby learn about Falun Dafa.
Many people condemned the CCP for persecuting the peaceful meditation practice and covering up the coronavirus pandemic. They thanked practitioners for telling people about it.
Tina and Wendy, two local residents, learned the first exercise on the spot. They said they felt great and planned to come to the practice site and learn more about Falun Dafa.
Two other women said they could feel the powerful energy as practitioners did the exercises. After talking with a practitioner, they planned to come to the group exercise site next week.