California: Practitioners in Silicon Valley Express Their Gratitude And Wish Master a Happy Mid-Autumn Festival
Oct. 1, 2020 | By a Minghui correspondent in Santa Clara
(Minghui.org) With the Mid-Autumn Festival just around the corner, Falun Dafa practitioners from San Jose gathered at Townsend Park on September 26, 2020, to wish Master Li Hongzhi a happy Mid-Autumn Festival.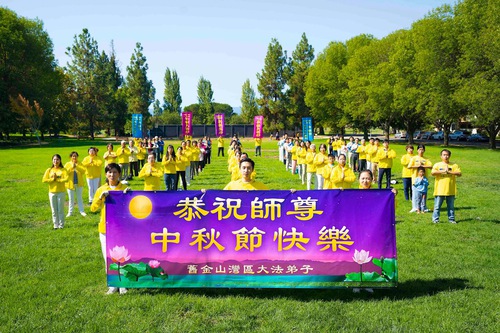 Practitioners in Silicon Valley wish Master Li Hongzhi a happy Mid-Autumn Festival.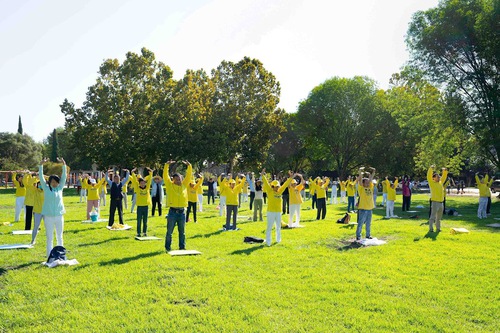 Practitioners gathered at Townsend Park to do the exercises.
It was a bright and sunny day, and many people came to enjoy the park. When they noticed the activity, several took photos as practitioners did the exercises. Many people eagerly accepted flyers introducing Falun Dafa while others learned how to do the exercises.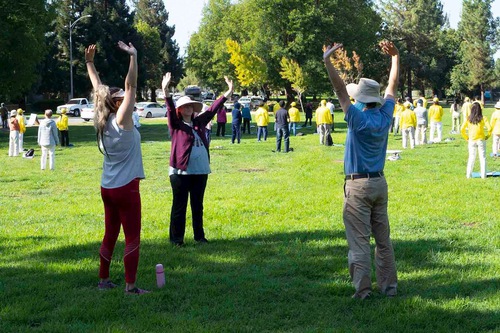 Mr. Liang Zhang shows two women how to do the exercises.
Practitioners also recalled what inspired them to take up Falun Dafa.
Ms. Qi moved to the U.S. from Shanghai 20 years ago. After learning about Ms. Qi's insomnia, her neighbor suggested she try practicing Falun Dafa. Ms. Qi began going to a local practice site every weekend. When she heard there would be a big gathering at Townsend Park to practice the exercises and wish the founder of Falun Dafa a happy Mid-Autumn Festival, she not only decided to attend but also brought a good friend.
After Ms. Qi's friend tried the exercises, she said she felt very relaxed and comfortable and that her palms felt warm. She learned how to do all five sets of Falun Dafa exercises. Before leaving, they took some pamphlets and paper lotus flowers. They said they would return and continue to practice the exercises.
Mr. Zhang Liang, a computer technician, explained how he benefited from practicing Falun Dafa. He said his outlook on life became positive and all his illnesses were resolved.
He expressed his gratitude to Master Li Hongzhi for giving him a new life. "I am very grateful to have found Falun Dafa. I sincerely wish Master a happy Mid-Autumn Festival!" he said.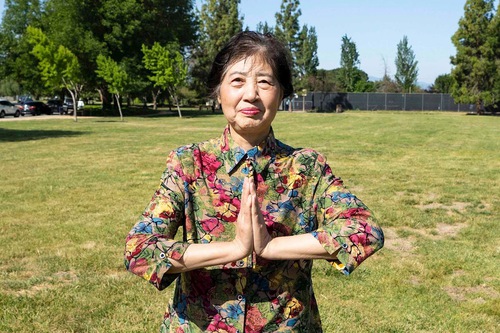 Ms. Yang Li from San Jose wishes Master Li a happy Mid-Autumn Festival.
After being diagnosed with a terminal illness, Ms. Yang looked for Falun Dafa. She said the practice changed her life and gave her a chance to live again.
She said, "There is a Chinese saying, 'On every happy festival, we think more about our loved ones far away' and an old teaching, 'A teacher for a day is like a father for a lifetime.' As practitioners, Master is like our father. Not only did he save us and but he also shared the teachings of Falun Dafa with us."
"I was dying and had surgery to remove stomach cancer, but after the surgery, the doctors found that my cancer had spread throughout my body. The doctors told me I only had three months to live, and my family was in despair."
Her colleague told her about Falun Dafa. Ms. Yang said, "When I read Zhuan Falun (the main book), I felt Falun Dafa was very good and decided to practice. Since then, I have been on the path of cultivation."
She said, "I started to live by Dafa's principles, Truthfulness-Compassion-Forbearance, as stated in the book. My health kept improving. I have been practicing for 25 years and have not needed to see any doctors. All of my illnesses were resolved. To be honest, it's a miracle that I'm alive."
"I was once terminal. After practicing Falun Dafa, my illnesses were gone. This made quite an impact in my neighborhood. The Chinese Communist Party (CCP) should express its gratitude to Falun Dafa, but instead it persecutes practitioners. Back in China, my landline and cellphone were both tapped, and there would be at least two people waiting outside my door every day. They tracked and followed me wherever I went. I was arrested many times, illegally detained for 25 days, kidnapped four times and taken to brainwashing centers, and fined.
"What kind of government does such horrendous things?! The CCP uses lies and extreme methods to persecute good people. Only this way can they stabilize their tyranny. I was reprimanded at my workplace each year because I practice Falun Dafa. Everyone thought that it was absurd for a good person like me to be reprimanded!"
Ms. Yang is now 74 years old. "I am very healthy. Falun Dafa not only cleanses and purifies your soul but also raises your moral standards. I truly changed for the better!"
During this Mid-Autumn Festival, practitioners from the San Francisco Bay Area would like to express their gratitude to Master and wish him a happy Mid-Autumn Festival!