Imprisoned Liaoning Woman in Critical Condition and Denied Medical Parole
August 10, 2019 | By a Minghui correspondent in Liaoning Province, China
(Minghui.org) A woman serving a five-year term at Liaoning Women's Prison is in critical condition after being tortured for not renouncing her faith in Falun Gong, a mind-body discipline that has been persecuted by the Chinese communist regime since 1999.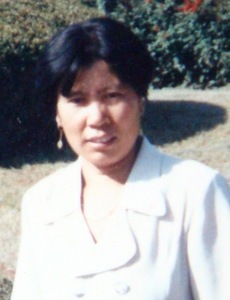 Ms. Xie Baofeng
Ms. Xie Baofeng, a resident of Chaoyang City, Liaoning Province who is in her late 50s, was arrested on September 30, 2016 after being reported for talking to people at a farmer's market about Falun Gong.
She was sentenced to five years by Chaoyang County Court in June 2017 and taken to Liaoning Women's Prison on December 5, 2017.
Several months into her imprisonment, she became ill after being tortured there. The prison authorities didn't provide medical treatment to her in time. Her condition deteriorated quickly, and she threw up everything she ate.
Ms. Xie has been rushed to the emergency room twice this year after falling into a coma. The guards transferred her back to the prison hospital as soon as her condition stabilized.
Although she is still in critical condition and can't eat, the prison denied her family's repeated requests of medical parole for her, with the excuse that she refused to give up practicing Falun Gong.
Ms. Xie's husband suffered impaired mobility from a stroke. He couldn't work to support himself and is also unable to frequently travel to the prison to visit her. He is now very worried about her.
Prior to her latest term, Ms. Xie has served two years of forced labor and ten years in prison for not renouncing her faith.
During her first imprisonment at Liaoning Women's Prison, she was forced to do hard labor without pay for more than 10 hours a day. Her fingers became deformed from doing the heavy labor.
She was deprived of sleep, starved and forced to squat for long hours if she wasn't doing the slave labor. A guard once grabbed her hair and slammed her head against a heater. She became emaciated, suffered from edema, and her complexion was poor.
Related reports:
Falun Gong Practitioners in Critical Condition After Being Tortured at Liaoning Women's Prison, One Dies After Being Bedridden for Five Years (Graphic Photo)
Once Imprisoned for Their Faith, Two Liaoning Women to Face Heavy Sentences Again