Minghui Report: 325 Falun Gong Practitioners Arrested in November 2019
December 23, 2019 | By a Minghui correspondent in China
(Minghui.org) According to information compiled by Minghui.org, November 2019 saw 325 Falun Gong practitioners in China arrested and 20 harassed for their faith. At least 207 remain in detention or are missing at the time of writing.
Falun Gong, also known as Falun Dafa, is a mind-body practice based on the principles of Truthfulness-Compassion-Forbearance. It has been persecuted by the Chinese communist regime since July 1999.
The arrests and harassment in November took place in 26 provinces and centrally-controlled municipalities. Ten of the regions reported double-digit arrests, with Liaoning Province seeing the most arrests (58), followed by 44 cases in Jilin Province.
Fifty-four of the practitioners are 65 or older, with the oldest being 85. Four of these older practitioners had their pensions suspended or were ordered to return the pensions they had received during previous imprisonments for their faith. The total loss to practitioners was at least 368,599 yuan.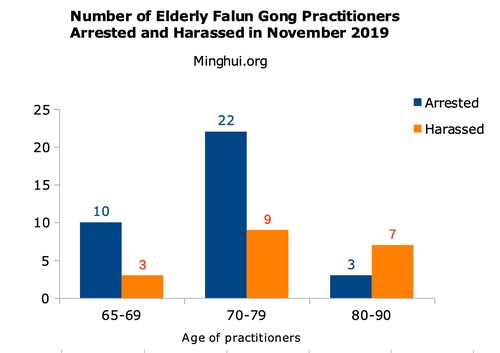 Another thirteen practitioners had a total of 88,889 yuan in cash confiscated by the police, averaging 6,838 yuan per person.
Below are snapshots of several of the cases of arrest and harassment that happened in November. Given the strict censorship in China, persecution cases cannot always be reported in a timely manner, nor is all the information readily available.
Arrest Cases
Once Imprisoned for Ten Years, Beijing Man Arrested for His Faith Again
Mr. Shi Shaoping, 48 and a resident of Beijing, was arrested on November 18, 2019. It is not clear where he is currently being detained.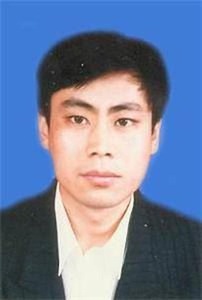 Mr. Shi Shaoping
Because of practicing Falun Gong, Mr. Shi was arrested in 2001 and sentenced to ten years in prison.
The guards at Qianjin Prison in Beijing selected violent prisoners to monitor and torture Mr. Shi in order to force him to give up Falun Gong.
The inmates often beat and verbally abused him, leaving bruises on his body. They also restricted his restroom use for an entire month, during which time he wasn't able to have any bowel movements.
The inmates opened the window during the winter to expose him to the freezing wind. His shivered violently due to the cold.
The inmates often deprived Mr. Shi of sleep and forced him to sit on a small stool without moving for nearly 20 hours each day, for years.
The muscles in his legs atrophied as a result of the long-term forced sitting. The lack of sleep and enormous mental pressure also took a toll on Mr. Shi's health.
79-year-old Woman Arrested for 9th Time for Upholding Her Faith
When Ms. Han Junyi of Kunming City, Yunnan Province came home on November 24, 2019, she was shocked to find that her home had been ransacked and all of her Falun Gong books, photos, and literature had disappeared.
She went to the local police station the next day to inquire about the incident, only to be arrested and held in detention for one day.
Ma Yun, an agent from the 610 Office, claimed that Ms. Han violated the law in passing out Falun Gong informational materials. He photographed, fingerprinted and interrogated her.
When the local police sent Ms. Han to the Kunming City Detention Center, the guards there refused to accept her because she failed the physical examination. Ms. Han was then brought back to the police station. The police called her daughter on November 26 to come pick her up. They also attempted to extort a 1,000-yuan fine from her, but her daughter refused to pay.
Ms. Han has been a target since the persecution began in 1999. Her home has been ransacked eight times and she was twice detained. She was held in a brainwashing center twice, once in a forced labor camp, and twice in Yunnan Second Women's Prison, where she was tortured.
Police Brutality Against Elderly Practitioner
Ms. Wang Meihua, a 70-year-old resident of Hengyang City, Hunan Province, was arrested on November 3, 2019 for talking to people about Falun Gong at a local market.
Ms. Wang was taken to the Qingshan Street Police Station and interrogated. She refused to speak during the interrogation. The police also attempted to take her fingerprints and a blood sample. When Ms. Wang refused to be subjected to the fingerprinting and blood draw, several officers held her head against a wall and handcuffed her arms behind her back, injuring her head and hands in the process.
One of the officers said to her, "I'm not afraid of going to hell for persecuting you."
Ms. Wang was held at the police station until 8 p.m. that evening.
Two Gansu Women Arrested for Urging Local Officials to Quit the Chinese Communist Party
Ms. Tan Xiuhua and Ms. Li Xiuzhen in Wangcun Town, Pingliang City, Gansu Province, were arrested on November 18, 2019, several days after they urged local officials to withdraw from the Chinese Communist Party (CCP).
The officials were en route to a neighboring county to oversee the persecution of Falun Gong in early November 2019 when they passed by Wangcun Town and demanded to see Ms. Tan Xiuhua and Ms. Li Xiuzhen.
The town officials found Ms. Tan and Ms. Li and brought them to see the officials.
The officials ordered Ms. Tan to renounce Falun Gong. She refused, and instead, urged them to quit the CCP and stop participating in the persecution. The officials demanded an apology from Ms. Tan, who maintained that she had done nothing wrong.
A few days later, she and Ms. Li were arrested. The police ransacked the two practitioners' homes and filled two vans with confiscated items.
Ms. Tan is currently held at the Kongtong District Detention Center and Ms. Li is detained at the Huating County Detention Center. A government official has threatened to sentence the practitioners from five to eight years in prison.
Both Ms. Tan and Ms. Li have been arrested before for going to Beijing to call on the government to uphold their constitutional right to practice their belief. Ms. Li was detained for 3 months and Ms. Tan was sentenced to a year of forced labor.
Beijing Fire Protection Engineer Arrested for Her Faith
Ms. Zhao Yanhua, 38, a fire protection engineer in Beijing, was arrested at her workplace on November 15, 2019. The police handcuffed her in front of her colleagues and took her away.
When one of her colleagues attempted to call Ms. Zhao's family to inform them of her arrest, the police shouted at the colleague.
The police confiscated Ms. Zhao's two cellphones and computer. They forced her to take them to her home by threatening to target her son if she refused. Ms. Zhao was sent to Shunyi Detention Center after her home was ransacked.
The police summoned Ms. Zhao's husband to the local police station the next day and held him there for two hours. When Ms. Zhao's mother went to the police station the same day to seek her release, the police told her that they arrested Ms. Zhao because she had been seen on surveillance camera distributing informational materials about Falun Gong.
Two Cousins Arrested for Their Faith
Two Fuzhou City, Fujian Province residents, Ms. Huang Bixian and Ms. Weng Meichai, were arrested on November 21, 2019 after being reported for talking to people about Falun Gong.
Ms. Huang was sent to a brainwashing center in Minqing City, about 40 miles away, without her family's knowledge, on December 6, 2019, after being held 15 days at Fuzhou Detention Center. Two people monitored Ms. Huang around the clock. They threatened that she would be sentenced to three years in prison if she didn't renounce Falun Gong.
Ms. Huang is on a hunger strike to protest the persecution.
Although her cousin, Ms. Weng, was released after five days of detention, the authorities have been continuously harassing her, attempting to force her to sign a statement renouncing Falun Gong. When she refused to comply, they threatened to also send her to the Minqing Brainwashing Center.
Harassment Cases
Local Officials Threaten College Teacher with Pay Suspension
The Political and Legal Affairs Committee in Yi County, Hebei Province, issued a document in August 2019, requiring all local businesses and organizations to force their employees who practice Falun Gong to write "guarantee statements" to renounce their faith.
The practitioners are threatened with the loss of their jobs or having their salaries suspended if they refuse to comply.
Ms. Zhao Limei, a teacher at Open University in Yi County, Hebei Province received a call from deputy principal Wang Zheng in October 2019. Wang told Ms. Zhao that her pay would be suspended if she refused to write a statement to renounce Falun Gong.
Wang said that he was following orders from his superiors, who also called Ms. Zhao's son and ordered him to persuade his mother to give up her faith.
Ms. Zhao was summoned to school on November 29, 2019. Another deputy principal, Yang Limeng, tried to take videos of her. After Ms. Zhao stopped him, the principal tried recording her again by placing the phone in his jacket.
Ms. Zhao went to the local Education Bureau that afternoon to complain about the incident, only to be told, "The Communist Party pays us, so we will do anything they ask us to do."
Residents in Gansu Province Harassed with Despicable Means
Starting in November 2019, local officials and police officers in Jiuquan City, Gansu Province launched a large scale harassment of local practitioners. The same kind of mass harassment also took place in Tianjin and Shandong Province.
The police, after entering the practitioners' homes, took their photos and videotaped them without their consent. They threatened the practitioners with suspending their children's jobs or taking their children and grandchildren out of school.
Those who are known to have been harassed include: Ms. Jia Yanxia, Ms. Xie Hongying, Ms. Song Lanying, Ms. Ru Huiqin, Ms. Xu Liying, Ms. Zhao Jinying, and a practitioner surnamed Zhang and his wife.
Dozens of Officials Attempt to Arrest Elderly Woman
More than thirty officials in Dandong City, Liaoning Province, showed up at Ms. Wang Shuhua's home on November 11, 2019, attempting to take her for a physical examination prior to putting her in detention.
Ms. Wang refused to cooperate and told the police that the persecution is wrong and has no legal basis.
The commotion drew the attention of Ms. Wang's neighbors, who came to her defense, "Why are you doing this to an elderly woman? She simply practices Falun Gong and is a good person. Can you take the responsibility if anything happens to her?"
The standoff lasted until 6 p.m. The officers eventually left without taking Ms. Wang with them.
85-year-old Man Repeatedly Harassed
Police harassed 85-year-old Mr. Ding Zeshu from Xinglong Town, Chongqing, three times between September and November 2019.
Mr. Ding was first stopped on the street on September 27, 2019 by officers from the Xinglong Police Station. The officers forced him to take them to his home. They ransacked his place and confiscated any Falun Gong literature that they found.
The police returned on October 8 and November 1, and searched Mr. Ding's home again. They turned his house upside down, trying to find other Falun Gong-related items as evidence to charge him, but were unsuccessful.
Gansu Woman Forced to Give Blood Sample
When Ms. Sun Bingyu was on her way to her tailor shop in Hezuo City, Gansu Province on November 19, 2019, the police stopped her and forced her into a vehicle. One of the officers wore a face mask.
At the Hezuo City Police Department, Ms. Sun was held down by 7 or 8 officers as they tried to get her palm prints and draw blood "for medical tests." Ms. Sun struggled as six officers held both of her arms and one pushed her head down. One of them tried to use pliers to grip her fingers in order to scan her fingerprints.
The police confiscated Ms. Sun's keys and took her husband, who is in poor health, along when they ransacked their home and tailor shop. The police damaged Ms. Sun's sewing machine, which is what she uses to make a living for the whole family.
The police tried to take Ms. Sun for a physical examination, which is required before sending her to a detention center. They eventually gave up as Ms. Sun persistently resisted.
After Ms. Sun was sent home, both her hands were swollen, her arms were injured and bruised, and she was unable to walk on her own.
To make things worse, her son needed about 80,000 yuan (~US$10,000) for school expenses and her husband fell ill and required emergency surgery. Ms. Sun's physical condition has rendered her unable to work. The family has fallen into a financial crisis.
Minghui Report: 274 Falun Gong Practitioners Arrested in October 2019
Minghui Report: 636 Falun Gong Practitioners Arrested in September 2019
Minghui Report: 548 Falun Gong Practitioners Arrested in August 2019
Minghui Report: 922 Falun Gong Practitioners Arrested in July 2019
Minghui Report: 2,014 Falun Gong Practitioners Arrested for Their Faith in First Half of 2019
Minghui Report: 341 Falun Gong Practitioners Arrested in May 2019
Minghui Report: 688 Falun Gong Practitioners in China Arrested in April 2019
Minghui Report: 245 Falun Gong Practitioners Arrested in March 2019
Minghui Report: 101 Falun Gong Practitioners Arrested in February 2019
Minghui Report: 181 Falun Gong Practitioners Arrested in January 2019