Intercepting a Cable Network: 50 Minutes Television Time Earns 13 Years in Prison
December 22, 2019 | By a Falun Gong practitioner in China
(Minghui.org) Three Falun Gong practitioners went to the water tower near Nehe Train Station in Heilongjiang Province at 7 p.m. on October 23, 2003. Using satellite signals, they intercepted the local cable network and broadcast nearly 50 minutes of video that debunked the Chinese Communist Party's (CCP) slanderous propaganda, especially the staged self-immolation incident on Tiananmen Square.
The persecution of Falun Gong, a meditation system based on the principles of Truthfulness-Compassion-Forbearance, had been going on for over four years by then. As CCP-controlled news media propaganda continued to mislead the public, more and more practitioners were being detained, arrested, imprisoned, and tortured for their belief. To clarify the facts, Mr. Wei Changfeng, Ms. Xia Xiuwen, and Ms. Cui Guifeng, all practitioners, decided to take a risk and inform the public of the truth about Falun Gong.
That evening, residents throughout the urban areas of Nehe, a county-level city with a population of about 700,000, had access to the video. "Residents in the remote countryside could also receive signals, but there were snowflakes on the TV screen," said an officer when the practitioners were later arrested and taken to a detention center.
This incident incurred severe retaliation. Luo Gan, then secretary of the Central Political and Legal Affairs Committee, went to Heilongjiang Province to investigate. Nehe City mayor Jin Baoyuan offered a 10,000-yuan cash reward for the arrest of the individuals involved. Police from all 30 plus towns across Nehe and neighboring Morin Dawa Daur Banner of Inner Mongolia launched massive arrests, and over 200 practitioners were detained in Nehe City alone. CCP officials considered this one of the biggest Falun Gong cases.
Miao Yujiu, former agent of the Morin Dawa Daur Banner 610 Office, reported to the Nehe 610 Office that Mr. Wei and two other practitioners in Morin Dawa Daur Banner were involved in the television signal interception. Fu Libin and Zhu Tianfu, two Nehe 610 Office agents, and Nehe police chief Sun Degui were responsible for the practitioners' arrests.
The practitioners were mistreated in the police department and the detention center and were then imprisoned. Mr. Wei alone was sentenced to 13 years.
Arrest and Detention in the Police Department
Mr. Wei, then 42 and a farmer in Aobao Town had planned for years to broadcast factual information. After many trials and errors, he succeeded. Ms. Xia, then 40, lived in Nierji Town. Ms. Cui Guifeng, a former music teacher in Kunmierti Town, worked for a local rural credit cooperative.
Six days after the event, on October 29, 2003, the three were arrested and taken to the Criminal Division of the Nehe the Police Department. Mr. Wei's wife, Ms. Cai Fengqin (not a practitioner), as well as Mr. Liu Mingkang, who was also involved in the television interception, were arrested at the same time. Ms. Cai was interrogated overnight and released the next day.
All four practitioners were tortured. They were subjected to the tiger bench, were shocked with electric batons, beaten, and humiliated. Guards handcuffed Mr. Wei to heating pipes in an attempt to obtain details.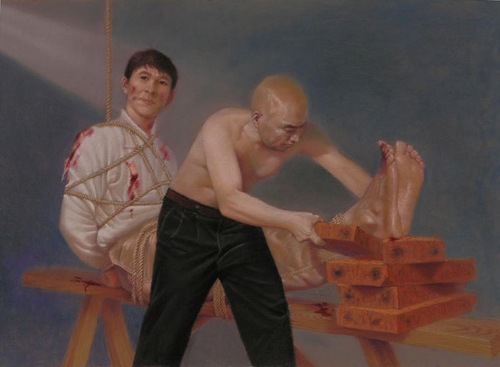 Torture illustration: Tiger Bench
It is cold in October in northeastern China. Guards stripped Mr. Wei and opened all windows and doors so that he would freeze. They also poured cold water on him. They tied Mr. Wei's arms and legs to the tiger bench. Guards pressed a bullet against his ribs and shocked him with electric batons at the highest current.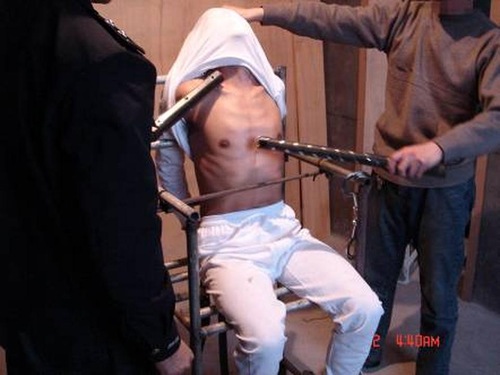 Torture illustration: Shocking with electric batons
Guards hit Ms. Cui with their boots, injuring her back. They hit her head with water bottles and poured water on her face and head while she was restrained on a metal chair. They wanted to know how practitioners contacted each other and who the taxi driver was. Fu Libin and Zhu Tianfu from the Nehe 610 Office and police chief Sun Degui ordered the metal chair torture.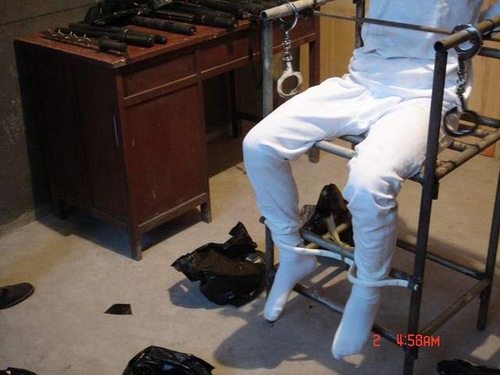 Torture illustration: Restrained on a metal chair
After being physically abused for 24 hours, Mr. Wei, Mr. Xia, Ms. Cui, and Mr. Liu were taken to the Nehe Detention Center on the evening of October 30, 2003.
Tortured in the Nehe Detention Center
Wang Li, a cell head at the Nehe Detention Center, ordered inmate Du Xiaoliang to strip Mr. Wei and pour cold water on him. Mr. Liu also suffered the same. Du also beat and kicked Mr. Wei in the face until he was bruised.
Because Ms. Xia refused to sign documents, guard Li Ying beat her, slapped her, and took her fingerprints. Ms. Xia then went on a hunger strike for 20 days to protest the illegal arrest, detention, and interrogation. When television reporters asked her about the television interception, Ms. Xia reiterated the innocence of Falun Gong. Because of that, the 610 Office and other officials gave orders for her to be mistreated
Trial and Sentences
Mr. Wei, Mr. Xia, and Mr. Cui were tried on November 26, 2003. They were handcuffed. The prosecutor was Wang Baogui from the Nehe Procuratorate. Mr. Wei defended himself and an attorney hired by Ms. Cui's family defended her.
Fu Libing from the Nehe 610 Office and prosecutor Wang Baogui sentenced Mr. Wei to 13 years in prison, 6 for the first television interception, and 7 for the second. Ms. Xia and Ms. Cui were each sentenced to 4 years.
Mr. Wei was first taken to Beian Prison and then transferred to Tailai Prison. Both facilities were located in Heilongjiang Province. Ms. Xia and Ms. Cui were taken to the Heilongjiang Women's Prison on April 14, 2004.
Mr. Liu was released three months later, after the Nehe 610 Office fined him 80,000 yuan. Morin Dawa Daur Banner police and staff from the 610 Office continued to harass him after his release, forcing him to abandon his business and leave home. This led to an economic loss of over 400,000 yuan.
On the night of the television interception, over 200 Falun Gong practitioners were arrested in Nehe City alone, and their homes were ransacked. They were detained, beaten, and fined. One of the practitioners was from Suiling County, Heilongjiang Province. She was visiting a relative in Nehe City. She was arrested and her baby was taken into foster care.
Torture in Beian Prison
Mr. Wei was transferred from Nehe Detention Center to Beian Prison at 3 a.m. on March 26, 2004. In the Training Unit, he was ordered to recite inmate rules and sit still for a long time. Political instructor An Dong ordered him to renounce his belief.
Mr. Wei lost consciousness when inmate Huang Hai punched his lower jaw. Inmate Pang Guolu forced Mr. Wei to bend down for a long time with his hands behind the back.
Pang then demanded that Mr. Wei write statements renouncing his belief. When Mr. Wei refused, Pang told several inmates to hold him down on the bed and lift his arm up as far as it would go and then some. Mr. Wei bit through the bedsheet the pain was so intense.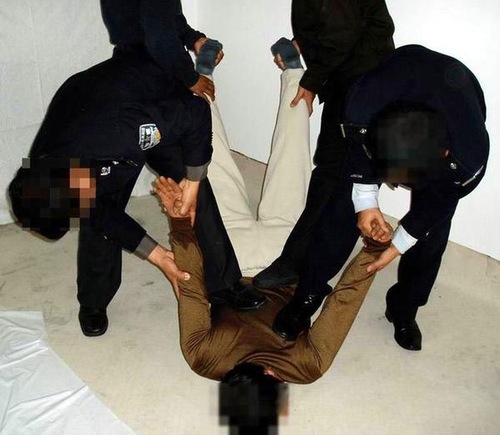 Torture illustration: Beating
The detainees had to sleep right next to each other, like sardines in a can. The food was a steamed bun and a little soup, and starvation was the norm.
Mr. Wei was assigned to Division 10 of the prison on April 30, 2004. Guards assigned two inmates to watch him around the clock. Guard Yue Wenhua beat him and slapped his face. Yue later put Mr. Wei in solitary confinement for 15 days and extended it by another 15 days.
Mr. Wei was transferred to Division 7 in 2005. Supervisor Nie Huasheng put him in solitary confinement for 15 days. For doing the Falun Gong exercises, Mr. Wei was put in solitary confinement for 15 days again in August 2008. With no window or ventilation, the cell was small, dark, humid, and hot. He went on a hunger strike to protest the inhuman treatment and was transferred to the Beian Prison Hospital 8 days later.
Several years later, Mr. Wei was reassigned to Division 1. A guard demanded that Mr. Wei to give up his belief, saying they would then allow his 90-year-old mother to visit him. Because Mr. Wei refused, the guard lied to Mr. Wei's family when they came for a visit, turning them against Mr. Wei by saying he did not want to see them.
Wang Yangtai and Lu Shuyuan from the Morin Dawa Daur Banner 610 Office also went to the prison to try to stop Mr. Wei from practicing Falun Gong. They failed.
Mistreated at Tailai Prison
After spending over 8 years in Beian Prison, Mr. Wei was transferred to Tailai Prison on August 12, 2013. Under orders from the Heilongjiang 610 Office and Heilongjiang Prison Administration Bureau, officer Liu in Division 6 assigned Mr. Wei to do forced labor. "I did not commit any crime and I will not work like other inmates," replied Mr. Wei.
Liu continued to humiliate and threaten Mr. Wei and confiscated his belongings such as the writings of Mr. Li Hongzhi, founder of Falun Gong. Liu slandered Falun Gong on numerous occasions. Later on, he developed uremia and had to have dialysis and quit his job.
Based on an order from the Heilongjiang Prison Administration Bureau, Tailai Prison issued a policy in November 2015, requiring all inmates to do forced labor, exempting anyone in poor health. In addition, family visits, shopping, meal options, communication, entertainment, and breaks were restricted or canceled. This policy, also known as "six stops and one restriction," was issued to target determined Falun Gong practitioners.
Inmate Qu Hongyu reported to officials in early 2016 that Mr. Wei and other practitioners exchanged Falun Gong articles. Manager Liu Jingyu put Mr. Wei in solitary confinement for 15 days. It was in the dead of winter and the cell was extremely cold and humid. There was no bed and he was allowed only a single layer of clothing. There was little food and the only source of water was the toilet. Every second during those 15 days felt like a year.
Liu put Mr. Wei in solitary confinement for a month for having Falun Gong articles in July 2016. When Mr. Wei resisted, Liu instructed guards to attach Mr. Wei's handcuffs to his shackles. Mr. Wei was restrained like that for a month in solitary and a month in his regular cell, before Liu gave orders that Mr. Wei be subjected to the "six stops and one restriction."
Mr. Wei suffered tremendously during those 13 years, the above being just a few examples. Whenever higher officials came for inspections, determined practitioners or supportive inmates were hidden in the basement.
After 13 years of detention—about 5 months in a detention center, followed by 12 years and 5 months in prisons—Mr. Wei was released on October 29, 2016.
Related Reports:
Intercepting TV Signals in China: A Look Back at Falun Gong Practitioners' Peaceful Resistance to the Persecution
Snapshot of Falun Gong Practitioners Whose Copies of Lawsuits Against Jiang Zemin Were Received by Minghui on September 14, 2015
Ms. Xia Xiuwen Imprisoned for Three and a Half Years for Broadcasting Truth Clarification Programs
Ms. Xia Xiuwen from Inner Mongolia Persecuted at Brainwashing Center
http://en.minghui.org/html/articles/2013/4/4/138760.htmlMr. Wei Changfeng Still Imprisoned After More than Eight Years for Broadcasting Truth Clarification Programs
Wei Changfeng Persecuted for Interrupting Chinese TV with Broadcasts with Programming About Falun Dafa