Minghui Report: 271 Falun Gong Practitioners Arrested in September 2018
November 02, 2018 | By a Minghui correspondent in China
(Minghui.org) September 24 was the 2018 Mid-Autumn Festival. Also known as the Moon Festival, it is a holiday widely celebrated in China with family reunions. For countless Falun Gong practitioners in China, however, this was the 20th Mid-Autumn Festival spent in misery since the Chinese Communist Party launched the persecution of their spiritual faith in July 1999.
In addition to being unable to freely practice their meditation discipline, many practitioners continue to face arrest, arbitrary detention, and torture for their belief. For example, a woman in Hebei Province was given a deadline to renounce her faith in Falun Gong. When she refused to comply with the authorities, she was arrested and has since remained in detention.
The month of September has also seen police conduct mass arrests of Falun Gong practitioners as a means to fulfill quotas in the Chinese communist regime's crackdown on "gang activities." A total of 271 practitioners were arrested, 165 of whom remain captive at the time of writing, and 159 were harassed.
The affected practitioners were as old as 91. Many of the practitioners were abused during arrest and/or subsequent detention. Some had their blood drawn without their consent or any reason given. Police also extorted a total of 34,846 yuan from 11 practitioners.
The arrests and harassment occurred in 26 provinces and centrally-controlled municipalities. The most arrests happened in Shandong Province (94), followed by Jilin (35), Hebei (22), and Liaoning (18). The highest number of harassment cases was in Sichuan Province (30), followed by Shandong (21), Hebei (19), and Jilin (14).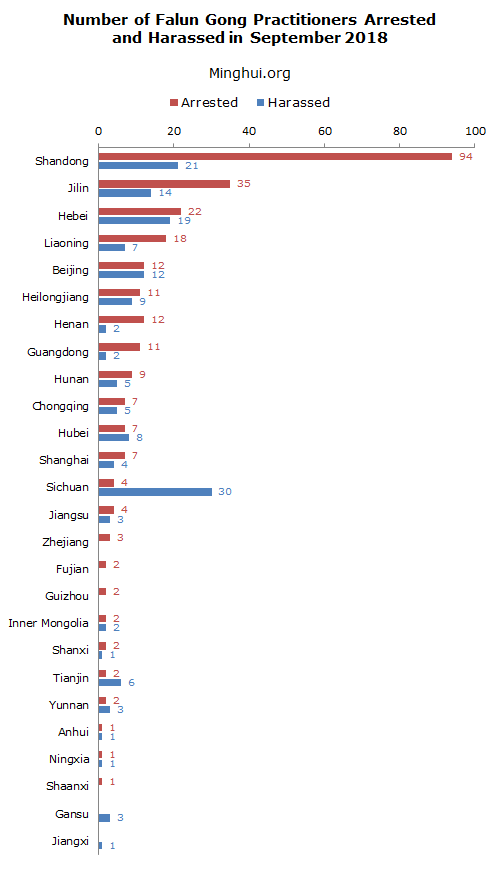 In addition, 77 practitioners were known to have been sentenced to prison and fined a total of 220,000 yuan in September.
Woman Given Deadline to Renounce Her Faith, On Hunger Strike to Protest Subsequent Arrest
Ms. Yang Lin held a hunger strike for more than ten days at the Hebei Province Brainwashing Center following her arrest on September 19, 2018. It was reported that she had begun to take in food recently, but her physical condition is unknown, and it is not clear whether she was force-fed.
Ms. Yang, in her 40s, is an employee at a power company in Shijiazhuang, Hebei Province. Since March 2018, agents from the 610 Office and local street committee have been pressuring her to renounce her faith in Falun Gong, a spiritual discipline persecuted by the communist regime since 1999.
The agents also pressured her supervisor at work, who on August 13 gave Ms. Yang a two-day deadline to renounce her faith or face severe punishment. Her supervisor also told her that the authorities were targeting two Falun Gong practitioners in the state-owned company in Xinhua District, including Ms. Yang.
Ms. Yang tried to explain the communist regime's persecution of Falun Gong to her supervisor, but he only reiterated that the company was under great pressure from higher-ups.
Ms. Yang said that she would not give up her faith.
One month later, three plainclothes officers came to her workplace and seized her in her office on September 19, 2018. She was taken to the Hebei Brainwashing Center and has been detained there since.
10 Arrested in 8 Days
At least 10 Falun Gong practitioners in Zhaoyuan City, Shandong Province, were arrested over the course of eight days in September 2018.
On September 4, Mr. Wang Xinrong and Mr. Sun Yaoxiang from Zhangxing Town were arrested and detained at Yantai Detention Center. Mr. Sun's home was ransacked. Ms. Wang Xuefen from Jinling Town was also arrested on the same day, and she was given 15 days of administrative detention.
On September 6, three practitioners were arrested, including Ms. Liu Shumin from Jinling Town, Ms. Yan Xuefen from Biguo Town and Ms. Zhang Shuping from Beiguanxi Village.
On September 8, Ms. Jiang Qingzhi was arrested at her hog farm. Officers also ransacked her home. She is now detained at Yantai Detention Center. According to her family, who sought her release on September 17, the police told them that they had submitted her case to the procuratorate.
Another practitioner, Ms. Liu Shuqin, 73, was harassed by police around noon on September 8. Officers forcibly took her to the police station, took a blood sample, obtained her fingerprints, and took pictures of her. She had to pay 2,000 yuan in bail before being released.
On September 11, Mr. Li Wende and Mr. Song Jianwen from Linglong Town were arrested, and their homes were ransacked.
Elderly Practitioners Not Exempt
Mr. Li Peigao, 81, is a resident of Kunming City, Yunnan Province. He was arrested at 2 p.m. on September 15, 2018 after being reported for distributing Falun Gong informational materials. He was taken back home, where the police confiscated his Falun Gong books. He wasn't released until 1:00 a.m. the following day. The police returned to harass Mr. Li at home three days later.
Mr. Yu Jiachuan, 91, is a resident of Qinhuangdao City, Shandong Province. He was home on July 25, 2018 when two officers from the Haiyang Police Station showed up to harass him. They asked if he still practiced Falun Gong, and his son answered that he had never seen his father do the Falun Gong exercises. The police then took the nonagenarian's picture without giving a reason.
Mr. Li and Mr. Yu were not the only elders targeted for refusing to renounce Falun Gong. More than two dozens other practitioners recently arrested or harassed are over the age of 70.
Practitioners Abused in Custody
Mr. Mu Junkui and Ms. Zhang Yumei are Falun Gong practitioners from Changchun City, Jilin Province. Mr. Mu was arrested on his way to work just after 8 a.m. on September 7, 2018. Ms. Zhang, one of his employees, was also arrested at the same time.
He Wei, head of the Domestic Security Division in Kuancheng District, viciously struck Mr. Mu on the head and face. During a physical exam, police officer Yang Guang beat Mr. Mu and handcuffed him so tightly that his wrists became swollen. Yang also slapped Ms. Zhang's face several times and yelled, "I'm Yang Guang. Sue me if you dare!"
Forcible Collection of Blood Samples
Some practitioners were forced to give blood samples with no reason stated. When Ms. Li Fei, a Tianjin practitioner in her 40s, was on her way to work at on September 3, 2018, a police officer stopped her near her home. After confirming her identity, the officer forced her into a police van.
At the Banchang Road Police Station, before interrogating her, an officer demanded that she give a blood sample and have her fingerprint taken. Ms. Li refused. Officers tried several times but failed. In the end, they took her to another room, where two officers restrained her arms while another plainclothes officer held her legs down.
A doctor took five tubes of blood from her, leaving her dizzy and weak. Another tube of blood was forcibly taken at a later time.
Father Arrested After Daughter Signs Up for NTDTV Vocal Competition
Several arrests were apparently made to stop practitioners from being involved in overseas activities. Ms. Song Sijuan is the daughter of Falun Gong practitioner Mr. Song Xiandong from Inner Mongolia. She signed up via telephone in July 2018 to participate in the "7th International Chinese Vocal Competition" hosted by NTD Television, a New York-based station known for reporting uncensored news about China, including the persecution of Falun Gong.
Ms. Song was accepted to take part in the competition and was to fly to New York on September 26 to attend the event. On the day before her departure, police officers from Chifeng City broke into her parents' home and arrested her father. Ms. Song and her mother were out of the house at the time.
Officers also ransacked Ms. Song's home and confiscated her travel documents for the trip abroad. The police dispatched a large number of police officers to attempt to track down Ms. Song and her mother.
Police Cut Off Electricity to Practitioner's Home
Ms. Li Zhenlian in Taian City, Shandong Province, was harassed by the police on September 10.
When police officers went to her place looking for her in the morning, Ms. Li did not answer the door. An officer cut off the power her house in the afternoon and sat in a vehicle nearby overnight to watch her.
After Ms. Li called an electrician later that day and had the electricity reconnected, the officer cut the power again. Upon hearing from the electrician that the electrical panel had been damaged, Ms. Li talked with the police through the window, saying that she would pursue legal action against them.
Although the officers restored the electricity, they sent her a notice of release on parole. When Ms. Li refused to sign the paperwork, the police asked someone at the neighborhood office to sign it.
Police Make 1,600-Mile Trek to Harass One Practitioner
Two police officers traveled more than 1,600 miles (2,600 kilometers) to harass a practitioner. On September 18, six days prior to the Mid-Autumn Festival, two officers visited Ms. Wang Xiangling in Guiyang City, Guizhou Province.
The police were from Ms. Wang's hometown of Chifeng City, Inner Mongolia, where she had been repeatedly arrested for practicing Falun Gong. She later moved to Guizhou, only to see her hometown police chase her here. They wanted to shoot a video clip of her, saying it was requested by higher-ups to verify Ms. Wang's location and condition.
Related Reports:
Minghui Report: 310 Falun Gong Practitioners Arrested and Hundreds Harassed for Their Belief in August 2018
3,628 Falun Gong Practitioners Arrested or Harassed for Their Faith in the First Half of 2018
Mr. Mu Junkui and Ms. Zhang Yumei from Changchun Arrested and Beaten by Police
Tianjin Woman Unlawfully Detained for 28 Days and Blood-Tested
After Ms. Song Sijuan Registers for NTDTV Vocal Competition, Home is Ransacked and Father Arrested
Woman Given Deadline to Renounce Her Faith, On Hunger Strike to Protest Subsequent Arrest
Falun Gong Practitioners Targeted in Communist Regime's Gang Crackdown Campaign