Denmark Resident Seeks Justice for Brother-in-Law, Tortured to Death in China for His Faith
July 31, 2017 | By a Falun Gong practitioner in Denmark
(Minghui.org) Ms. Wei Zaiqun, who lives in Denmark, received a message a few days ago from her family in China, saying that her sister's husband, Chen Guangzhong, was in critical condition in the jail where he was being detained.
Mr. Chen had been detained for his faith in Falun Gong, a spiritual discipline that is persecuted by the Chinese communist regime. Ms. Wei and other Falun Gong practitioners in Denmark held a rally in front of the Chinese Embassy in Copenhagen on July 27, 2017, calling for his immediate release.
Sadly, the next day they learned that Mr. Chen passed away. When he was in a coma, over ten prison guards stood watch to prevent exposure of their crime.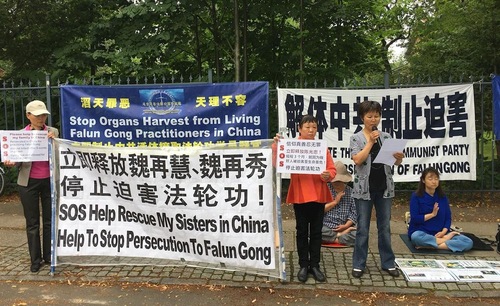 Falun Gong practitioners protest in front of the Chinese Embassy on July 27, 2017.
Ms. Wei's sisters, Wei Zaixiu and Wei Zaihui, have also been suffering persecution for their faith in Falun Gong. They have been in prison for over 2 years of their 7-year term. Mr. Chen's death comes only 6 months after his 3-year prison term began in February of this year.
Ms.Wei's family members in China seldom got information about her sisters or her brother-in-law. Just days ago, Mr. Chen's family was informed by authorities at Jiazhong Prison in Leshan City, Sichuan Province, that Chen was in critical condition and his pupils were dilated.
Mr. Chen's elder brother and a neighbor went to the prison hospital. They were not allowed to take a photo or to bring anything into the ward, not even a piece of paper.
Seven or eight prison guards guarded the ward. Mr. Chen's brother saw him laying on a bed unconscious. He looked pale and his head had been shaved. He was naked and covered with a piece of cloth.
Mr. Chen's brother called his name and got no response. He then asked a prison guard, "How did a man in good health become like this? Why is his head shaved?" The prison guard said Mr. Chen had a cerebral hemorrhage, but that it was too late for surgery.
Ms. Wei told the reporter, "Chen became healthy after practicing Falun Gong. He sustained a disabling leg injury in a car accident, but after learning Falun Gong, he regained the ability to walk. After that, he was happy, easygoing, and considerate of others. Such a good man has been tortured to death. The Chinese Communist regime must be held responsible."
Related reports:
Sisters in Sichuan Province Sentenced to Seven Years in Prison
Copenhagen: Rescuing Two Sisters Detained in China for Their Belief
Falun Gong Practitioner in Denmark Calls for Help in Rescuing Her Unlawfully-Detained Sisters in China