Falun Gong Practitioner in Denmark Calls for Help in Rescuing Her Unlawfully-Detained Sisters in China
December 16, 2015 | By Minghui correspondent Shu Hui
(Minghui.org) The elder and young sisters of Wei Zaiqun, who lives in Denmark, are being unlawfully incarcerated in China for their belief in Falun Gong. Wei Zaiqun wept when speaking about this. Her mother is near 80 years-old and frequently travels between two detention centers in Chengdu, Sichuan Province, attempting to visit her two daughters.
Wei's mother was denied meeting with her daughters, and threatened that her daughters' detentions would be extended. She has been hospitalized several times since they were detained.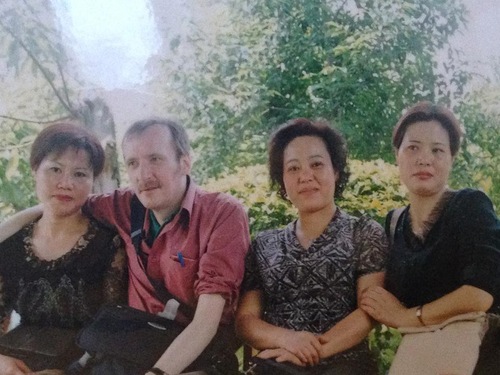 Wei Zaiqun (left), her husband, and her two sisters, Wei Zaihui and Wei Zaixiu.
Over 20 police officers pried the door open of Wei Zaixiu's home on the afternoon of May 27, 2015, ransacked her home, and confiscated her belongings. Zaixiu was arrested and sent to Anjing Detention Center in Pi County. Wei Zaihui and six other Falun Gong practitioners in Huayang Township were arrested in June and detained in Shuanliu Detention Center. They were beaten by police at the Huayang Police Substation.
The police did not inform the family about their whereabouts after detaining them. Wei Zaiqun in Denmark called the police substation, detention centers, and brainwashing centers in an attempt to find the whereabouts of her sisters, but was told, "We don't have such service."
Zaiqun said, "I called my mother but did not get any information, as she has not met or talked with my sisters since they were detained. My mother is reluctant to talk about them, as she is experiencing a lot of pressure from the authorities."
To rescue her sisters and stop their persecution, Zaiqun and other Falun Gong practitioners held a peaceful protest in front of the Chinese Embassy in Denmark on October 2, 2015. Over two months have passed, yet the unlawful detention and human rights infringement is still ongoing. This is Zaixiu's third detention.
"Falun Gong practitioners follow Truthfulness-Compassion-Forbearance, and have no political mission," said Zaiqun, "They are peaceful and rational in explaining the practice and raising awareness of the brutal persecution."
"My sisters started practicing Falun Gong in 2006, and have benefited a lot from it. Zaihui had hyperthyroidism and a hot temper, and after practicing Falun Gong, her illness disappeared and she became gentle and healthy, and full of energy."
"Zaixiu had arthritis in her knee, which was painful and cold. She needed to cover her knees with a warm pad year-round. After she began practicing Falun Gong, the condition disappeared and has never relapsed. She became steadfast in her belief in Truthfulness-Compassion-Forbearance."
Despite the fact that China's Constitution guarantees citizens freedom of belief, the communist regime persecutes innocent Falun Gong practitioners out of its paranoia, in an attempt to control them.
Zaiqun is calling for help in rescuing her sisters and stop the persecution in China. The practitioners should be allowed to have freedom of belief and a normal life.