Overview of the Persecution of Falun Gong in Tibet Between 1999 and 2016
(Minghui.org) The Tibet Autonomous Region has jurisdiction over seven prefecture-level cities or counties, including Lhasa, Qamdo, Shigatse, Nyingchi, Shannan, Nagqu, and Ngari.
Since the Chinese communist regime started to persecute Falun Gong, an ancient spiritual discipline, in 1999, even practitioners in the remote region in Tibet weren't spared from being targeted, especially after the central government appointed officers to head the 610 Office in Tibet.
According to available data collected by Minghui.org, as of December 2016, at least one Tibetan practitioner has died in the persecution, six were sentenced to prison, with two of them also given forced labor camps. Another practitioner was also given forced labor. Another 30 practitioners, mostly those who had come to Tibet from other parts of the country, were arrested while they were there.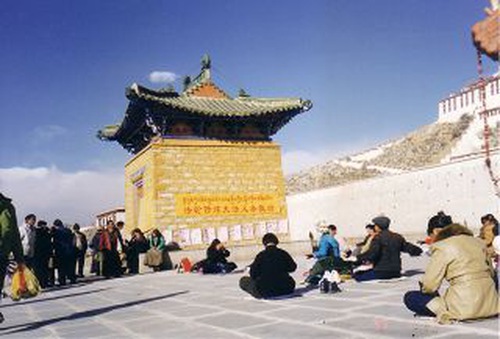 Falun Gong practitioners doing the exercises in front of the Potala Palace before the persecution started in 1999.
Death Case
In November 2001, Ms. Zha Sang, a Tibetan Falun Gong practitioner who worked at the Tibet Academy of Agricultural Sciences, was arrested by Jiangxi Street Police Station officers at her residence in Chengdu City, Sichuan Province. She was held in the Xipu Detention Center and later sentenced to three years. During her imprisonment, she was not allowed to do the Falun Gong exercises. Her health declined and her previous illness relapsed. She was later released on medical parole and died at her home in Lhasa, Tibet, in October 2002. She was 56.
Prison and Forced Labor Camp Terms
Ms. Hu Yurong Given Six Months of Forced Labor and Later Sentenced to Five Years
Ms. Hu Yurong of Dazhou City, Sichuan Province, went to Lhasa to teach Chinese at a middle school after she graduated from Nanchong Normal University. Because she practiced Falun Gong, she was first given six months of forced labor by the Lhasa 610 Office and later sentenced to five years by the Lhasa Court in January 2001. In Beijiao Prison in Lhasa, she was forced to do intensive labor without pay. She was also subjected to constant beatings and verbal abuse.
A year after she was released in 2006, Ms. Hu was fired by the school where she worked and sent back to her hometown in Sichuan from Tibet.
On October 1, 2007, dozens of police officers broke into her home in Sichuan and attempted to arrest her. She escaped, only to be arrested two weeks later. This time, the Sichuan police took her back to Tibet. Her hands and feet were cuffed during the 48-hour trip and she wasn't given anything to eat.
Ms. Xu Fengqiong Given Three Years of Forced Labor
Ms. Xu Fengqiong was arrested in 2002 and given three years of forced labor. She was fired by the Tibet Military Region Logistics Department on July 29, 2002.
Mr. Xu Youping Sentenced to Five Years
Mr. Xu Youping of Lhasa used to work for the Tibet Economic Reform Committee. He was arrested at home on April 14, 2003. His Falun Gong books and tapes were confiscated.
Because he refused to write a statement guaranteeing he would give up the practice of Falun Gong, he was charged with "undermining law enforcement using a cult organization" by the Lhasa City Procuratorate on July 28, 2003. The Lhasa City Intermediate Court sentenced him to five years in prison on September 11, 2003. He appealed the sentence, but the High Court of Tibet upheld the original verdict in November.
In 1998, he was nominated for a promotion to assistant director due to his excellent work performance. But the Communist Party Committee of Lhasa passed him up because he practiced Falun Gong. His employer fired him in September 2003.
Ms. Chen Shichang Sentenced to Three Years
Ms. Chen Shichang, who was retired from Tibet Agriculture and Animal Husbandry College, was arrested in 2004 for mailing Falun Gong materials to her former colleagues. She was later sentenced to three years in Beijiao Prison. Her pension was suspended by the Political and Legal Affairs Committee and 610 Office in 2007.
Ms. Yang Shuhua Sentenced to Four Years
Ms. Yang Shuhua, in her 40s, from Shifang County, Sichuan Province, went to the Bayi Subdistrict in Tibet to visit a relative in 2008. She was arrested there on June 9, 2008, after being reported for talking to people about Falun Gong. The local court in Tibet sentenced her to four years in Beijiao Prison.
Husband and Wife Both Given Two Years of Forced Labor and Later Sentenced to 14 Years
Mr. Zhao Longzhi and his wife Ms. Luo Na worked at Najin Power Plant in Lhasa, Tibet. When the persecution began, the couple traveled thousands of miles to Beijing to appeal for the right to practice Falun Gong. Officers from the Tibetan Police Department, who had been following them, arrested them before they got there. They were taken back to Tibet and placed under surveillance.
Mr. Zhao and Ms. Luo eventually made a trip to Beijing in June 2000. They were arrested and beaten on Tiananmen Square. Mr. Zhao lost two front teeth as a result. After being taken back to Tibet, they were both given two years of forced labor and held in Lhasa Forced Labor Camp.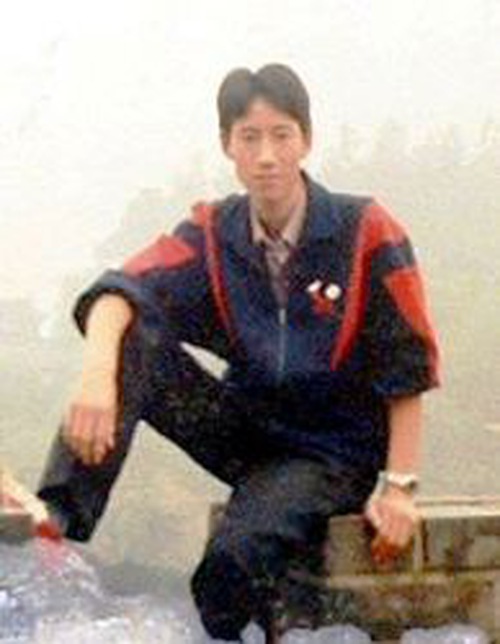 Mr. Zhao Longzhi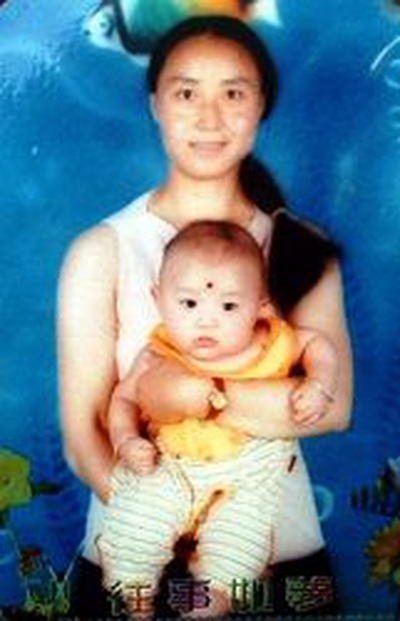 Ms. Luo Na and their child
The labor camp authorities held them for 15 extra days when their terms ended, because they refused to write guarantee statements to renounce their faith. After returning to work, the couple was placed under strict surveillance. They were not allowed to take any time off work.
Ms. Luo became pregnant in 2003. She and her husband were finally granted leave so the child could be born in Mr. Zhao's hometown in Henan Province. Knowing that they'd be under strict surveillance and given no time off when they returned to work, the couple asked Mr. Zhao's parents to take care of the baby.
The police arrested Mr. Zhao and Ms. Luo, along with another practitioner, Ms. Zhao Hong (no relation to Mr. Zhao), on January 31, 2006. They were suspected of distributing materials about the persecution of Falun Gong. All three were given 14-year prison terms in October 2006.
Mr. Zhao Longzhi was ordered to serve time in Niedang Village Prison, Qushui County, Tibet. He was forced to do unpaid labor and suffered inhuman torture, both physically and mentally. He lost several front teeth and has much difficulty eating.
Ms. Luo and Ms. Zhao were taken to the Lhasa North Urban Autonomous Region Prison (also called the No. 1 Prison for that region). Ms. Luo was force-fed many times and suffered beatings and other types of torture. They were deprived of visitation rights and not allowed to write or call their families.
The couple's son has been raised by Mr. Zhao's parents in Henan Province since he was born. He only saw them for the first time at the age of 17, when they were finally released in 2020.
Arrest Cases
Mr. Liu Xianmin of Chengdu City, Sichuan Province, was arrested in Tibet in 2000.
Ms. Guo Wenqi, a native of Shanghai, went to Tibet during her vacation in late 2000 to introduce Falun Gong to the locals. She was reported by a spy in a monastery and arrested. Her passport was confiscated.
In September 2002, 12 practitioners were arrested in Lhasa.
Mr. Si Daoshan joined the military in Tibet in 1976 when he was 18. He stayed there after he was demobilized in 1980 and worked as a manager for a construction company. He was fired by the company in July 2003 and arrested by the Tibet 610 Office in January 2004. He was interrogated overnight and ordered to write a statement to renounce Falun Gong. He was put under strict surveillance after he was released. He was arrested in 2015 for filing a criminal complaint against Jiang Zemin, the former head of the communist regime who ordered the persecution of Falun Gong.
Ms. Lin Hong of Chengdu City, Sichuan Province, was arrested on January 23, 2004, when she went to Lhasa to distribute Falun Gong materials. She was taken back to Chengdu and held at the Wuhou District Brainwashing Center.
Mr. Feng Changlin of Santai County, Sichuan Province, was repeatedly arrested and harassed by the police in Tibet and Sichuan between 2003 and 2005 for practicing Falun Gong.
Nine Falun Gong practitioners from Kunming City, Yunnan Province, went to Tibet on vacation in early July 2005. The police in Bomi County, Tibet, arrested them and sent them back to Kunming. The Kunming City Intermediate Court later sentenced all of them to prison: Ms. Wang Lan to four years; Mr. Sun Yunji to three and a half years; Ms. Zhao Chenyu and Ms. Zhao Yongmei to three years each; and Mr. Zuo Lixin, Mr. Mao Danxin, Ms. Li Junping, Ms. Gao Hong, and Mr. Tian Yunbo to 18 months each.
Ms. Yang Jia and Ms. Gao, a retired teacher, of Guangzhou City, Guangdong Province, were also arrested in September 2007 while on a vacation in Tibet. They were taken back to Guangzhou and held k the Tianhe District Detention Center.
Mr. Wang Yanlin of Xinjiang was arrested in Lhasa in July 2009.
Ms. Cai Ying of Qingdao City, Shandong Province, was arrested in Tibet in August 2012 and later taken to a brainwashing center in Qingdao.
Another practitioner from Shandong, Mr. Li Haiqing, moved from Binzhou City to Lhasa after being released from prison in order to avoid further persecution. He was arrested in Lhasa in 2003. The Lhasa police forced his wife to sell their physical therapy store and attempted to send them back to Binzhou.
Mr. Zhou Jinba, a former Lieutenant Colonel with the Tibet Military Area Command, was arrested in July 2014 by officers of the Shigatse District Political and Legal Affairs Committee and 610 Office. He was severely beaten and had 5,000 yuan of his pension suspended.
Mr. Chen Dadao from the Shigatse District was arrested with his wife and several other practitioners on November 8, 2015.
Ms. Zhu Yuying of Zigong City, Sichuan Province, was arrested in Tibet on March 30, 2016, with three relatives who don't practice Falun Gong. Her relatives were released 15 days later, but she was held in custody until June 8, 2016.
Perpetrators' contact information:
Wu Yingjie (吴英杰), secretary of the Tibet Autonomous Region Party CommitteeLausanne Jiangcun (洛桑江村), chairman of the Tibet Autonomous Region GovernmentHe Wenhao (何文浩), secretary of Political and Legal Affairs CommitteeLiu Jiang (刘江), director of Tibet Public Security Bureau: +86-891-6311311Zhang Yiding (张一丁), deputy secretary of Nyingchi Political and Legal Affairs Committee: +86-13908948210Liu Zongchang (刘宗昌), head of Nyingchi 610 Office: +86-13908943556Long Xiaomin (龙晓敏), staff member of Nyingchi 610 Office: +86-13989048828
(More perpetrators' contact information is available in the original Chinese article.)
All content published on this website are copyrighted by Minghui.org. Minghui will produce compilations of its online content regularly and on special occasions.