Annual Winter Falun Dafa Conferences Held in Russia
January 14, 2017 | By Minghui correspondent in Russia
(Minghui.org) Annual Winter Falun Dafa Experience Sharing Conferences were held in cities throughout Russia from January 1 to January 6, 2017, including St. Petersburg, Ekaterinburg, Krasnoyarsk, Abakan, Tomsk, Cheremkhovo, Angarsk, Ulan-Ude and others. Falun Dafa practitioners learned from each other's cultivation experiences and made New Year's resolutions to make diligent progress.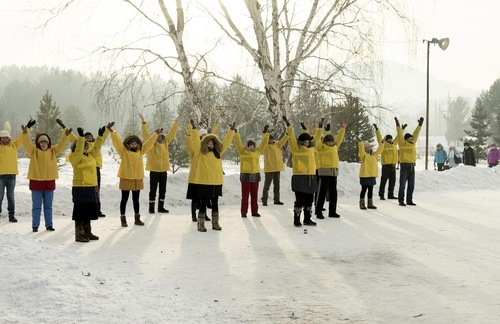 Falun Dafa practitioners in Irkutsk do the exercises together during the experience sharing conference.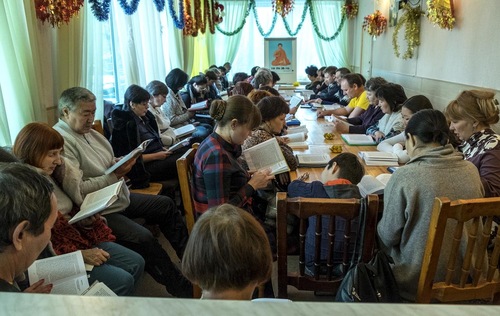 Winter Falun Dafa Experience Sharing Conference in Irkutsk
During the three-day conference in Irkutsk, practitioners read Zhuan Falun, did the exercises, and shared experiences in cultivation and efforts to clarify the truth about the persecution in China.
Practitioners Lena and Sergei shared their experience of distributing Falun Dafa flyers to Chinese tourists at Lake Baikal. Euler talked about distributing flyers in several cities. Irina shared how she had collected signatures on petitions at shopping centers. Participants said they were grateful for this opportunity to improve as a group through this event.
Practitioners from Pyatigorsk, Rostov-on-Don, Krasnodar, Stavropol, Novocherkassk, Taganrog and other towns held an experience-sharing conference in Pyatigorsk from January 4th to January 6th.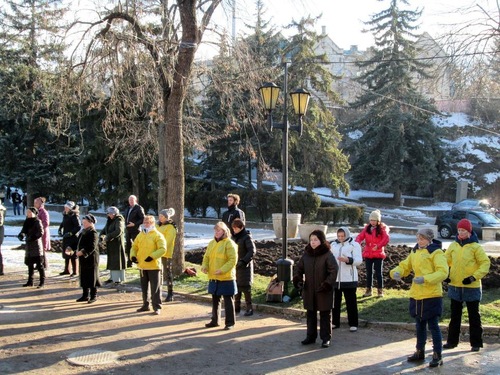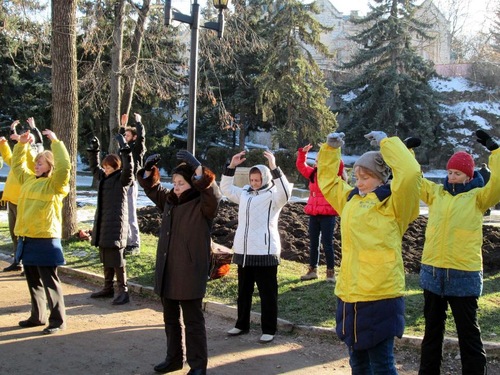 Group exercise at the experience-sharing conference in Pyatigorsk
It was a warm winter day in Pyatigorsk. As the practitioners did the exercises outdoors together, many passersby stopped to learn about this traditional cultivation system.
Practitioners held experience-sharing sessions and discussions on how to coordinate well. Several practitioners shared their stories of how they took up the practice. Their experiences encouraged others to be as diligent as when they first began.
Attendees of the winter conferences said they could sense the preciousness of time and urgency of practitioners' efforts to raise awareness. They reminded each other to cultivate diligently.