Over 2,000 Signatures Received in Support of Lawsuits Against Former Chinese Dictator
(Minghui.org) More than 2,000 signatures have been recently received by Minghui in support of the movement to prosecute Jiang Zemin, the former Chinese leader, for launching the persecution of Falun Gong in 1999.
At least 4,030 practitioners have lost their lives because of torture in police custody. Other type of abuse has included arrest, detention, forced labor, imprisonment, and forced organ harvesting.
Beijing: Key Perpetrators Should Be Jailed
Among these signatures, 757 are from Beijing. One government officer thanked practitioners for their efforts, saying, "Jiang should be arrested. Glad we now have a place [lawsuits against Jiang] to voice our opinions."
A middle-aged man said Jiang is rotten to the core. He said, "One of his crimes is to defame Falun Dafa with the staged Self-Immolation at Tiananmen Square."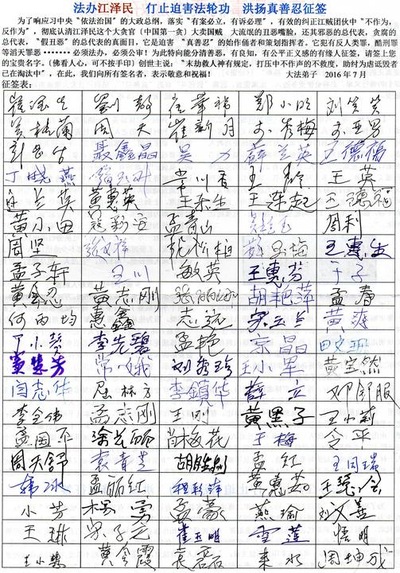 Some of the 757 signatures collected in Beijing.
Another young man pointed out that many high ranking officials who had been involved in the persecution were recently taken down in a political campaign called "striking tigers." He said, "Jiang is the main culprit and he should be put behind bars, too."
Jilin Province: Les Misérables, for 17 Years
One girl said her parents' health was recovered through the practice of Falun Gong. And the family was happier than ever because everyone was following the principles of Truthfulness-Compassion-Forbearance. "But one day the police came, arrested them, and sent both of them to labor camp detention, leaving me all alone."
Even after her parents were released, they had to stay away from home to avoid further persecution, the girl recalled. She said it was just like Les Misérables, for 17 years.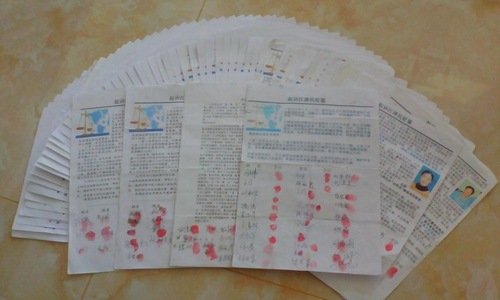 Some of the 1,368 petitions signed since July in Jilin City, Jilin Province
One middle-aged man said, Jiang not only suppresses people, but also betrayed the country for his own interest. "Everyone is waiting for his arrest and the upcoming celebration," he declared.