Position Holders of the 610 Office and the Consequences They Faced
August 14, 2016 | By a Minghui correspondent in China
(Minghui.org) During the Chinese regime's 17-year persecution of Falun Gong, the "610 Office" has played a critical role in carrying out the nationwide campaign of propaganda, brainwashing, and mistreatment of innocent practitioners.
One example is that of Chen Honghui in Hua'nan County, Heilongjiang Province. He arrested 16 practitioners; among them, five were imprisoned, and two were sent to forced labor camps. When a practitioner warned him to stop participating in the persecution so as to avoid the consequences of wrongdoing, Chen boasted, "People often say 'good is rewarded and evil is punished,' but I don't believe it. In fact, I'm a die-hard follower of the Communist Party."
Several days later, Chen's car crashed into a tree. He died on the scene.
Many others in the organization met with similar fates.
Structure of the 610 Organization
Under an order from former Chinese Communist Party (CCP) leader Jiang Zemin, the 610 Office was established on June 10, 1999 to supervise the nationwide suppression of Falun Gong. It answers to the Party's central leadership and penetrates all levels of government. Given power over police and judicial systems, the organization is effectively above the law in carrying out its task to eradicate Falun Gong.
The 610 organization consists of the 610 Leadership Team and subordinate offices. The Secretary of the Central Political and Legal Affairs Committee (PLAC) often acts as the head of 610 Leadership Team in the CCP Central Committee, including Li Lanqing, Luo Gan, Zhou Yongkang, and Meng Jianzhu. Its deputy heads normally come from both the police system and the Propaganda Department, one of whom would be appointed as director of the 610 Office. These figures include Liu Jing and Li Dongsheng. Starting with Liu Jing, the Vice Minister of Public Security has always assumed the role of 610 Office director.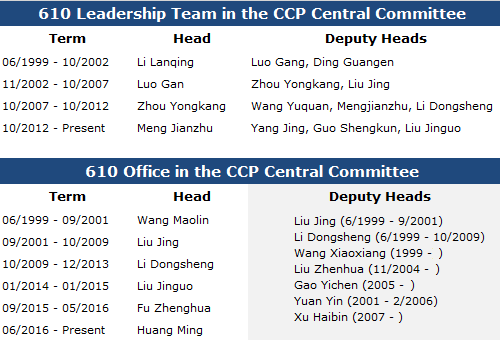 Similarly, secretaries at lower levels of the PLAC also act as heads of the 610 Leadership Team at that level. Subordinate 610 Offices exist at all levels of government agencies, institutions, and stated-owned enterprises.
Geographic Distribution of Retribution Cases
Although practitioners have tried to encourage agents of the 610 Office to stop participating in the persecution, a large number of them turned a deaf ear. Some people suspect that the tragedies that have befallen the officers are karmic retribution for their actions.
Based on information received by Minghui.org, at least 783 members of the 610 Office have met with consequences after their involvement in the persecution. Among them, 565 (72.1%) came from individual 610 Offices, 140 (17.9%) came from the liaison offices in police department, and the other 78 (10.0%) were from its liaison offices in other government agencies.
Below is the geographic distribution of these cases, which cover the entire country except Tibet. In addition, the provinces with the highest number of cases, such as Hebei Province and Heilongjiang Province, are areas where the suppression is the worst.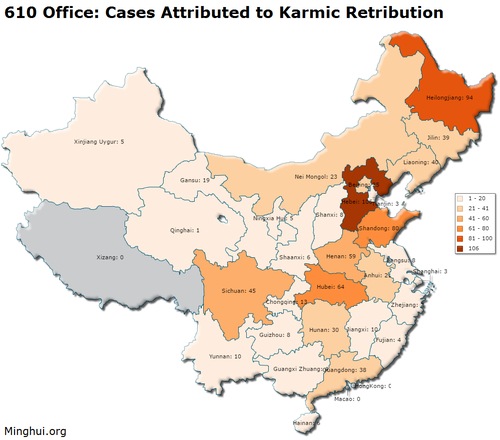 These cases span all levels of government, ranging from the central Party leadership all the way down to counties and towns. Five officials at the central government level have been taken down for various reasons.
Five 610 Officials in CCP Central Committee Affected
Zhou Yongkang, former Minister of Public Security (2002-2007), was the PLAC's Secretary between 2007 and 2012. In 2007, he replaced Luo Gan as the head of 610 Leadership Team. Zhou was placed under investigation in late 2013, convicted in June 2015, and sentenced to life in prison.
Liu Jing, director of 610 Office between 2001 and 2009, played an instrumental role in carrying out Jiang Zemin's persecution policy. He was later diagnosed with late-stage throat cancer.
After serving as the deputy head of the Central Propaganda Department for 7 years, Li Dongsheng became the director of the 610 Office in October 2009 until December 2013. He was also the Vice Minister of Public Security during the same period. After exhausting efforts to suppress Falun Gong with propaganda and violence, he was investigated for corruption in 2013 and sentenced to 15 years of imprisonment in 2016.
Li Lanqing, the first head of the 610 Leadership Team and former Vice Premier, led the persecution of Falun Gong in its early days. After his grandson-in-law was beaten to death by police in 2001 and he saw the consequences other officials had met for persecuting innocent people, he resigned from the position.
Zhou Benshun, another member of the 610 Leadership Team, was detained in July 2015 for investigation.
More Cases at Lower Levels
Zhang Lixin, a township-level 610 Office chief in Qi County, Henan Province, felt sick during a meeting in 2001 while planning operations against local Falun Gong practitioners. He vomited blood, lost consciousness, and died shortly thereafter.
Liu Dihua, a district-level 610 Office head in Baoji City, Shaanxi Province, died in January 2004 while showering together with his mistress in her home.
Zheng Youkui, a township 610 Office head in Pi County, Sichuan Province, died in May 2006 after being struck by lightning. His body was severely burned.
Luoyang Hotel in Henan Province used to be the best hotel in the region. After the persecution started in 1999, however, it was often rented by the 610 Office to hold brainwashing sessions aimed at forcing practitioners to renounce their faith. The hotel's management filed bankruptcy in early 2006. A major fire in May of that year nearly wiped the entire fourth floor.
Lessons Not Learned
Wang Shuhan, a district 610 Office head in Changchun City, Jilin Province, abused practitioners ruthlessly. When one practitioner tried to dissuade him, Wang responded, "I'm not afraid of [karmic] retribution. I've sent many practitioners to prison, and I'm just fine." He later died in a car accident as he drove from Shuangyang to Changchun in June 2010.
Liu Wang, a staff member of the 610 Office in Tianjin, once severely beat three practitioners. Liu said he did not believe that evil would be punished and retorted, "I'll beat you even if my life is cut by ten years." Liu later fell ill and died on the way to a hospital.
Li Bingquan, a village 610 Office head in Weifang City, Shandong Province, said, "Cultivation practice is nonsense. If you can succeed, I will die in front of you." Several days later, he fell ill and died.
Feng Jiuwei, a staff member of the 610 Office in Chengdu, Sichuan Province, was diagnosed with osteonecrosis (death of bone tissue). Believing that his illness could be related to his role in the persecution, he resigned from his position.
"If I had known this earlier, I wouldn't have taken the position [in the 610 Office]," he said to others. "I'm glad I stopped in time. Otherwise, I could be a dead man now."
Related article in Chinese: 明慧报告:610人员恶报综述(下)