Mother and Daughter Imprisoned for Suing Former Dictator—Both in Precarious Condition
September 11, 2016 | By a Minghui correspondent in Shandong Province
(Minghui.org) A mother and daughter from Jiaozhou City are both serving lengthy prison terms for legally charging former Chinese dictator Jiang Zemin with initiating the persecution of Falun Gong which resulted in their past incarcerations.
Ms. Song Guixiang and her daughter Ms. Li Xue were arrested on September 16, 2015, and sentenced to eight and ten years, respectively, on December 1.
This is not the first time the two women have been targeted for their faith. Ms. Li once spent seven years in prison, and her mother was arrested more than 20 times, both for refusing to renounce Falun Gong.
They filed criminal complaints against Jiang in May 2015, only to be arrested and sentenced again.
As Ms. Song had already developed adverse health conditions following her latest arrest, she was released on medical parole nine days after her sentencing.
As soon as her condition improved, she went to various departments seeking the release of her imprisoned daughter. The local authorities, however, took her back into custody and sent her to Jinan Women's Prison on August 7, 2016.
Ms. Song's husband, Mr. Li Yuzhen, and her other daughter Ms. Li Mei, also practice Falun Gong. Both have also been repeatedly arrested in the past, with Mr. Li sentenced to a three-year prison term in 2011. While they are now free, they found themselves in an uphill battle to get Ms. Song and Ms. Li freed.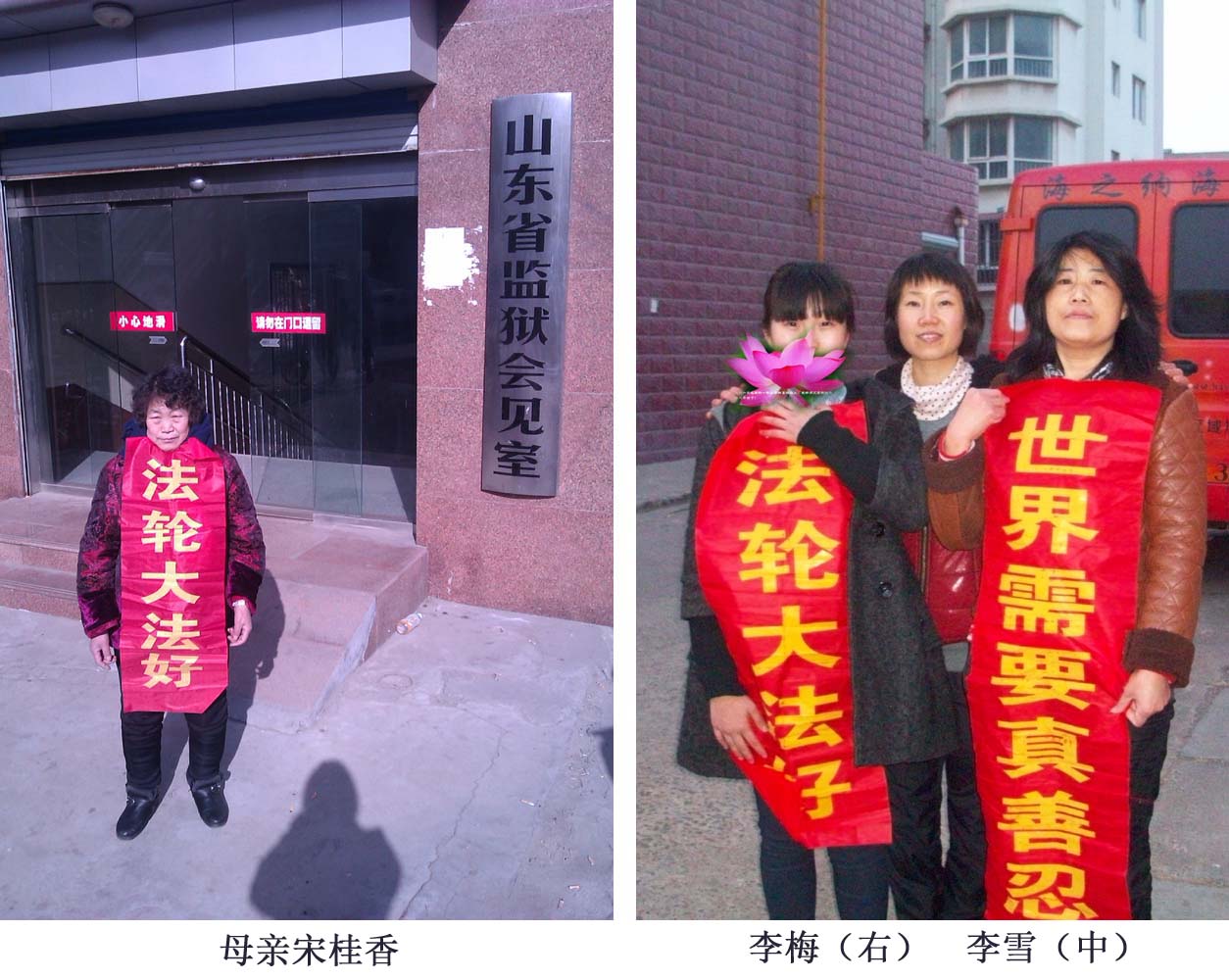 Ms. Song Guixiang and her two daughters
They visited Ms. Song a few days ago and discovered that she had been held at the prison hospital for the past few weeks because of her worrisome health conditions.
In the meantime, they learned that Ms. Li is also in very poor health.
Their request to have Ms. Song and Ms. Li released, however, went unaddressed.
Related Reports:Human Rights Lawyers File Complaint against Shandong Court for Legal Procedure Violations Retired Teacher and Daughters File Lawsuits Against Former Dictator Jiang ZeminMs. Li Xue from Jiaozhou City, Shandong Province Secretly Sentenced to Seven Years in PrisonAs Mr. Li Yuzhen Is Illegally Sentenced, His Wife Condemns the CourtMother and Two Daughters Arrested When Visiting a Relative
Background
In 1999, Jiang Zemin, as head of the Chinese Communist Party, overrode other Politburo standing committee members and launched the violent suppression of Falun Gong.
The persecution has led to the deaths of many Falun Gong practitioners during the past 17 years. More have been tortured for their belief and even killed for their organs. Jiang Zemin is directly responsible for the inception and continuation of the brutal persecution.
Under his personal direction, the Chinese Communist Party established an extralegal security organ, the 610 Office, on June 10, 1999. The organization overrides police forces and the judicial system in carrying out Jiang's directive regarding Falun Gong: to ruin their reputations, cut off their financial resources, and destroy them physically.
Chinese law allows for citizens to be plaintiffs in criminal cases, and many practitioners are now exercising that right to file criminal complaints against the former dictator.