Over 10,000 More Chinese Citizens Sign Petitions to Prosecute Jiang Zemin
May 08, 2016 | By a Minghui correspondent in China
(Minghui.org) Over 200,000 Chinese people have filed criminal complaints against Jiang Zemin (the former head of the Chinese communist regime) since late May 2015, for his role in initiating the persecution of Falun Gong (also called Falun Dafa) in 1999.
In addition to official letters of complaint which were filed primarily by Falun Gong practitioners, more everyday people are signing petitions in support of this initiative.
It has recently been confirmed that a total of 10,445 citizens from three cities or counties in China have signed petitions supporting the lawsuits against Jiang Zemin. They include 1,746 residents from Sanhe City (Hebei Province), over 7,000 from Jin and Fucheng Counties (Hebei Province), and 1,699 from Aohen Qi, Chifeng City (Inner Mongolia).
Many of these supporters are average citizens who are aware that the persecution is a major injustice to a group of good people, and know that Jiang Zemin should be held accountable for his crimes.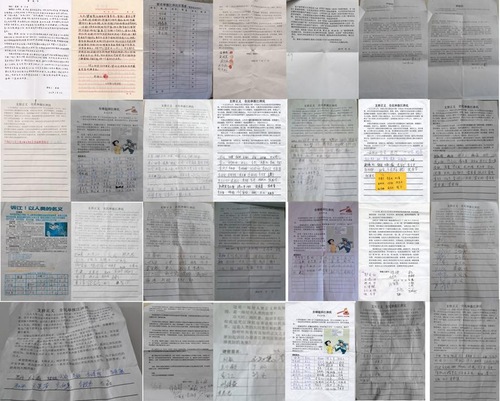 1,746 citizens in Sanhe City signed petitions supporting the lawsuits against Jiang Zemin.
Since May 2015, at least 300 Falun Gong practitioners from Sanhe City, Hebei Province have filed official letters of complaint against Jiang Zemin. More and more local people are learning the truth about Falun Gong and the persecution from practitioners and expressing their support.
Some said, "Instead of 200,000 lawsuits, it should be more than 2 million. Jiang hasn't done anything good for our common people."
One retiree said, "I may not know about others, but I know what Jiang is. He hasn't done anything good and should have been arrested long ago."
Jin and Fucheng Counties in Hebei Province are adjacent to each other. Many practitioners in the countryside, near the border between the two counties, have suffered brutal persecution since July 20, 1999. Many families were broken apart, and some of the family members even lost their lives.
When local practitioners started the petition supporting the lawsuits against Jiang Zemin in late January 2016, many local people supported it. Over 7,000 signatures were collected in about 140 days. The signatures have been delivered to the Supreme People's Procuratorate via the Internet. At least 1,699 people used their real names, or anonymously filed complaints against Jiang Zemin.
One respondent said, "Although I haven't practiced Falun Gong, I knew some of the practitioners and their experiences. One of my friends used to have many diseases, and we often went to see doctors together. She completely recovered and became very healthy after practicing Falun Gong. So I want to say just a word for Falun Gong: Jiang Zemin should be punished for this illegal persecution."
Yuhong, the daughter of a former Falun Gong practitioner said, "My mother recovered from her diseases and was in good health after practicing Falun Gong before July 1999. However, she gave up the practice out of fear after Jiang Zemin started the persecution of Falun Gong. After that, she no longer had tolerance and often scolded others. Her illnesses then returned, and she had to undergo surgery. I know my mother would not be in such a condition if there was no persecution. It's Jiang Zemin who brought harm to my mom. So, I too, wanted to sue Jiang and hope the Supreme Procuratorate will bring him to justice."
Background
In 1999, Jiang Zemin, as head of the Chinese Communist Party, overrode other Politburo standing committee members and launched the violent suppression of Falun Gong.
The persecution has led to the deaths of many Falun Gong practitioners over the past 16 years. More have been tortured for their belief and even killed for their organs. Jiang Zemin is directly responsible for the inception and continuation of the brutal persecution.
Under his personal direction, the Chinese Communist Party established an extralegal security organ, the "610 Office," on June 10, 1999. The organization overrides police forces and the judicial system in carrying out Jiang's directive regarding Falun Gong: to ruin their reputations, cut off their financial resources, and destroy them physically.
Chinese law now allows for citizens to be plaintiffs in criminal cases, and many practitioners are exercising that right to file criminal complaints against the former dictator.
Related Reports in Chinese:
http://www.minghui.org/mh/articles/2016/4/26/内蒙古赤峰市敖汉旗1699人要求法办江泽民-327159.html
http://www.minghui.org/mh/articles/2016/4/28/河北省景县、阜城县七千民众签名举报江泽民-327206.html