3,142 Langfang City Residents Sign Petitions to Support Lawsuits Against Jiang Zemin
May 08, 2016 | By a Minghui correspondent in Hebei Province
(Minghui.org) An additional 3,142 people have signed petitions showing their support for the criminal complaints filed against Jiang Zemin between January and April, 2016. 6,096 people initially signed petitions between September and late December, 2015.
The signatures are a result of local Falun Gong practitioners persistently telling people the facts about the ongoing persecution.
The full report against Jiang Zemin was sent to the Supreme People's Procuratorate through the Internet and regular mail. Practitioners then received confirmation receipts. The complaints accuse Jiang of depriving the Chinese people of freedom of belief, and committing genocide against practitioners of Falun Gong.
The complaints also call for an investigation by authorities into the crimes of organ harvesting from living Falun Gong practitioners, which was originally ordered by Jiang and his allies.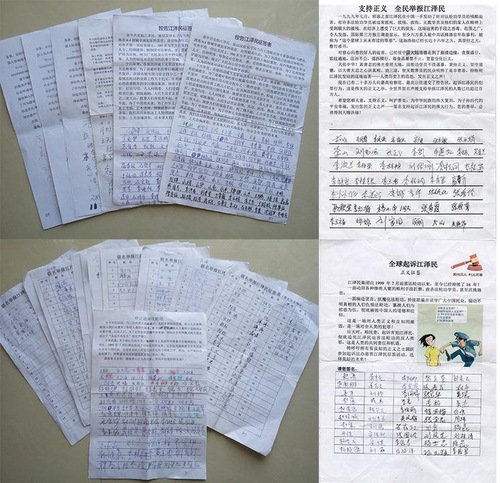 Petitions to sue Jiang Zemin
When asked if he would sign the petition, a worker said, "Yes, I will sign and also use my real name."
A practitioner informed a peddler that Falun Gong practitioners are being killed for their organs, and mentioned that over two hundred thousand people have sued Jiang Zemin.
To this, the peddler replied, "Two hundred thousand is too few. It should be two million!"
Background
In 1999, Jiang Zemin, as head of the Chinese Communist Party, overrode other members of the Politburo Standing Committee and launched the violent suppression of Falun Gong.
The persecution has led to the deaths of many Falun Gong practitioners over the past 16 years. More have been tortured for their belief and even killed for their organs. Jiang Zemin is directly responsible for the inception and continuation of the brutal persecution.
Under his personal direction, the communist regime established an extralegal security organization, the 610 Office, on June 10, 1999. The organization overrides police forces and the judicial system in carrying out Jiang's directive regarding Falun Gong: to ruin their reputations, cut off their financial resources, and destroy them physically.
Chinese law allows its citizens to be plaintiffs in criminal cases, and many practitioners are now exercising that right to file criminal complaints against the former dictator.