Authorities Conspire to Prosecute Labor Camp Guard-Turned-Falun Gong Practitioner
March 12, 2015 | By a Minghui correspondent in Heilongjiang, China
(Minghui.org) A 50-year-old woman from Jiamusi City, Heilongjiang Province, was arrested this February after she tried to attend a trial of several Falun Gong practitioners. In just six days, Ms. Cui Huifang's status was escalated from "administrative detention" to "criminal detention."
Accused of "disclosing state secrets," she is now facing a formal indictment being lodged by the local prosecutor's office.
What turned Ms. Cui into a target for the authorities?
Once a guard at Jiamusi City Forced Labor Camp, Ms. Cui followed orders to torture detained Falun Gong practitioners, just like other guards. However, she eventually became a practitioner herself after realizing that her captives were being unjustly persecuted for their belief in Truthfulness-Compassion-Forbearance.
It became clear to Ms. Cui and her family that the "heightened attention" being paid to her stemmed from the authorities' fear that she might expose the labor camp crimes she once witnessed.
Given her special background, departments from the provincial level to the city level are now involved in her case, although she has broken no law.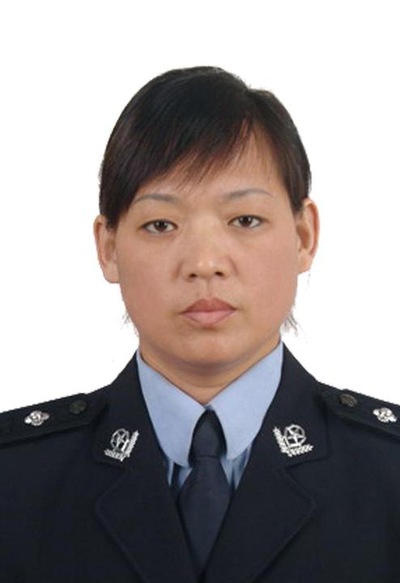 Ms. Cui Huifang, a retired Jiamusi Forced Labor Camp guard, is now a Falun Gong practitioner.
Arrested Again after Two Months of Police Monitoring
Four lawyers and seven Falun Gong practitioners were arrested in Jiansanjiang, Heilongjiang Province, for seeking the release of other practitioners back on March 20, 2014. Dubbed the "Jiansanjiang Case," their arrests have drawn widespread attention both inside and outside of China.
Ms. Cui was first arrested on December 17, 2014, while trying to attend a three-day trial of the practitioners involved in the Jiansanjiang Case. Even though she was released the same day, she was then monitored closely by police from Jiamusi City State Security Bureau.
Ms. Cui was arrested again around noon on February 12, 2015, the day she returned from the US Embassy in Shenyang, where she had gone to apply for a visa. Qianjin Police Station officers broke into her home, ransacked it, and confiscated her computer. They arrested her and held her under administrative detention.
Jiamusi City State Security Bureau then accused Ms. Cui of disclosing state secrets. Officials from Heilongjiang Province Police Ministry and State Security Bureau went to interrogate her on February 27. The following day, local police transferred her to Jiamusi City Detention Center for criminal detention.
On February 26, right after the Chinese New Year holiday, officers from Jiamusi City Qianjin Branch Police Department started working with Heilongjiang Province Justice Department on Ms. Cui's case.
From a Perpetrator to a Falun Gong Practitioner
Ms. Cui, in her 30s, was a guard at Jiamusi City Forced Labor Camp when the Chinese Communist Party (CCP) started persecuting Falun Gong. Deceived by the CCP propaganda, she was an active participant in the torture of practitioners.
While in contact with practitioners, she heard their personal stories: some had recovered from serious illnesses, some had restored broken family relationships, etc.
Ms. Cui was especially struck by their kindness. Though the guards cursed and beat them every day, the practitioners never fought back or got angry. They even showed compassion for their tormentors.
The CCP officials tried numerous tactics to "transform" the practitioners. One day, the head of Jiamusi Forced Labor Camp told the guards to read Zhuan Falun, the main book of the Falun Gong teachings, to help prepare them to coerce practitioners to renounce their beliefs. Every guard in the labor camp got a copy.
For Ms. Cui, instead of finding "weaknesses" while reading the book, miraculous things began to happen to her. She quit drinking alcohol, playing mahjong, and using profanity. Her health problems disappeared, including migraine headaches, kidney stones, neck problems, and arthritis.
One day she suddenly developed a high fever. When she couldn't bear it anymore, she suddenly thought of something a practitioner once told her: "Difficulties are actually good things. If you are a genuine practitioner, Master Li Hongzhi will use these things to help eliminate your karma!" She wondered, "Is Master taking care of me? I have beaten Falun Gong practitioners. How can I be considered a practitioner?" She then fell asleep. The following morning, she felt completely refreshed. In the past, a fever usually left her weakened and ill for several days.
Ms. Cui was convinced after she finished reading the book: Falun Dafa is righteous and had been defamed by the communist regime.
Parties Involved in Persecuting Ms. Cui Huifang:
Heilongjiang Province Police Ministry, Heilongjiang Province Domestic Security Division, Heilongjiang Province State Security Ministry, Heilongjiang Province Justice Department, Jiamusi City State Security Bureau, Qianjin District Police Department, Qianjin Police Station, Domestic Security Division at district and city levels, Jiamusi City Detention Center, Jiamusi Custody Center, and Jialian Residential Community Office.
Perpetrators' Contact Information:
Jiamusi City Police Department: +86-454-8298114Address: No. 2666, Chang'an Rd, Jiamusi City, Heilongjiang Province, 154000Yu Changhai: +86-454-8298155Li Zheng: +86-454-8298333 (Office), +86-18845498888 (Cell)
Jiamusi City Domestic Security DivisionHu Haibin: +86-454-8298355 (Office), +86-13836647555, 18645450055 (Cell)
Qianjin District Police Department: +86-454-8312319Address: No. 446, Chang'an Rd, Jiamusi City, Heilongjiang Province, 154000
Domestic Security Division, Qianjin District Police Department: +86-454-8312319Wang Lianmin, commander: +86-454- 8318833 (Office), +86-454- 13904546699 18645451672 (Cell)
Qianjin District Police Station (responsible for breaking into and ransacking Ms. Cui's home)Dong Jianjun: +86-454- 8998255 (Office), +86-454-8651366 (Office), +86-15046441999 (Cell), +86-18645451690 (Cell)Luan Haitao: +86-454-8699110 (Office), +86-13359557111 (Cell), +86-18645451038 (Cell)Wei Dong: +86-454- 8998255 (Office), +86-13945453666 (Cell), +86-18645451052 (Cell)
Related Articles about the Jiansanjiang Case:
Unable to Defend Practitioner Clients in Court, Rights Lawyers in Jiansanjiang Case Stage Public Protests
Eight Arrested and Still in Detention for Publicizing What Happened in Jiansanjiang
Turmoil in Jiansanjiang – Local Practitioners and Residents Harassed and Monitored During High-Profile Trial