Middle School Teacher Facing Illegal Prosecution
August 18, 2014 | By a Minghui correspondent from Shandong Province, China
(Minghui.org) Middle school teacher Ms. Wang Xiuping has been held at the Tai'an City Detention Center for over two weeks. Her case has been submitted to the judiciary system and she is facing prosecution.
Detained and Awaiting Prosecution
Officers from the Taishan District Police Department and the Yingsheng Police Station of Tai'an City, including officers Su Bin and Wang Yaxing, went to Ms. Wang's home on the morning of July 15, 2014. Su, Wang and three other officers broke into Ms. Wang's home and illegally arrested her, claiming that someone reported her for distributing informational materials about Falun Gong. The police later went back to her home and ransacked it.
Ms. Wang is being held at the Tai'an City Detention Center, and is facing prosecution.
Two officers from the Taishan District Police Department recently went to Ms. Wang's home to notify her husband that her case was handed over to the judiciary system. After Ms. Wang was notified, she called her family to hire a lawyer.
Background History
Ms. Wang, 51, was a teacher at the middle school affiliated with Shandong Agriculture University. She began practicing Falun Gong in 1996. Soon after, the sinusitis that plagued her for many years disappeared.
After the persecution of Falun Gong began on July 20, 1999, Ms. Wang was severely persecuted because she didn't give up her belief in Falun Gong. She was arrested, detained, fined, and her home ransacked multiple times. She was held at a forced labor camp for one year, as well as imprisoned for three-and-a-half years. She was also dismissed from her job without a reason.
At Shandong Women's Forced Labor Camp, in 2007, she was tortured with various methods that included being insulted, slapped, beaten, cold water poured over her, and subjected to cold and hunger.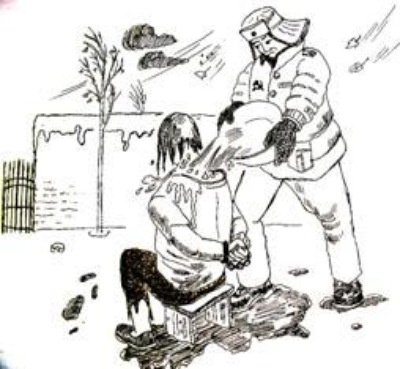 Torture illustration: poured with cold water
Ms. Wang was taken to the Shandong Women's Prison after being sentenced to a three-and-a-half year prison term in 2009. She was in poor health when she was released from the prison on October 17, 2012. She gradually recovered her health through practicing Falun Gong.
At the time of her release from prison, Ms. Wang's family struggled to make ends meet. Her husband's workplace went bankrupt and he lost his job. Her son couldn't find a job after graduating from college, and she had no income from her former employer. They depended on the meager income from tutoring several elementary school students.
Ms. Wang went to see Wen Fujiang, president of Shandong Agriculture University, to ask for her former job back. Wen said he didn't know her, so she introduced herself and told him some facts about Falun Gong to dispel the CCP's lies.
Wen immediately called in personnel from the University's security division, who forcibly took Ms. Wang away for interrogation.
Ms. Wang went back to Wen's office, but he told her, "I don't have time to take care of your issue," and hit her in the head. Ms. Wang asked, "Why did you hit me? You are the president of the university!"
Ms. Wang was arrested shortly after that.
Parties involved in persecuting Ms. Wang:Taishan District Police Department:Yang Qidian, director: +86-538-8225172, +86-18615389777Xu Zhiqiang, political instructor : +86-538-8226236, +86-18615388068Zhao Qijun, deputy director: +86-538-6261038, +86-18653898866
Shandong Agriculture University:Xin Shanping, party secretary: +86-538-8242299Wen Fujiang, president: +86-538-8242883 (Office), 86-538-8242291 (Office)
Earlier report:Schoolteacher Endures Years of Torture for Persisting in Her Beliefs