Schoolteacher Endures Years of Torture for Persisting in Her Beliefs
May 06, 2014 | By a Minghui correspondent from Shandong Province, China
(Minghui.org)
Summary of Key Persecution Facts: Name: Wang Xiuping (王秀平) Gender: Female Age: 51 Address: Taian City, Shandong Province Occupation: Teacher
Date of Most Recent Arrest: April 18, 2009
Most recent place of detention: Shandong Women's Prison (山东省女子监狱) City: Jinan
Province: Shandong
Persecution Suffered: Detention, brainwashing, monitoring, house arrest, suspended wages, home ransacking, forced labor, beatings, slave labor, detention in a small cell, mouth sealed with tape, handcuffed, denial of restroom use, food deprivation, insults, face slapping, illegally sentenced, imprisoned, tortured, shackled, deprived of food, and dousing with cold water.
Ms. Wang Xiuping is a teacher from the Shandong Agriculture University Affiliated School. She has been persecuted since the onset of the persecution because she remained steadfast in practiticing Falun Gong. She has been sentenced to forced labor for one year, and imprisoned for three and a half years. She was also tortured with a variety of methods.
Persecuted at Shandong Agriculture University Affiliated School
Between 1999 and 2006, officials at the Shandong Agriculture University Affiliated School had Ms. Wang monitored, put under house arrest, and withheld her wages.
Ms. Wang went to the provincial government to appeal for the right to practice Falun Gong on July 23, 1999. At the end of year, Sun Li, the school principle, demanded that she write a statement promising that she "would not practice Falun Gong, would not contact Falun Gong practitioners, and would not talk to people about the practice." Ms. Wang refused, and was therefore taken to the Xilu Police Station. She spoke to the police about the benefits she derived from practicing Falun Gong. After the police had asked her if she would renounce the practice, she said no, and was released.
Sun forced her to attend a brainwashing session for the entire winter break, and threatened to fire her. The school cut her salary, which worsened her family's financial situation.
Zhu Chuanxiang, the school's Chinese Communist Party (CCP) secretary, had her monitored by her colleagues and others near her home. He used various tactics to prevent her from practicing Falun Gong. When she attended the funeral of a relative he had her followed and arrested after the funeral.
On expiration of her contract in the fall of 2008, he demanded that she sign a two-year contract that contained words slandering Falun Gong, but she refused to sign. Her salary was thus withheld, and he threatened to fire her.
Imprisoned at the Shandong Women's Forced Labor Camp from December 2006 to June 2008
Ms. Wang was detained at the Shandong Women's Forced Labor Camp between December 2006 and June 2008.
Officers from the Taian Police Department arrested her and ransacked her home on December 20, 2006. They even threatened to arrest her husband for trying to stop them from arresting her. She was taken to a motel room and then transferred to the city detention center.
She was transferred to the Shandong Women's Labor Camp in January 2007, and detained there for one year. Because she shouted "Falun Gong is good" on arrival, a female doctor sealed her mouth with duct tape, and wrapped it around her head. When the guards removed the tape they pulled out a lot of her hair. She was given only a small amount of food, and handcuffed to an iron pipe.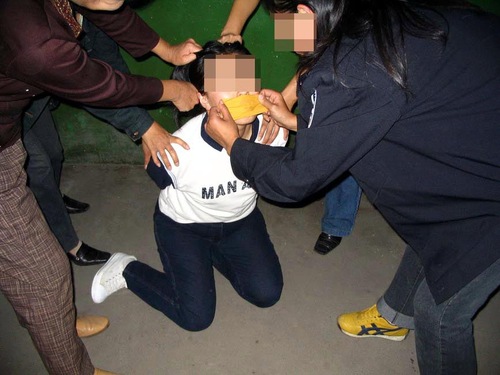 Torture re-enactment: Mouth sealed with tape
Guard Wang Wei handcuffed her to two mobile beds and then stretched her arms by pulling the beds apart, because she refused physical checkups. He also dragged her upstairs by pulling the chains that were attached to her wrists.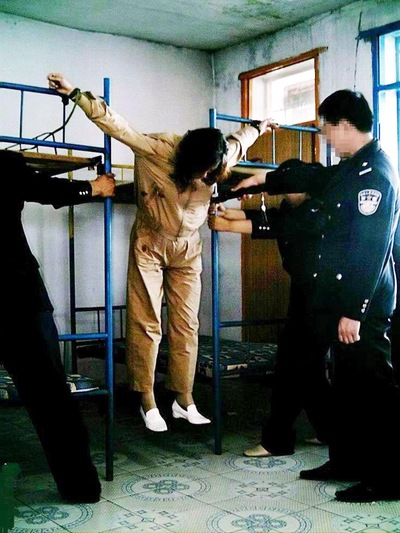 Torture re-enactment: Stretch handcuffing
Four prisoners were assigned to monitor Ms. Want during her four months of solitary confinement. When she shouted "Falun Gong is good," the prisoners were ordered to stuff her mouth with mops and then seal her mouth with tape. To stop her from doing the Falun Gong exercises, the prisoners pulled her fingers backwards, taped them to her body, and pushed her back and forth between several prisoners.
She was transferred to the Second Group, where she was monitored by two prisoners, beaten, deprived of sleep, given little food, and prevented from using the bathroom. Yet, she was forced to work about 16 hours daily. She was sometimes not allowed to eat even after she finished the work.
Guard demanded she write statements renouncing Falun Gong, which, upon her refusals, resulted in her being beaten by the prisoners.
Officer Wang Yueyao slapped her and then blamed her for waking up others, resulting in her being transferred to a solitary confinement cell.
Detained for Six Months at the Feicheng Detention Center
The Feicheng City Detention Center incarcerated her between April and September 2009.
After her release, she was allowed to teach at the school because of support from the public. Zhu Chuanxiang hated her talking to people about Falun Gong. He deducted 5,000 yuan from her salary in 2008, and threatened to arrest her again.
She was arrested by police in Taoyuan Township on April 18, 2009, when she was talking to people about Falun Gong. The police confiscated her MP3 player, cell phone, keys, and over 700 yuan in cash.
She refused to give her name and address, or have her photo taken by police, which resulted in her being tortured. She was detained in the Feicheng Detention Center, where she was put in shackles, just like death row prisoners. For a period of time, her hands and feet were cuffed together, so she had to be carried in and out. After the handcuffs were removed, she had to wear heavy shackles at all times.
While she was in the detention center and her husband and son were out of town, Zhu and the police broke into her home and stole everything of value.
Incarcerated at the Shandong Women's Prison from October 2009 to October 2012
Ms. Wang was held at the Shandong Women's Prison between October 2009 and October 2012, and was tortured there.
The Feicheng City Court sentenced her to three years and six months in prison on July 27, 2009. She appealed, but the Taian City Intermediate Court upheld the sentence on September 29. She was then taken to Shandong Women's Prison.
Again, just as before, she was harassed by the guards and strip searched, and she refused to answer questions from officer Xu Yumei. They demanded she write and sign a statement promising to give up Falun Gong, which she refused. She was mistreated by five inmates. No one could make her write the statement renouncing the practice.
In the winter of 2009, the police did not allow Wang Xiuping to wear warm clothing, and forced her to sleep on the cement floor, with only a comforter as thin as a towel. They kept the door of the cell open at all times.
Throughout her detention the guards ordered prisoners to torture her to get her to write the statement promising to give up Falun Gong. At times there were more than ten prisoners involved in the torture. Former practitioners who had renounced the practice, including Yu Hong and Gong Zemei, were also involved in torturing her.
Ms. Wang Xiuping was released on October 17, 2012. The guards gave up on coercing her into renouncing Falun Gong.
Parties involved in the persecution: Zhang Shuyou (张树友), director of the Taian City Police Department Qi Zihai (亓子海), vice director of the Taian City Police Department Zhu Zonghai (朱宗海), political Instructor of the "anti-cult" group of the Taian City Police Department Zhu Chuanxiang (朱传祥), CCP secretary of Shandong Agriculture University Yang Rufa (杨如法), captain of the Domestic Security Division of the Taishan District Police Department Wang Xinmin (王新民), CCP secretary of the Political and Judiciary Committee in Feicheng City Zhang Zhifeng (张志锋), vice CCP secretary of the Feicheng City Political and Judiciary committee, director of the 610 Office You Baolong (有保龙), vice director of the 610 Office in Feicheng City Zang Zhiqiang (藏志强), director of the Feicheng City Police Department Qiu Shigang (邱士刚), vice director of the Feicheng City Police Department Yi Chengmin (尹承民), vice director of the Feicheng City Police Department Wang Zesheng (王泽生), captain of the Domestic Security Division of the Feicheng City Police Department Zhang Bin (张彬), director of the Feicheng City Detention Center Zhang Hongwei (张宏伟), director of the Feicheng City Procuratorate Wu Minglei (吴明磊), vice director of the Feicheng City Procuratorate Li Chengtao (李成涛), president of the Feicheng City Court Zhou Dong (周东), vice president of the Feicheng City Court Fan Changwang (范昌旺), vice director of the Feicheng City Court