CCP Torture Methods: Hanging Up by Handcuffs
December 20, 2014 | By Feibao
(Minghui.org) Ms. Liu Fanqin (刘范钦) was handcuffed and hung from a rack at the top of a window, with her toes barely touching the ground. When she was finally taken down after more than 30 hours of sleep deprivation and not being allowed to use the restroom, her arms had already become numb and dislocated. Several local hospitals identified sustained brachial plexus injuries to her arm and shoulder ligaments. They declared her permanently disabled.
Ms. Liu is just one of many Falun Gong practitioners who have, at one time or another, been tortured by being hung up by handcuffs. It is far worse than what is depicted in movies or TV shows, in which the victims have their hands tied with a rope and are hung up.
When a person is hung up by handcuffs, the metal often cuts into his or her flesh, causing excruciating pain. The Chinese Communist Party often uses this torture on practitioners for extended periods of time to inflict the most harm. This torture is also used in conjunction with other forms of abuse to make practitioners suffer even more.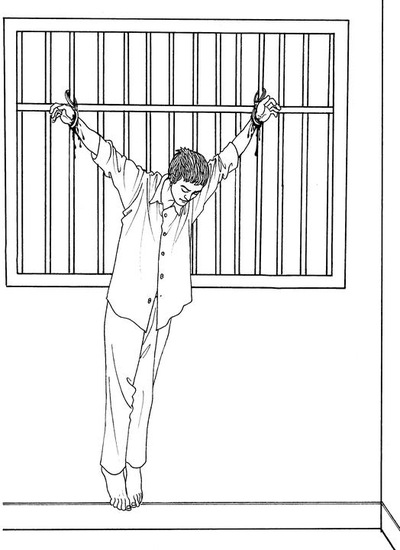 Torture illustration: Hung up with hands cuffed
Hung Up with Hands Cuffed for Extended Periods
Ms. Xiao Yongkang, a practitioner in Hunan Province, was handcuffed and hung up without her feet touching the ground for five days and two nights in a brainwashing center. A large piece of skin on her wrist ripped off. She was shaking from extreme pain, she was confused, and her mouth was dry although her body was drenched in sweat.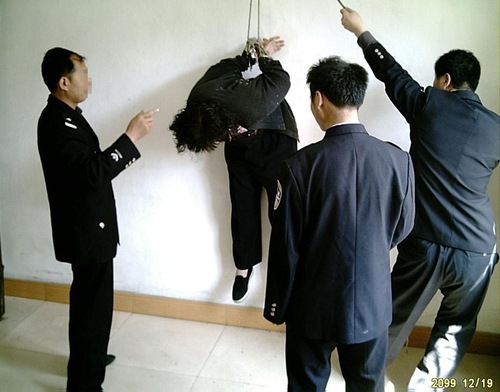 Torture reenactment: Hung up with hands cuffed behind the back
Ms. Yu Qunfang's hands were bound behind her back in Chongqing. She was hung up for 20 days in a detention center.
Similarly, Ms. Zheng Chaoying, a Transportation Company employee in Gansu Province, was handcuffed and hung from the guard office window without her toes touching the ground at the Gansu First Labor Camp from April 19 to 27, 2001. She was also beaten, verbally abused, and her face was slapped.
On top of being shackled and hung up for quite some time, some practitioners were shocked with electric batons. Mr. Xu Chun in Anhui Province was imprisoned for nine years. He was handcuffed and hung from a metal door with both feet shackled and only his toes touching the ground. He was hung up like that for up to four months, except for eating or using the restroom. He was also shocked with electric batons daily.
Hung Up Spread-Eagle
Ms. Zheng was handcuffed and hung up with her arms and legs spread-eagled in the Gansu First Forced Labor Camp in 2001. The handcuffs cut into her wrists, and she couldn't raise her head. She was drenched in sweat and she became disoriented. The guard raised her head with a baton and asked, "Are you sweating or crying?"
Barbed Handcuffs
For refusing to give up her belief, Ms. Zhang Ruiying was taken to the Kaiping Forced Labor Camp in Hebei Province. She was shackled with barbed handcuffs and hung from a basketball hoop, without her feet touching the ground, for several hours. The barbed handcuffs cut into her flesh. To make things worse, an inmate threw water in her face.
Her hands were numb and her wrists bleeding after she was taken down. She soon looked emaciated and almost all of her hair turned gray. It took her several years to recover from this ordeal.
Shackled and Hung from a Torture Rack
A torture instrument was designed for shackling and hanging in the first arraignment room of the Dadukou District Detention Center in Chongqing. Ms. Gao Jie, an elementary school teacher, was tortured on it on June 27, 2003.
Ms. Gao's recounted, "They handcuffed and hung me up on metal bars. They removed my shoes. They put my bare feet on the mouth of the angled bars. My arms were separated and tied to the highest points of the barred wall. My toes just barely touched the bar as I tried to prevent the handcuffs from tightening. There was a 200-watt light bulb just above my eyes.
"A police officer tied a string made of plastic bags to the handcuffs and tugged at the another end. The pain was excruciating. The officer said that they were sadists and they wanted to abuse me. Another officer sat in a chair and kicked the barred wall. The bars shuddered and hit my tailbone, back, and head. The officer warned me that I would not leave the center alive."
Ms. Huang Guirong
1. Hands Cuffed Behind the Back and Suspended in the Air by a Chain
Ms. Huang Guirong was taken to the Liaoning Women's Prison in March 2003. The guards twisted her hands behind her back and cuffed them. They hung her up by a metal chain on the stage in an auditorium. By adjusting the chain length, they suspended her either high or low. They occasionally loosened the chain, so that she would spin and bump into a big pillar on the stage. Before the pain receded, they tightened the chain to keep her high in the air to inflict more harm.
2. "Board of Nails"
Ms. Huang was also tortured on a board of nails, also called a bed of nails, in the prison. She was hung up in her bare feet above a board with four to five nails sticking up about a half a centimeter. Her hands were not strong enough to hold her above the board. When she stood on the board, the nails penetrated her feet, which were riddled with holes.
3. Handcuffed and Hung Up While Standing in Cold Water
Ms. Huang was also handcuffed and hung from a metal pipe on the wall while standing in a bucket of cold water during the winter. She left there from morning to night. Outside temperatures were as low as -30℃.
Handcuffed and Hung Up Above a Hot Kiln
Yinchuan Prison in Ningxia tortured practitioners over a two-story brick kiln. Guards first handcuffed the practitioners and then hung them up above the kiln.
The temperature at the top of the kiln was 40-50ºC in August 2001. Mr. Lu Xiangdong and Mr. Wang Yuzhu were handcuffed behind their backs and hung up. Their toes touched the top of the kiln. After 45 minutes, Mr. Wang's arms became numb. He was drenched in sweat and could barely breathe. Mr. Lu became disabled.
Two Died after Being Hung Up and Beaten for Hours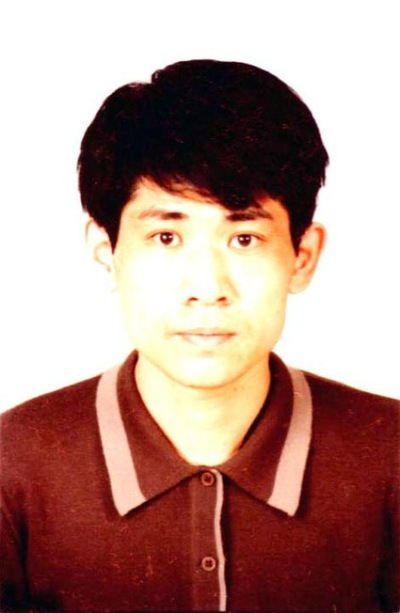 Mr. Liu Yonglai
Mr. Liu Yonglai, 36, was handcuffed and hung up in Dalian Forced Labor Camp in Liaoning Province for six hours on July 6, 2001. He was bleeding and fainted after his mouth was forced open by the guards with a wire. After he was taken down, he couldn't talk or walk. Because he still refused to renounce his belief in Falun Gong, he was handcuffed and hung up again. The guards beat him viciously. His legs were broken and the back of his head caved in. The beating didn't stop until he died.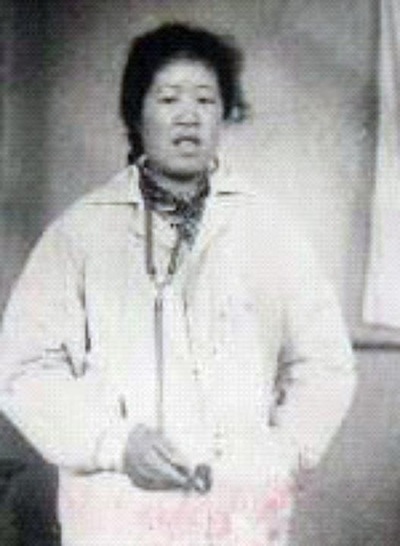 Ms. Liu Lanxiang
Ms. Liu Lanxiang, a pharmacist from Lanzhou City, Gansu Province, died six days after her arrest in early April 2001, after being hung up and beaten for hours.
Related articles:Ms. Liu Fanqin Tortured and Disabled for Making Public the Rape of Ms. Wei XingyanMs. Liu Fanqin Imprisoned Six Years for Exposing Policeman Who Raped a Female StudentKindhearted Villager Ms. Xiao Yongkang from Huayuan County, Hunan Province, Arrested AgainMs. Yu Qunfang and Ms. Tang Xiaoyi Died after a Decade of PersecutionFalun Gong Practitioner Liu Lanxiang Tortured to Death in 2001, Family Appeals for Justice (Photo)