Seventeenth Anniversary of Master Introducing Falun Dafa to Taiwan
November 16, 2014 | By Minghui Correspondents Su Rong and Sun Bai
(Minghui.org) Seventeen years after Master Li Hongzhi traveled to Taiwan to lecture and introduce Falun Dafa in that country, local practitioners recalled precious memories of the event.
More than 2000 people attended Master's first lectures in Taiwan in 1997. The first lecture was held at Taipei Municipal San-Xing Elementary School on November 16, 1997. The second was at Wufen Agricultural and Industrial Vocational High School in Taichung City on November 20.
Following the lectures, Falun Dafa quickly spread by word of mouth in Taiwan.
Today, hundreds of thousands of people practice Falun Dafa in Taiwan, making it the country with the second largest number of Falun Gong practitioners (after China).
Taiwan has more than 1,000 practice sites, with one in almost every town.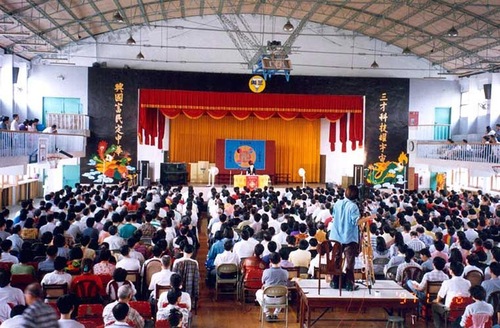 Master Li Hongzhi lectures at Taipei Municipal San-Xing Elementary School on November 16, 1997.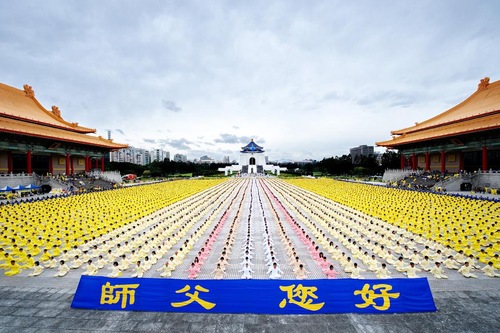 Falun Gong group exercises at Freedom Square (Chiang Kai-shek Memorial Hall) during the annual experience sharing conference in November 2011.
Recalling Master Teaching in Taiwan
Dr. Nie Shuwen was a Falun Gong coordinator in Shanghai before he moved to Taiwan. He said, "Master said the Taiwanese people were very kind, and that he wished to introduce Falun Dafa all over Taiwan. We, the first group of Falun Gong practitioners, did our best to hold nine-day workshops in different cities of Taiwan, but our efforts were somewhat limited. We invited Master to teach in Taiwan and give the Taiwanese people an opportunity to listen to his lectures in person."
"Tears came to my eyes when I listened to Master lecture. I was deeply touched and filled with joy. What Master taught us was the Fa of great virtue. After Master's lectures, the number of practitioners in Taiwan increased quickly," Dr. Nie said.
Dr. Nie said that Master was very compassionate and kind to everyone. He arrived at all the scheduled activities in Taiwan on time. After the lectures, Master traveled to Taipei, Yilan, and to southern and eastern Taiwan. He spent a night at Sun Moon Lake. Only two or three students accompanied Him.
Master wouldn't let his students pay for any of his expenses, Dr. Nie said. He went in and out of cities without telling the local students. How Master behaved in Taiwan set a great example for his students.
Taiwanese People Benefit from Falun Dafa
Mr. Lin Shanben, a Kaohsiung city government employee, attended Master's lecture at Taipei Municipal San-Xing Elementary School. "I had a head injury from a car accident, which had forced me to stop working. I suffered headaches for eight years and couldn't sleep at night. I tried both Chinese and Western medicine, but nothing helped. Three months before Master's visit to Taiwan, I saw the Falun Gong exercises being taught near a park, and I copied the movements out of curiosity. I didn't study the Fa at that time. When I heard that Master would lecture in Taiwan a few practitioners and I flew to Taipei to attend.
"We sat in the first row during the lecture. Master showed up on time. He was very tall and extraordinary-looking. He taught continuously until 4:30 p.m., without taking a break or drinking any water."
"My head wound was very painful. I could hardly lift my head. The pain lasted from 1:00 p.m. to 7:00 p.m. that day, but I could tolerate it. A strong force made me stay, even though I couldn't concentrate on Master's words. Amazingly, my headache disappeared afterward. My injury was cured by Master, an injury that medicine couldn't cure. I felt like I had been reborn. I thank Master from the bottom of my heart."
Mr. Lin became determined to do his best in cultivation. He read the book Zhuan Falun in one sitting, and gained a good understanding. He felt that many bad things were eliminated during Master's lecture. After returning to Kaohsiung, he established a group practice site and held nine-day lecture workshops to introduce Falun Gong to more people. Today in Kaohsiung thousands of people practice Falun Gong.
Countless Taiwanese practitioners have benefited from Falun Dafa, and live their lives by following the principles of Truthfulness-Compassion-Forbearance.