After Eight Years of Imprisonment, Mr. Du Ting from Shanghai Arrested Again
October 04, 2013 | By a Minghui correspondent from Shanghai, China
(Minghui.org)
Summary of Key Persecution Facts:
Name: Du Ting (杜挺)
Gender: Male
Age: 47
Address: Shanghai
Occupation: Unknown
Date of Most Recent Arrest: August 18, 2013
Most recent place of detention: Tilanqiao Prison in Shanghai (上海提篮桥监狱)
City: Shanghai
Persecution Suffered: Detention, sleep deprivation, interrogation via torture, illegal sentencing, imprisonment, solitary confinement, bound with a leather belt, sitting board, damaging force-feeding, brutal beatings, insults, death bed
On the afternoon of August 18, 2013, practitioner Mr. Du Ting from Shanghai was reported to the police for distributing Shen Yun Peforming Arts DVDs in the Pudong District. He was arrested by Yangjing Police Station officers. He held a hunger strike to protest the illegal arrest and detention. His family is very concerned about his health.
In the past, Mr. Du was sentenced to eight years in prison for practicing Falun Dafa. He was tortured severely in Tilanqiao Prison in Shanghai and held a long hunger strike to protest. Even though he was brutally tortured both physically and mentally, he still demonstrated great kindness toward others, which moved many people.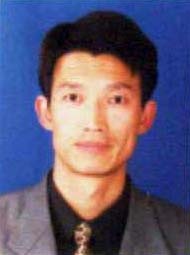 Mr. Du Ting
Falun Gong Improves Mr. Du's Life
Mr. Du Ting, who was born in Gansu Province, moved to Shanghai to work in 1993. He started practicing Falun Gong in November 1998. He lived by the principles of Truthfulness-Compassion-Forbearance and tried to be a good person. He quit smoking and drinking right away and became very healthy. He also went from being a stubborn person who would argue a point to death, to a humble, honest, and kind person who cared less about fame and money. People who know him think highly of him.
Arrested Twice, Loses His Job
After Jiang Zemin's regime ordered the Chinese Communist Party (CCP) to persecute Falun Gong in July 1999, Mr. Du went to Beijing to appeal for justice for Falun Gong. He was arrested and detained in a police station. Later he was taken to the Gansu Province Representative Office in Beijing. He was handcuffed there for the entire night. He managed to escape and returned to Shanghai. In July 2000, the CCP staff at the Qingpu District of Shanghai pressured the company he worked for to persecute him by threatening to revoke the company's business license. To ease the pressure on the company's managers, Mr. Du was forced to resign from the company.
On May 4, 2001, Mr. Du was arrested in Haikou City, Hainan Province, by officers from Minhang District Police Department and Haikou Police Department. When he was detained in the Haikou Detention Center, the police deprived him of sleep for ten days in an attempt to extract a confession. When he was taken back to Shanghai, Minhang Police Department officers also didn't let him sleep. His wife, Ms Fu Xiaohong, was deprived of sleep for 12 days before being put into a forced labor camp for 18 months.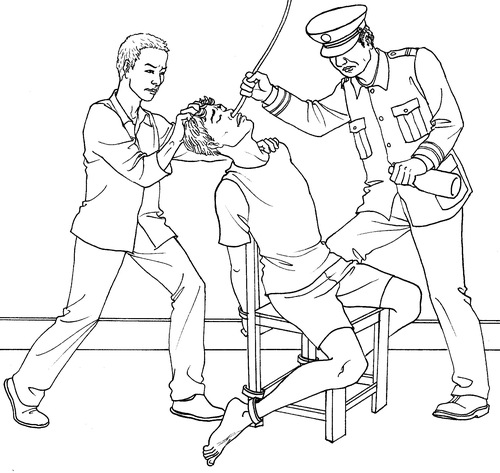 Torture Reenactment: Devastating force-feeding
Arrested Again, Tried, Sentenced to 8 Years
On August 17, 2001, Minhang Procuratorate issued an arrest warrant for Mr. Du. Without giving any notice to his family and without an attorney, the Minhang Court held a trial on March 18, 2002, and sentenced him to eight years in prison. He was put in Tilanqiao Prison.
Brutally Tortured
Mr. Du held hunger strike for over 400 days to protest the persecution. Guards locked him in solitary confinement and bound him with a leather belt. They forced him to sit on the floor for a long periods despite being already very weak. When force-feeding, guards some times purposely used a thick tube and kept inserting and moving the tube. Mr. Du's nose was often injured. He had great pain in his stomach. He later said that he could have died at any time during the force-feeding.
Because he tried to resist the barbaric force-feeding, guards handcuffed him for a long time, frequently beat and kicked him, and dragged him on the cement floor to the force-feeding room. When he shouted out to uphold his belief in Falun Dafa, guards squeezed his neck until he lost consciousness.
An Inmate Monitor Becomes a Practitioner, Then Dies from Persecution
Mr. Chen Jun, a 27-year inmate, was assigned by the guards to monitor Mr. Du. After Mr. Du helped him learn the truth about Falun Gong, Mr. Chen started learning and practicing it. The guards were infuriated.
On January 18, 2006, they locked Mr. Chen Jun in solitary confinement in the Number One Squadron of the Second Division, and starting beating him brutally every day. After being beaten for a week, Mr. Chen was in a critical condition. He was taken to the General Hospital of Shanghai Prisons. Shortly after, the guards sent him to his home in Hunan Province.
Sadly, Mr. Chen passed away within a month of his release.
Critically Ill
In early 2007, Mr. Du developed pleural effusion due to torture and almost died. Later he also had tuberculosis and pneumonia.
Tilanqiao Prison refused to let his wife visit him. Guard Zhang Yi ordered other inmates to abuse him. In early 2008, he was in critical condition again and was taken to the General Hospital of Shanghai Prisons. When his wife went to see him, he was not able to walk and was pushed out in a wheelchair.
After he returned to the prison, the guards stripped his clothes off and tied him on a death bed to continue the torture. Inmates watched him around the clock and kept insulting and beating him. His wife requested his release for medical treatment, but the prison denied her request.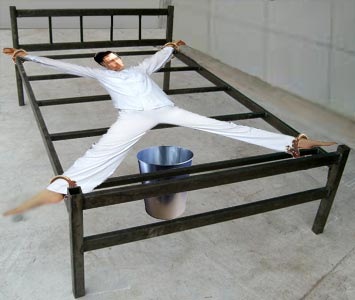 Torture Reenactment: Death Bed
When Mr. Du was released in 2009, he was carried out of the prison gates. At home, he recovered by practicing Falun Gong. But his fingers, which were tied up for long periods of time in the prison, were permanently damaged.
Hearing that he is on hunger strike again, his family is very concerned about him.
Related articles:
Mr. Du Ting Bound to a Bed for an Extended Time in Tilanqiao Jail
Mr. Du Ting Tortured at Tilanqiao Prison in Shanghai for Seven Years (Photo)
Practitioner Du Ting Is Tortured in Prison, His Wife Calls for Support (Photo)