Practitioner Ms. Hu Yanli Mistreated in Masanjia Women's Forced Labor Camp (Photos)
March 19, 2011 | By a Clearwisdom correspondent from Liaoning Province, China
Name: Hu Yanli (胡艳丽)
Gender: Female
Age: Unknown
Address: Sanhezhuang Village, Beilu County, Lingyuan City, Liaoning Province
Occupation: Unknown
Date of Most Recent Arrest: August 1, 2007
Most Recent Place of Detention: Masanjia Women's Forced Labor Camp (马三家女子劳教所)
City: Shenyang City
Province: Liaoning Province
Persecution Suffered: Detention, brainwashing, forced labor, beatings
(Clearwisdom.net) Falun Gong practitioner Ms. Hu Yanli was illegally arrested on August 1, 2007, in Beilu County along with more than 40 other practitioners, including her elder sister, Ms. Hu Yanrong. In the course of that persecution, her elder sister, Ms. Hu Yanrong lost her life. Ms. Hu Yanli had been illegally detained in Masanjia Women's Forced Labor Camp for one year, where she was subjected to cruel mistreatment.
As soon as Hu Yanli entered the gate of the labor camp, Third Brigade head Shi Yu asked cynically, "Do you still practice Falun Gong?" After Ms. Hu Yanli entered the Third Brigade door, she was brought to a classroom by Dai Muxian, who had been "transformed." On the first day, Dai Muxian told her the Chinese Communist Party's (CCP) warped logic which slanders Falun Dafa. Dai Muxian brought a prison uniform the next morning for her to wear, but Ms. Hu Yanli refused it. Four detainees came to persuade Ms. Hu Yanli on the third day to cut off her waist-length hair. They held her to the ground after she refused, and forcibly cut her hair. They then tried to make her wear the prison uniform, but she refused. These four detainees held her to the ground on the forth day and forced her to put on the prison uniform. They forced her to write three statements indicating that she gave up practicing Falun Gong. They held Hu Yanli's hands and forced her fingerprint on a prepared statement. Hu Yanli said righteously, "It does not count. I did not write or sign it!"
Ms. Hu Yanli was then detained at a brigade with regular prisoners. Cotton military uniforms were produced in the labor camp, and labor at the camp was very intensive. Everyone gets up at 5:00 a.m., has breakfast at 6:00 a.m., and then works until lunch break at 11:30 a.m. After lunch they return to the workshop and work until dinner at 5:00 p.m. After dinner they return to the workshop and work until midnight. After it was later exposed that detainees at Masanjia Forced Labor Camp were forced to work overtime, that some detainees were elderly, and there was overcrowding, the work duration was reduced and they did not work after dinner. However the guards reinforced the brainwashing of Falun Gong practitioners from 6:00 p.m. to 8:00 p.m.
Hu Yanli refused to sign a monthly evaluation form in late March 2008. Captain Liu Guorong summoned her to the bathroom and slapped her repeatedly on the face. She was knocked to the ground and her nose was bleeding. Liu Guorong kicked Ms. Hu in the head, feet, face and chest. Hu Yanli shouted, "I am being beaten by someone!" "Falun Dafa is good!"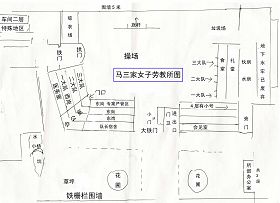 Sketch map of Masanjia Women's Forced Labor Camp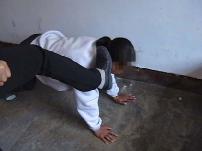 Demonstration photo: Kicking and beating
Hu Yanli was beaten so severely that she could not get up the next morning. She had extreme pain in her chest, like a fracture, so she went to Liu Guorong and requested to see the doctor at the infirmary in the forced labor camp, but was refused. Ms. Hu Yanli received no timely treatment, but instead was forced to do labor. Ms. Hu Yanli insisted on seeing a doctor. After she had been repeatedly refused, she went to official Wang Xiaofeng for help. Wang Xiaofeng said, "Are you so weak that you can't stand being kicked?" Ms. Hu Yanli said, "If they kick you like this, we'll see if you can stand!" After she was once again refused, she went back to Captain Li Mingyu. Li Mingyu said, "You can go when you have time!" So allowing Ms. Hu to see a doctor was delayed over ten days, until April 10. She was then allowed to see a doctor.
When Ms. Hu Yanli went to the infirmary at Masanjia Women's Forced Labor Camp, she was told by the doctor that everything was normal. An X-ray was taken, and she was told that the result would be ready several days later. Three to four days later, she received a note with the message, "There is nothing serious. You will be alright after resting for a couple of days." Ms. Hu Yanli did not get the X-ray result or any diagnosis. Regardless whether a prisoner is sick or injured, or not, the doctors at Masanjia Women's Forced Labor Camp give conclusions according to their will. They say that nothing is serious even when the prisoner is severely injured.
Ms. Hu Yanli has never been asked to sign an evaluation form since then until July 29, 2008, when she was released.