A Woman Engineer Sentenced to Forced Labor, Prison, and a Brainwashing Center
November 10, 2011 | By a Clearwisdom correspondent from Sichuan Province
Name: Yang Hualian (杨华莲)
Gender: Female
Age: 59
Address: Unknown
Occupation: Engineer at the Guanghan City Bureau of Agricultural Machinery
Date of Most Recent Arrest: July 8, 2005
Most Recent Place of Detention: Sichuan Province Women's Prison (四川省女子监狱)
City: Jianyang
Province: Sichuan
Persecution Suffered: Electric shock, sleep deprivation, forced labor, brainwashing, illegal sentencing, drug administration, beatings, hung up by handcuffs, imprisonment, solitary confinement, torture, force-feedings, extortion, fired from workplace, physical restraint, mental hospital, home ransacked, interrogation, other detention, denial of restroom use
(Clearwisdom.net ) Ms. Yang Hualian, 59, was an engineer with the Guanghan City Bureau of Agricultural Machinery. Over the past 12 years, agents from the Guanghan City 610 Office, Shifang City Police Department, and Guanghan Police Department have harassed and mistreated her. The agents ransacked her home, detained her, sent her to a brainwashing center twice, sent her to a labor camp twice, and imprisoned her for three years. She was severely abused.
Tortured for attempting to stop verbal abuse
Ms. Yang was arrested in July 2001 and sent to the Nanmusi Women's Forced Labor Camp in Zizhong County. Because the six units holding practitioners were too crowded, three additional units were created. Ms. Yang was first in Unit 5 and then moved to Unit 9 a month later.
When she tried to stop guard Li Jiarong from swearing at an elderly practitioner in October 2001, Li shocked her with an electric baton powered by over 30,000 volts and beat her with a special baton with thorns. Ms. Yang was severely bruised and lay on the floor, unable to move. Li said Ms. Yang was just pretending to be hurt. Ms. Yang asked to be examined several times, but Li refused to oblige. It was not until the afternoon when officer Yang Hua came to work that she sent Ms. Yang to the labor camp clinic. The doctor diagnosed her with a severe lumbar compression fracture. The soft tissue in her lower back was enlarged by three fifths.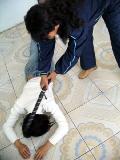 Torture reenactment: Shocking with an electric baton
When guard Zhang Xiaofang ordered inmate He Ping to torture practitioner Ms. Ai Kexiu one night in the winter of 2002, Ms. Yang stopped her. Zhang then instructed several inmates to beat her. Ms. Yang had bruises all over. When she grabbed Zhang's shoes, trying to get away, Zhang accused her of "attacking an officer" and extorted more than 700 yuan from her. Her forced labor term was also extended by three months. Ultimately she was not released until four months after her term expired.
Abused in Hexing Brainwashing Center in Guanghan City
When Ms. Yang went to work on July 7, 2004, several agents, including Liu Mingxian (Guanghan City Bureau of Agricultural Machinery head), Huang Ruosong (Guanghan City 610 Office official), Zhou Zhihong (Guanghan City 610 Office official), Zheng Youming (Chengbei Police Station) and others, arrested her. Huang Zhou and other agents then beat her, pulled her by the hair or ear, knocked her head against the wall while pulling her hair, and deprived her of sleep. This abuse lasted 48 days.
Ms. Yang was again arrested and taken to a brainwashing center the morning of July 8, 2005. Huang and Zhou first instructed Wang Leijian and Wang Weidong to treat Ms. Yang well—helping her wash her hair and feet and her clothes. After seeing that these tactics did not deceive her into giving up her belief, they beat her, pulled her hair, knocked her against a wall, deprived her of sleep, and exposed her to toxic fumes.
When Ms. Yang was transferred from the brainwashing center to a detention center on September 22, 2005, her blood pressure had increased to 230/130. She was sent to a hospital for emergency treatment.
When Ms. Yang was in the detention center, guard Jia Xiaohong added unknown drugs to her food.
A hearing was held on April 29, 2006, and court officials sentenced Ms. Yang to three years of imprisonment. She appealed with the Deyang City Intermediate Court. Her family hired two attorneys to prepare documentation and defend her. Deyang City 610 Office as well as Justice Bureau officials threatened the attorneys, and they had to drop the case.
Persecuted in the Sichuan Province Women's Prison
Following sentencing, Ms. Yangwas was taken to the Sichuan Province Women's Prison on July 28, 2006. To prevent her from appealing, Luo and other guards confiscated all her documents. They also instructed three people to monitor her 24 hours a day.
When guard Min Lu handcuffed Ms. Yang and tortured her in early September 2007, her blood pressure rose to 210/130, which led to heart disease. Right after her return from the hospital, she was immediately sent back to the cell and handcuffed day and night.
Min Lu refused to let Ms. Yang's family visit her for a long time, nor could she call them over the phone. After a major earthquake on May 12, 2008, she wanted to call her family, since all of them were in the disaster area, but her request was denied. She also wrote many letters home during her three years of incarceration, but only one of them was delivered, and prison officials had smeared most of the writing.
Due to the long-term mistreatment, Ms. Yang was unable to take care of herself. She had leg pain, lower back pain, high blood pressure, and heart disease and was almost blind.
Deprived of work and pension
Not long after the persecution of Falun Gong started, Guanghan City Bureau of Agricultural Machinery head Liu Mingxian began to harass Ms. Yang. He stopped her salary and benefits as early as 2000. During the 2004 Chinese New Year, Liu received several phone calls, asking him to stop mistreating Ms. Yang. After that, Liu no longer let Ms. Yang continue working. Working with the Guanghan City 610 Office and local police, he had her arrested and sent to a brainwashing center on July 7, 2004.
Lei Jianzhong, Ze Zheng, and other agents from the Party Discipline Commission in Guanghan City forced Ms. Yang's employer, the Bureau of Agricultural Machinery, to fire her.
Ms. Yang has had no income since her pension was stopped. In addition, she was monitored, and her phone was bugged.
Contact information for those involved in persecuting Ms Yang:
Tang Lizhong, Guanghan City Police Department head: +86-838-5229360, +86-838-5220698, +86-13908106488
Lei Jianzhong, Party Discipline Commission official in Guanghan City: +86-838-5222903 (Home), +86-838-5253516, +86-13608107652
Shi Xiaoli, Guanghan City Court head: +86-838-5224709, +86-838-5300766, +86-13908109693
Zheng Youming, Chengbei Police Station: +86-838-5222880, +86-838-5234776, +86-13700917798
Liu Mingxian, Guanghan City Personnel Bureau head: +86-838-5248992, +86-13508016768
Xie Xianliang, Guanghan City Bureau of Agricultural Machinery: +86-838-5225906 (Home), +86-838-5303203, +86-13908106768
Huang Ruosong, Deyang City Brainwashing Center head: +86-838-5227234 (Home), +86-838-5246806, +86-13700917236

(For more contact information, please refer to the original Chinese article)