Brutal Persecution Suffered by Female Falun Gong Practitioners in China – Part 4: Sexual Abuse and Rape
(Clearwisdom.net)
(Continued from
Part 3: http://www.clearwisdom.net/html/articles/2011/10/26/129000.html
Part 2: http://www.clearwisdom.net/html/articles/2011/10/16/128806.html
Part 1: http://www.clearwisdom.net/html/articles/2011/10/4/128512.html )
In this genocidal persecution, the Chinese Communist Party (CCP) has completely sunk to new lows, violating basic human dignity and all norms of human relations. Lawyer Gao Zhisheng wrote in his Third Open Letter to the current communist regime leaders Hu Jintao and Wen Jiabao, "Almost everyone who has been persecuted, be it man or woman, was first stripped naked before any torture. Almost every woman's genitals and breasts or every man's genitals have been sexually assaulted in the persecution in a most vulgar fashion." (Full story: Letter from Chinese Lawyer Gao Zhisheng: "We must immediately stop the brutality that suffocates our nation's conscience and morality") A woman practitioner who survived the persecution in China said, "The evilness inside is unimaginable to the outside world."
Part 4 – Sexual Abuse and Rape
Over the past more than ten years of persecution of Falun Gong, Jiang's regime has not only physically abused and tortured illegally detained female Falun Gong practitioners, but also brazenly instigated and condoned sexual abuse, rape, and forced abortions. The harm done to the women practitioners is horrifying.
1. Ms. Wei Xingyan, 28, Chongqing University graduate student
United Nations Special Rapporteur and United Nations Special Rapporteur on Violence against Women issued a joint appeal to the regime government on June 11, 2003. The report pointed out that 28-year-old graduate student Ms. Wei Xingyan from Chongqing University was arrested on May 11, 2003, along with a group of other students and teachers from Chongqing University and China Southwest University of Political Science and Law, for hanging banners and balloons commemorating May 13 "World Falun Dafa Day." According to witnesses, several police officers took Ms. Wei to a cell at Baihelin Detention Center of the Shapingba District on the evening of May 13. There, the officers forced two female inmates to strip Ms. Wei, and one of the uniformed officers pushed her to the ground and raped her as the other inmates watched.
When Ms. Wei engaged in a hunger strike to protest the abuse, police botched a violent force-feeding attempt, seriously injuring both her trachea and esophagus, leaving her unable to speak and her life was in great danger. On May 22, Ms. Wei was transferred to the Southwest Hospital in Chongqing. In order to conceal their responsibility for the offense, Chongqing University went so far as to delete the specialty of "High-voltage Transmission Power" from its website and then claimed that there was no such student. The Shapingba District police not only refused to investigate the police officer who committed the crime, but instead investigated and arrested only those people with conscience who reported the crime. Due to an extremely tight restriction on information, little else is known about Ms. Wei Xingyan's current situation. (Also see: "Follow-up Report on the Rape of Chongqing University Female Graduate Student Wei Xingyan by Vicious Policemen")
2. Ms. Chang Xuexia, 38, assistant engineer at the Ya'an Pharmacy in Dalian City, Liaoning Province
Ms. Chang Xuexia was subjected to a two-year term in Dalian Forced Labor Camp between 2001 and 2003. She suffered gross abuse and mistreatment. Head guard Wan Yalin ordered criminal offenders to strip her and hang her up in the air, beat and kick her, pinch her nipples, pull her pubic hair, and violently assault her vagina with a shoe brush until the water in a basin underneath her turned red with her blood. She lost consciousness. (Related article: "Sexual Torture of Falun Dafa Practitioners Perpetrated by Staff of China's 610 Office, Police and Guards")
3. Ms. Pan Dongmei, 20, from Dianbai, Guangdong Province
Ms. Pan Dongmei went to Beijing to appeal in 2001. She was arrested and held in the Changying Detention Center of the Chaoyang District on April 3, 2001. For three days (April 5-8) she was tied to a wooden rack in Room 612, where she was force-fed through her nose. A guard took off Ms. Pan's socks and stuffed one into her vagina and the other one into her anus. The guard also directed prisoners to seal Ms. Pan's mouth with tape. She was tortured so terribly that she lost consciousness. On April 11 at midday, interrogator Kang Jianjun forced a male practitioner to remove his pants and dragged him to Ms. Pan and forced her to look at him. Ms. Pan refused to look. Then, the interrogator ordered her to take her clothes off, too. Again, she refused. The cruel interrogator then took out a lighter and burned Ms. Pan and the male practitioner's faces until they were burned black and covered with blisters. In spite of their pain, the interrogator used a piece of filthy cardboard to wipe the soot from their faces.
4. Ms. Wang Yunjie, 40, from Dalian City, Liaoning Province
Ms. Wang Yunjie was arrested and taken to Masanjia Forced Labor Camp on June 4, 2002. Division head Wang Xiaofeng and guards locked her in the washroom, then later a storage room and basement for a total of four months. During this torture, Ms. Wang was tied to hard objects, forced to squat, was forced into unnatural and extremely uncomfortable positions, and had to stand in the "army corps" posture. Guards Guo Tieying and others used two high voltage electric batons to shock her breasts for several hours, burning her breasts and causing them to fester. The next day, the guards forced Ms. Wang to double-cross her legs and used a cloth strip to tie her legs and head together to make a ball shape. They handcuffed her behind her back and hung her up in the air by the handcuffs for seven hours. From then on, she could no longer sit or walk normally. She was released in November 2003. Her wounds ulcerated and became more and more serious. She passed away in July 2006. (Also see: "Falun Dafa Practitioner Ms. Wang Yunjie Died as a Result of Torture Suffered at the Masanjia Forced Labor Camp")
5. Ms. Liu Jizhi, 51, and Ms. Han Yuzhi, 42, from Xituan Village, Dongchengfang Town, Zhuozhou City, Hebei Province
In the evening on November 25, 2005, officer He Xuejian, in his 20s, from Dongchengfang Town Police Station, raped Ms. Liu Jizhi and Ms. Han Yuzhi, two practitioners in Xituan Village, Dongchengfang Town, during a so-called "official investigation." It was during this time that a group of rapporteurs from the United Nations were investigating torture in China.
The police beat Ms. Liu with stun batons and rubber clubs. Officer He Xujian even groped her body in a lewd manner. Later He Xujian pressed Ms. Liu against one bed and started groping her breasts. Then he lifted her shirt up and shocked her breasts with a stun baton. While watching the sparks from the stun baton, He Xujian repeatedly commented, "This is fun! This is fun!" Despite Ms. Liu's protests and struggles, He Xuejian stripped off her shirt. During the struggle, Ms. Liu pleaded, "You are a policeman! You must not commit such a crime! This is totally wrong! You are a young man! I am an old woman. Please spare me." He Xuejian ignored her pleas. During the rape, he repeatedly slapped her face and squeezed her neck. The other officer, Wang Zengjun, simply looked on and did nothing to stop the outrage. Shortly afterwards, this same abuser raped 42-year-old Ms. Han Yuzhi as well. (Related article: "Rape Victim Ms. Liu Jizhi: 'I Want to Expose the Evil Persecution'" )
6. Ms. Hu Miaomiao, 25, kindergarten teacher from Chaigoubao Town, Huai'an County, Zhangjiakou City, Hebei Province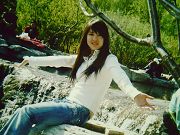 Ms. Hu Miaomiao before the persecution
Without following any legal procedures or informing her family, Huai'an County police subjected Ms. Hu Miaomiao to a one-year forced labor term and transferred her to the Hebei Province Women's Forced Labor Camp in Shijiazhuang City on June 26, 2010.
As soon as Ms. Hu arrived, a group of inmates dragged her to a storage room where they tightly handcuffed her to a metal bed. They then grabbed her long hair, which she had been wearing in this style for many years, and cut it in an extremely ugly way. They taped her mouth shut to prevent her from making any sound. She struggled hard, and they slapped her repeatedly in the face and mouth. When the inmates' hands hurt from the beatings, they used slippers to hit Ms. Hu with. In no time her face swelled up. Her mouth was so swollen that even the tape around it broke.
For several days, many people heard Ms. Hu's piercing screams while she was being abused. During that period, prisoner Zong Dongrong attacked Ms. Hu in her genital area repeatedly with her knees and also used broom handles and fingers to assault Ms. Hu's genital area. Ms. Hu bled profusely and she couldn't stand up straight or walk. The injuries made it very likely that she couldn't have children in the future...
Even after three months her wounds still had not healed, her genital area kept bleeding, and she still could not stand straight to walk. The labor camp officials refused to release her until July 11, 2011, after her term was extended by 11 days. Local 610 Office agents kept harassing her at home. (Related article: "Kindhearted Young Woman Trapped in an Evil Den" )
7. Ms. Qin Hongqin, a resident from Dougou Village, Puwang Town, Yinan County, Shandong Province
Ms. Qin Hongqin went to Beijing to appeal for Falun Gong in December 1999. She was intercepted at the railway station and taken to the Dawangzhuang Township to be held the evening of December 29. On January 4, 2000, Ms. Qin was held in the township's Comprehensive Management Office where Wang Xianyong, Li Yongbao, and Bo Cunqi tortured her. They handcuffed her arms behind her back and forced her to sit on the ground with legs stretched straight. Then they kicked her bottom and thighs with leather shoes. Li Yongbao stood on her legs and kicked her legs downwards. She was forced to lay on her side and was in severe pain. Wang continued to beat her while saying, "Tonight we will pull out your tendons and peel your skin."
They beat her until she couldn't move. They finally took off her handcuffs and pulled her upright. Wang then stood behind Ms. Qin with his hands clutching her breasts. Later, Wang stripped her upper body again. Li and Bo held each of her arms while Wang bashed her breasts so that they swung. This torture continued for some time, and then Wang pushed her onto the sofa and burned her nipples with cigarettes while the other two agents held her arms. Then Wang stripped Ms. Qin's lower body, so that she became completely naked, and inserted an electric baton into her vagina. (Full story: "Chinese Communist Regime's Malicious Infringement of Female Falun Gong Practitioners' Rights")
8. Ms. Ju Honglian and Ms. He Jingfan from Fuyu County, Jilin Province
Ms. Ju Honglian was arrested and sent to a brainwashing center in Fuyu County. On August 27, Ms. Ju was taken to the Hotel of Education Department, Room 306, by a female officer after 8:00 p.m. There were two female officers in the room along with Fuyu County Police Department deputy head Du Jizeng. Du was drunk and stared at Ms. Ju. Du ordered her to sit down beside him, then he grabbed her hand, squeezed it forcefully, and said, "You're so young, what's the use of practicing that?" Then he said some other dirty words. He seized her by the throat and she almost fell down; she had to struggle away from his hands and ran back to her room.
She had just gone back to her room when Du entered the room, too. When he saw another female practitioner lying in bed, he asked, "Are you female? Or male? [filthy words omitted]" When he saw Ms. Ju, he suddenly sprang toward her and grabbed her hand again. He clasped her hand very hard and started to touch her body while staring at her. Ms. Ju tried to get away from him. He suddenly went over to Ms. He Jingfan and grabbed her hand so hard that she was in intense pain. Because of the pain in her hand as well as the fear and terror, symptoms of her previous heart disease returned. Her face turned from purple to white and she went into shock. Only after the people around her called her name for a long time did she regain consciousness. Her heart beat very fast, her arms and legs were very cold, and she was very weak. Other practitioners cried when they saw that Due had been attacked her. They asked the police to release Ms. He so that she could be treated. Ms. Ju and Ms. He were not released until the end of the brainwashing session. (Full story: "Jilin Province: Vice Director of Police Station Sexually Harasses Female Falun Dafa Practitioners in Brainwashing Class")
9. Zhu Xia, 32, from Liaoning Province
Ms. Zhu Xia, was repeatedly raped by police officers in the brainwashing center in late 2004, as a result of which she suffered long-term mental instability.
Ms. Huang Xin from Shenyang City, who was detained in Liaoning Province Women's Prison, was stripped naked and put into a male cell, where death-row inmates gang-raped her in late 2005. Eight other practitioners experienced the same nightmare.
(To be continued)