Taiwan: Falun Gong Receives Warm Welcome at Kaohsiung Street Festival (Photos)
October 28, 2011 | By a Falun Dafa practitioner from Kaohsiung Taiwan
(Clearwisdom.net) On October 15-16, 2011, the Kaohsiung county and city governments hosted the Kaohsiung Street Festival for citizens of Xinxing District and Qiaotou District, and invited Falun Gong practitioners to demonstrate the exercises at the opening ceremony.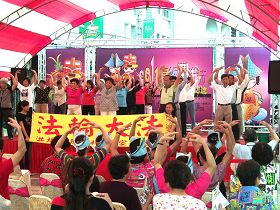 Falun Gong demonstration at the Kaohsiung Street Festival opening ceremony
Falun Gong practitioners from the exercise site at Qiaotou High School were invited to demonstrate the exercise on the main stage at the opening ceremony on the morning of October 15.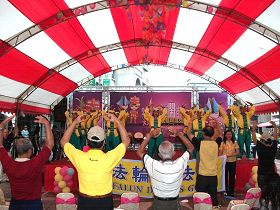 District Director Mr. Shu and other locals follow along as practitioners demonstrate the exercises on stage
Mr. Shu, the director of Qiaotou District said this was the first Kaohsiung Street Festival that was more than just entertainment. He said this event brings Xinxing District and Qiaotou District together to promote exchange so they can learn from each other and help each other.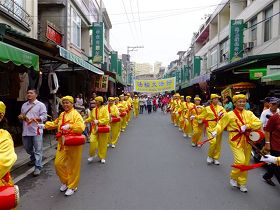 Falun Gong waist drum team participated in the parade
In the afternoon, a parade proceeded through the old downtown streets of Qiaotou. The communities and temples of both districts participated. The last procession was the Falun Gong group with a waist drum troupe and an exercise demonstration team. The large crowd of spectators gave Falun Gong warm applause.
On the main stage, Falun Gong practitioners performed dancing, Tang Drums, and an exercise demonstration. District director Mr. Shu encouraged spectators to follow along and learn the exercises by taking the lead. Mr. Shu then picked up the microphone and said, "Health is the best (gift for everyone), many thanks to Falun Gong who brought us the beautiful performance and health improvement exercises."
The practitioners also passed out Falun Dafa introduction fliers and handmade paper lotus flowers. The host announced the times and locations of the local Falun Gong exercise classes, which are open to the public and free of charge.