Canadian Prime Minister Stephen Harper: "I am pleased to extend my warmest greetings to everyone attending the 2008 Chinese New Year Spectacular hosted by New Tang Dynasty Television." (Photos)
(Clearwisdom.net) The Divine Performing Arts will hold several Chinese New Year Spectacular performances in Canada. On December 21, the organizer of the Spectacular received a congratulatory letter from Stephen Harper, the Canadian Prime Minister.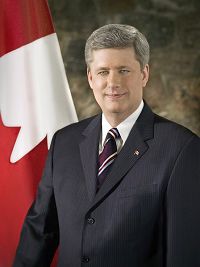 The Canadian Prime Minister, Stephen Harper
In the letter, the Prime Minister congratulated the Spectacular and sent New Year greetings to the audience on behalf of the Canadian government. He recognized the important role of Chinese Canadians in the development of Canada's cultural and economic landscape. Prime Minister Harper also thanked the organizers of the show for their commitment to sharing the beauty of Chinese traditions with their fellow Canadians.
The Prime Minister sent a congratulatory letter to the Spectacular last year, too. In the last letter, he said: ""The Chinese New Year has become an important part of the Canadian cultural landscape, which tells us just how big a role this community plays in modern Canada."
Many other Canadian leaders also sent congratulatory letters to the Spectacular, including Michaelle Jean, the governor general of Canada, David C. Onley, the Lieutenant Governor of Ontario, and Diane Finley, the Canadian Minister of Citizenship and Immigration.
The NTDTV Spectacular will tour more than 60 cities around the world and six hundred thousand people will attend the shows. On January 13, 2008, the Divine Performing Arts will hold a show in Ottawa, and then tour in Montreal, Toronto, Vancouver, Edmonton, and Calgary.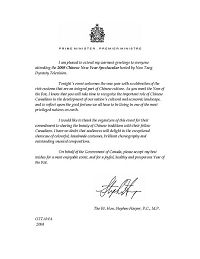 The congratulatory letter from Prime Minister Harper