Brooklyn Audience Praises Chinese New Year Splendor (Photos)
January 06, 2009 | By Minghui correspondent Cai Ju
(Clearwisdom.net) The first two shows of the Chinese New Year Splendor by Divine Performing Arts (DPA) were on stage at the Brooklyn Academy of Music at 1:30 pm and 7:30 pm on January 3, 2009. The audience sang high praise of the shows.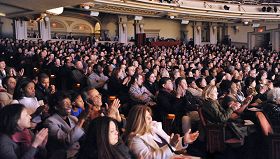 Audience of Chinese New Year Splendor in Brooklyn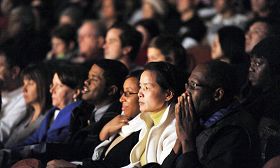 Audience of Chinese New Year Splendor in Brooklyn
Professional artist Mr. Ma is original from Mainland China. He said in high spirit that the design of the show was top-class, the color coordination was wonderful, especially the use of blue in the peacock dance, and the music of the Mongolian dance was very authentic. He thought the drum dance was great too, and also liked the program about the persecuted practitioners lifted to heaven.
Mr. Brown, a senior reporter, said it was a perfect show. He liked the gorgeous costumes, and said he hoped more people in America would learn the classic Chinese culture and find out about the persecution of Falun Gong in China. Mr. Brown felt the show would be very educational for children. He said he learned a lot about traditional Chinese culture, and that the information about Falun Gong was well expressed in the show.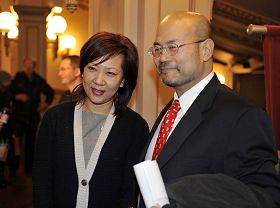 Attorney Chris Chen and his friend Apei
Attorney Chris Chen attended the show with his friend Apei and liked it very much. He said it was great to have such a show in Brooklyn. It spread the Chinese culture and was helpful in fostering a better community relationship between different ethnic groups. He hopes the show will come to Brooklyn every year. He was excited upon hearing that the three branches of the DPA were touring to different cities. Mr. Chen said he felt music was an art that spans across culture and language. The show connects the past and the future and transcends language. The dances had thousands of years of history, and what they expressed was universal.
Apei loved the show very much too. She said she was happy to come. She said the show won pride for the Chinese people and spread the Chinese culture to the whole world. She said the singers were excellent, and she would like to take her family to see the show at Radio City.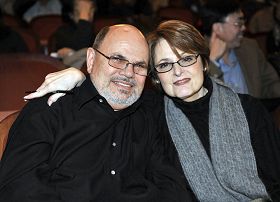 Ellen and her husband
Ellen is a high school teacher. It was her husband's birthday, and seeing the DPA show was a special way to celebrate his birthday. They said it was a lovely show. It was the first time they had attended a show of this format, and they loved it very much. They said that the costumes were gorgeous, and the dancers were energetic. Universal values were well expressed in the show, and the lyrics about the God's guidance of the universe were great!