Brooklyn, New York: Divine Performing Arts Impresses Both Western and Chinese Audience Members (Photos)
January 06, 2009 | By Feng Daosheng in Brooklyn
(Clearwisdom.net) Divine Performing Arts Touring Company staged its first show in Brooklyn, New York, on the afternoon of January 3, 2009. The audience members, Western and Chinese, were deeply impressed.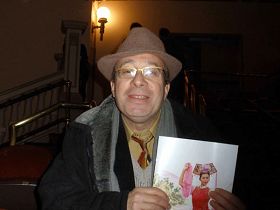 Mr. Charles, manager of a performance company in New Jersey
Joel Charles, manager of a performance company in New Jersey, has seen numerous shows in the past 30 years. He compared the DPA show with many Western performances he has seen, saying that the DPA show was more graceful. He thought this show was quite outstanding in many respects: its background, its historic and cultural characteristics, its costumes and lighting, and, in particular, the dances. He also compared the show with many other performances in the East. He said that he has seen many oriental performances but never one like this. "This show is marvelous."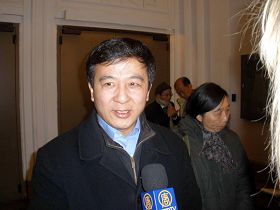 Mr. Janason Cho
Mr. Cho attended a DPA show last year. He thought that the DPA helps people realize the essence of Chinese culture. He said, "Chinese culture has been passed down for 5000 years; it has its unique inner meaning. This company is promoting traditional culture. It features poetry, calligraphy, costumes, dance art, song, martial arts, and many other traditional components, allowing people to see the essence of Chinese culture." Mr. Cho added, "The so-called 'Spring Festival Show' held in mainland China is rather empty and ideologically aims to maintain the Chinese Communist Party's rule."
Mary came to the United Stated from China not long ago. She enthused, "Fantastic! But if you ask me to pick which one is the best, that is really hard for me, because every program is excellent," she said, "Having been in China for so many years, I have never seen any performance that truly showcases traditional Chinese culture. I'm very glad that I saw the DPA show today."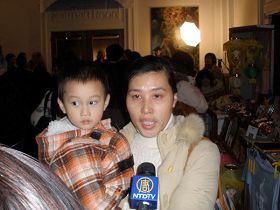 Mary, who came to the US from China not long ago
As for the piece depicting Chinese compatriots' belief, Mary said in tears, "I'm very sad to see so many good people suffering the persecution right now, but the show gave us hope. After seeing this show, I feel that we are living in modern times, gods are taking care of us, and everything will come out fine."
Software engineer Adilson, his wife, and son
Adilson and his wife, Salina, both software engineers, brought their son to the show. At the intermission, they shared their impressions. Adilson said that Chinese culture has a long history, broad and profound, but they knew little about it before. Seeing the show today was a beginning for them to understanding Chinese culture. Adilson added that they appreciated the show very much and that the colors and dances were wonderful--they really enjoyed it. They both said that the story portrayed in "The Monkey King Triumphs" was impressive. They also liked "Welcoming Spring" and "The Tang Court Drummers." They found it hard to pick which one was the best, because "everything was fantastic." Their son, Robert, said that he loved the drum dance.