Christian Pastor: "I can appreciate the spiritual message"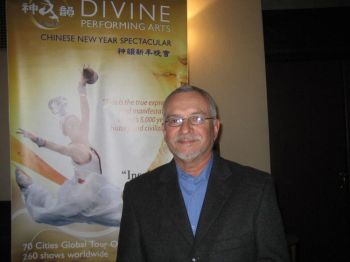 Christian Pastor Eddie Romero appreciates the spiritual message of the 'Spectacular' (The Epoch Times)
(Clearwisdom.net) Divine Performing Arts gave another inspiring and elegant performance in Los Angeles.

There were viewers from all walks of life at the Pasadena Civic Auditorium. From actors to artists and theater regulars, the halls were filled with people of many different backgrounds.

Christian Pastor Eddie Romero commented on the show, saying, "I very much enjoyed the show. It was very colorful and very well choreographed. The music was sensational. I loved the music and the lighting, and the costumes were just beautiful. The performers were very good. I saw Riverdance done by the Irish, but this show really stood out. Obviously it had a Falun Gong message to it. That was very clear.

"I am a Christian pastor, I am not Falun Gong, but I can appreciate the spiritual message that talks about things that are greater than our earth, than living in this world. And to us Christians, Jesus made us aware that there is more to life than just this world."

When asked about his recent trip to China he stated, "I painted on the walls in the rooms, I created something that looked like a person to show how they torture people because there is no freedom of religion there. So they persecute people just like one of the scenes in this show. In Beijing I vandalized two rooms, two five-star hotel rooms. I put on the wall what the Bible says. In another place the Bible says speak out for those who can't speak for themselves. Jesus says, "Who is my neighbor?" The person in trouble is my neighbor. So those are very important messages for religious persecution. I did that in the hotel. I escaped and hid in the jungle for 18 days. When I surrendered, they put me on the next plane to California. At first they didn't know what to do with me. I raised my voice--my Chinese isn't too good. ... I was raising my voice asking them to release others. They didn't know what to do with me. They isolated me and started to kick me, and interrogated me all night long."

Not many people can relate to the show as much as Pastor Romero, but anyone can enjoy and appreciate the beauty and elegance of Divine Performing Arts. The group will give over 260 performances in 70 cities worldwide.
http://en.epochtimes.com/n2/content/view/9617/