Intermediate Court Increases Woman's Prison Sentence After Prosecutor Appeals the "Light Term"
(Minghui.org) After Ms. Mo Liqiong was sentenced to 19 months with a 5,000-yuan fine for her faith in Falun Gong, the prosecutor complained that the sentence was too "light" and appealed with a higher court, which recently increased her term to 2.5 years with a 10,000-yuan fine.
Falun Gong, also known as Falun Dafa, is a spiritual discipline that has been persecuted by the Chinese communist regime since 1999.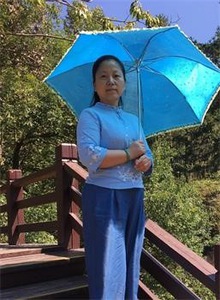 Ms. Mo Liqiong
Ms. Mo, 52, a native of Xiangtan City, Hunan Province, works in Guangdong Province as a financial manager. She returned to her hometown in Xiangtan in early February 2021 to spend the Chinese New Year with her parents and son.
Ms. Mo ran into villager Li Qiang while she was walking on the street at around 8:30 p.m. on February 5, 2021. Knowing that Ms. Mo was a Falun Gong practitioner, Li reported her when he saw a Falun Gong booklet at his door upon returning home, thinking that it was Ms. Mo who placed it there.
Li first tipped village official Zhang Lizhen and police assistant Zhang Yong. Zhang Yong then reported to Yang Jia, the deputy head of the Yangjiaqiao Police Station.
Yang and Zhang Yong soon stopped Ms. Mo on the street and confiscated her Falun Gong book and a bag with several copies of Falun Gong booklets. The police also ransacked the place she was staying at in Xiangtan, but didn't find any Falun Gong-related materials.
The police searched around the village and found three copies of Falun Gong booklets. Although no one saw Ms. Mo distributing the materials, the police still accused her of doing so and submitted her case to the Xiangtan County Procuratorate.
Ms. Mo's arrest was approved by prosecutor Zhang Hongjun on March 1. Zhang then moved her case to the Yuhu District Procuratorate in early May. A new prosecutor named Ma Jieting later took over the case and indicted Ms. Mo on June 3 before submitting her case to the Yuhu District Court.
Ms. Mo's mother, who is in her 80s, and other family members frequented the police station, procuratorate, and court to demand her release, but to no avail.
The Yuhu District Court held a virtual hearing of Ms. Mo's case on June 28, 2022. Her two lawyers entered a not guilty plea for her. She also testified in her own defense.
Without informing her lawyers, presiding judge Zhang Zhan sentenced Ms. Mo to 19 months with a 5,000-yuan fine on July 27. The Yuhu District Procuratorate, however, blamed the court for giving her an overly light term and proceeded to file an appeal with the Xiangtan City Intermediate Court on August 4. They demanded that the higher court sentence her to three years or longer, accusing her of being a repeat offender, given her nine-year prison sentence in 2003 for practicing Falun Gong and the fact that she refused to plead guilty.
The Xiangtan City Intermediate Court held a hearing of Ms. Mo's case on August 23. Her lawyers, Mr. Chen and Mr. Xie Yanyi, pointed out that the prosecutor failed to present any evidence showing how Ms. Mo "undermined law enforcement with a cult organization," the standard pretext used to criminalize Falun Gong, and pointed out that even if she did distribute Falun Gong materials, she didn't violate any laws by doing so.
The higher court announced on August 30 without informing Ms. Mo's lawyers to increase her prison term by eleven months and court fine by 5,000 yuan.
Perpetrators' contact information:
Zhou Fulin (周孚林), presiding judge of Xiangtan City Intermediate Court: +86-731-58583227, +86-15197195701Tang Tiexiang (唐铁湘), judge of Xiangtan City Intermediate CourtXu Hui (徐辉), judge of Xiangtan City Intermediate CourtWu Haowei (吴浩伟), clerk of Xiangtan City Intermediate CourtZhou Yihua (周轶华), prosecutor of Xiangtan City Procuratorate
(More perpetrators' contact information is available in the original Chinese article.)
Related reports:
Prosecutor Appeals "Light" Prison Sentence Against 52-year-old Woman for Her Faith
Financial Manager Detained for One Year and Counting for Practicing Falun Gong
After Nine Years of Imprisonment, Financial Manager Again Faces Prosecution
After Nine Years of Imprisonment, Former Accountant Arrested for Her Faith Again
Ms. Mo Liqiong from Xiangtan City, Hunan Province Illegally Sentenced to Nine Years in Prison
All content published on this website are copyrighted by Minghui.org. Minghui will produce compilations of its online content regularly and on special occasions.