Financial Manager Detained for One Year and Counting for Practicing Falun Gong
(Minghui.org) A native of Xiangtan City, Hunan Province, has been detained for over a year and is facing prosecution for practicing Falun Gong, a spiritual discipline that has been persecuted by the Chinese communist regime since 1999.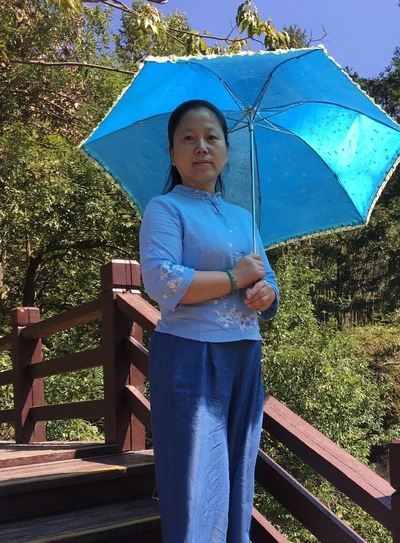 Ms. Mo Liqiong
Ms. Mo Liqiong was arrested on February 5, 2021, while walking on the street. The police claimed that she had a black bag, which contained a few copies of Falun Gong booklets. They also searched the home of Ms. Mo's parents but found nothing related to Falun Gong.
While in detention, Ms. Mo wrote a letter to the police saying that she was just passing by that village when she was arrested and that she didn't have the alleged black bag with her at the time. Her lawyer, Mr. Zhang Chuanli, applied for her to be released on bail, but his request was denied by the 610 Office and Domestic Security Office.
After the police submitted her case to the Yuhu District Procuratorate in early May 2021, Ms. Mo hired two other lawyers, Mr. Xie Yanyi and Mr. Chen Jinxue. The two new lawyers said that Ms. Mo had not violated the law by practicing Falun Gong. They noted in the case document that Ms. Mo was labeled as a repeat offender, as she was previously sentenced to a nine-year term for practicing Falun Gong. They argued that she should never have been sentenced in the first place and that even for real crimes, the law clearly prohibits double punishment for the same offense. The lawyers wrote to prosecutor Ma Tingjie, urging her to dismiss Ms. Mo's case, but Ma still indicted her and moved her case to the Yuhu District Court.
The judge initially scheduled a hearing for December 24, but later postponed it to December 31 due to a schedule conflict of her lawyers. The new date was also canceled, as the Xiangtan City Detention Center, where the court booked the hearing, raised safety concerns about holding a hearing during the pandemic.
Since last June, Ms. Mo's mother, who is in her 80s, and other family members have frequented the court, procuratorate, police department, and Political and Legal Affairs Committee to demand her release, but the authorities always refused to meet with them and stopped them at the gate.
Ms. Mo has been arrested multiple times since the onset of the persecution. She was arrested on August 25, 2003, and later sentenced to nine years in the Hunan Province Women's Prison. During her prison term, the Xiangtan Textile Printing and Dyeing Factory fired her, and her husband divorced her. When she was released on March 12, 2012, her son was already ten and didn't remember her.
Only seven days after she was released, she found a job as a financial manager in Changsha City, Hunan Province. She later moved to Guangzhou City, Guangdong Province to take another job in 2017. Her son stays with her parents in Xiangtan. She pays his living expenses and often goes back to Xiangtan to visit them.
She was arrested when she returned to Xiangtan again in early February 2021 to celebrate the Chinese New Year and has been detained since.
Perpetrators' contact information:
Yang Jia (杨佳), deputy head of Yangjiaqiao Police Station: +86-18773285123Wu Wenyi (武文义), head of Xiangtan County Domestic Security Office: +86-13973214529He Bo (贺博), director of Xiangtan County 610 Office: +86-13873217188, +86-731-57888130Tang Renguang (唐仁光), secretary of Xiangtan Political and Legal Affairs Committee
(More perpetrators' contact information is available in the original article.)
Related reports:
After Nine Years of Imprisonment, Financial Manager Again Faces Prosecution
After Nine Years of Imprisonment, Former Accountant Arrested for Her Faith Again
Ms. Mo Liqiong from Xiangtan City, Hunan Province Illegally Sentenced to Nine Years in Prison
Views expressed in this article represent the author's own opinions or understandings. All content published on this website are copyrighted by Minghui.org. Minghui will produce compilations of its online content regularly and on special occasions.