Prosecutor Appeals "Light" Prison Sentence Against 52-year-old Woman for Her Faith
(Minghui.org) A court in Hunan Province sentenced Ms. Mo Liqiong to 19 months on July 27, 2022 for her faith in Falun Gong. Unsatisfied, the prosecutor in the case accused the judge of giving the practitioner too light of a sentence and has filed an appeal with a higher court, seeking a term of three years or longer.
Falun Gong, also known as Falun Dafa, is a spiritual discipline that has been persecuted by the Chinese communist regime since 1999.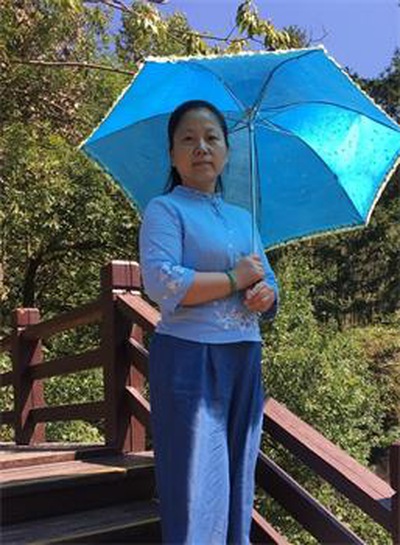 Ms. Mo Liqiong
Ms. Mo, 52, a native of Xiangtan City, Hunan Province, works in Guangdong Province as a financial manager. She returned to her hometown in Xiangtan in early February 2021 to spend the Chinese New Year with her parents and son, only to be arrested on February 5, while walking on the street.
The police claimed that she had a black bag, which contained a few copies of Falun Gong booklets. They also searched the home of Ms. Mo's parents but found nothing related to Falun Gong.
The Xiangtan County Procuratorate approved Ms. Mo's arrest on March 1 and transferred her case to the Yuhu District Procuratorate in early May. Prosecutor Ma Jieting indicted her on June 3, 2021 and moved her case to the Yuhu District Court.
Ms. Mo's mother in her 80s and other family members frequented the court to demand her release. The judge never met with them. They also went to the Xiangtan City Police Department and Political and Legal Affairs Committee, but were stopped at the gate by the security personnel.
The Yuhu District Court held a virtual hearing of Ms. Mo's case on June 28, 2022. Her two lawyers entered not guilty plea for her. She also testified in her own defense.
Without informing her lawyers, the presiding judge, Zhang Zhan, sentenced Ms. Mo to 19 months with a 5,000-yuan fine on July 27. Others who signed off her verdict included judges Tao Huaying and Yao Xiangyue, as well as the presiding judge's assistant Lin Xiaoxun and court clerk Huang Simin.
The Yuhu District Procuratorate blamed the presiding judge for giving Ms. Mo such a light term and proceeded to file an appeal with the Xiangtan City Intermediate Court on August 4. They demanded the higher court sentence her to three years or longer, accusing her of being a repeat offender, given her nine-year prison sentence in 2003 for practicing Falun Gong and the fact that she refused to plead guilty.
Perpetrators' contact information:
Ma Tingjie (马婷洁), prosecutor of Yuhu District Procuratorate: +86-15292289611, +86-731-58208104Zhang Zhan (张湛), judge of Yuhu District Court: +86-13907321837Dai Deqing (戴德清), secretary of Xiangtan City Political and Legal Affairs Committee
(More perpetrators' contact information is available in the original Chinese article.)
Related reports:
Financial Manager Detained for One Year and Counting for Practicing Falun Gong
After Nine Years of Imprisonment, Financial Manager Again Faces Prosecution
After Nine Years of Imprisonment, Former Accountant Arrested for Her Faith Again
Ms. Mo Liqiong from Xiangtan City, Hunan Province Illegally Sentenced to Nine Years in Prison
All content published on this website are copyrighted by Minghui.org. Minghui will produce compilations of its online content regularly and on special occasions.