Yunnan Business Owner Sentenced to Three Years for Telling His Customer about Falun Gong
(Minghui.org) Mr. Qiu An, a Falun Gong practitioner in Kunming City, Yunnan Province, was arrested on May 11, 2020, for upholding his faith. He was later sentenced to three years in prison and fined 5,000 yuan. He was tortured and held in solitary confinement while in detention.
Mr. Qiu, a 48-year-old business owner, used to be aggressive and short-tempered and often fought with others. After he began to practice Falun Gong in 2006, however, he became a much better person who treated people well. His friends and neighbors were amazed by his positive changes. Unfortunately, he was repeatedly targeted for refusing to give up his faith.
Sentenced to Three Years
While telling a customer about Falun Gong in his own electronics store on May 11, 2020, Mr. Qiu was reported to the Guandu District police, who soon came to arrest him. Prosecutors Zhao Xingyue and Hao Yida of Wuhua District Procuratorate indicted him and forwarded his case to Wuhua District Court. They said that Mr. Qiu had been detained previously in 2018 and that they requested severe punishment because he was a "repeat offender."
A hearing took place in the Wuhua District Court in the afternoon on November 18, 2020. Mr. Qiu defended himself, reiterating that the Constitution protects citizens' freedom of belief and that he broke no law by talking to people about Falun Gong. His lawyer also pointed out that the documents provided by police as evidence against him, including a search warrant, list of confiscated items, and other files, were unclear and failed to follow legal procedures. Moreover, the Administrative Penalty Decision for Mr. Qiu's previous detention never existed in the first place. Testimonies from the prosecution witnesses could not be verified either. Therefore, the lawyer concluded that Mr. Qiu was innocent.
But judge He Xuefen sentenced Mr. Qiu to a three-year term with a fine of 5,000 yuan.
Torture in Detention Centers and Prisons
After being arrested on May 11, 2020, Mr. Qiu was first kept at the Guandu District Detention Center. To protest the persecution, he went on a hunger strike for three days. As a result, he was subjected to torture dubbed "death bed," with his limbs tied to a bed in a spread-eagle position.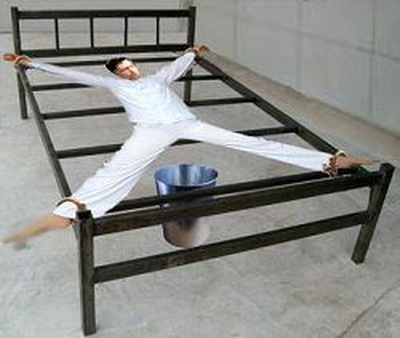 Torture illustration: death bed
Mr. Qiu was transferred to Yunnan Province First Prison in 2021. Because of his determination in his belief, he was kept in solitary confinement three times in two months. When he refused to watch videos that slandered Falun Gong, guards often applied pepper spray to him.
According to those released from Yunnan First Prison, practitioners there were usually kept at the Intense Training Ward. The ward manager was Chen Pengyu and the political instructor was Wu Zhengwei. For each detained Falun Gong practitioner, four inmates were assigned to watch him. Ou Xiyao, a deputy section chief of the Educational Office, openly instigated inmates to torture practitioners. "Do you want to get your prison terms deducted?" Ou once said to inmates, "You just need to 'take good care of those practitioners."
To force practitioners to renounce their belief, guards and inmates often abused practitioners, who were often given much less food than other detainees. In addition, practitioners were also forced to sit still on a small stool for over 10 hours a day, with four inmates squeezing him simultaneously from the four sides (front, back, left, and right) of him. Even access to the toilet was sometimes denied.
Torture illustration: Sitting still on a small stool
Previous Detention and Torture
Mr. Qiu's latest prison term was preceded by a previous arrest on December 11, 2018, after he was reported for giving a customer Falun Gong informational materials. At Guandu Police Station, he was brutally beaten, which led to pelvic fractures and multiple soft tissue contusions throughout his body. Moreover, police repeatedly applied pepper spray to him.
"At about 2:00 a.m., they tried to take a photo of me as well as take my fingerprints and blood sample. Since I had not done anything wrong, I refused to yield. One officer took off my glasses and sprayed pepper spray in my eyes. Two other officers knocked me to the ground, while another officer hit me hard with a baton," Mr. Qiu recalled in a letter sent to Zhou Jianzhong, director of Kunming Police Department, "I was hit all over my back including my spine, right arm, as well as my bottom and thigh. It was extremely painful. The first officer stepped hard on my head and continued spraying me with pepper spray. After he finished one bottle of pepper spray, he took another bottle and continued while humiliating me."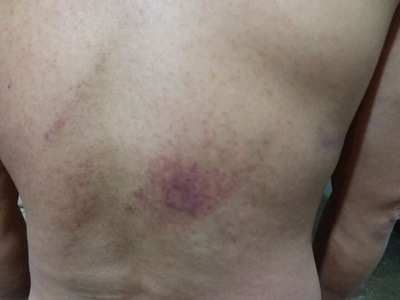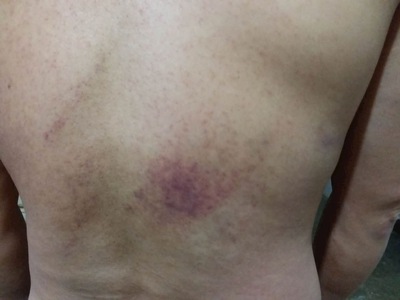 Injury on the back and shoulder of Mr. Qiu due to beating
The police forcibly took Mr. Qiu's picture, press his fingerprints, and drew his blood. When he asked why his biometric information was needed, one of the officers replied, "organ harvesting!" Later on an officer took him to a hospital for an examination. X-ray results indicated that part of Mr. Qiu's pelvis had become detached and some of his ribs were broken. His eyes also needed an anesthetic rinse. An officer took him to another hospital to confirm the result before driving him to the Kunming Detention Center. But a doctor at the detention center refused to accept Mr. Qiu because of his injuries, so he was released.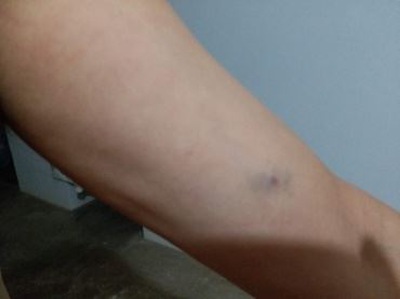 Injury on Mr. Qiu's arm.
Responsible perpetrators:
Guandu Police Department: +86-871-67190151, +86-871-67361695Xiaobanqiao Police Station: +86-871-67361695He Xuefen: judge of Wuhua CourtZhao Xingyue and Hao Yida: procuratorial officersOu Xiyao, Chen Pengyu, and Wu Zhengwei: officers at Yunan First Prison
Related Reports:
Electronics Store Owner Suffers Broken Bones after Police Beating
Kunming City, Yunan Province: Eight Falun Gong Practitioners Sentenced to Prison
All content published on this website are copyrighted by Minghui.org. Minghui will produce compilations of its online content regularly and on special occasions.