Brother and Sister Persecuted to Death, Former Engineer Sentenced to Four Years, All for Their Faith
June 4, 2021 | By a Minghui correspondent in Anhui Province, China
(Minghui.org) Having lost both his brother and sister within three months in 2012 due to the persecution of their shared faith in Falun Gong, a former engineer in Hefei City, Anhui Province has suffered his fair share of the persecution too. 
Following his arrest five years later on March 28, 2017, 65-year-old Mr. Ji Guangkui was severely tortured while being interrogated at the local police station. He had bamboo sticks pushed into his fingers, was struck on the head and the chest, and was also put in a chokehold.
The Chaohu Court sentenced Mr. Ji to four years on May 24, 2018, with a fine of 50,000 yuan. He appealed the verdict but it was turned down by Hefei City Intermediate Court on September 20, 2018. 
Mr. Ji was taken to the Suzhou Prison on September 27. Because he refused to renounce Falun Gong, the guards only allowed him to spend 50 yuan each month to buy daily necessities, when the average national allowance for prisoners was 300 yuan. 
The guards didn't only block Mr. Ji's family from visiting him, but also barred him from calling them. When Mr. Ji tried to argue with the guards about the denial of phone calls, the guards verbally abused him and sprayed him with pepper water. As the guards didn't allow him to wash off the pepper water, his neck festered and his face and eyes were swollen for a long time.
The guards also handcuffed him behind his back and hung him up by the wrists inside a metal cage. Then the guards organized the inmates to gather in front of the cage to watch Mr. Ji's suffering in order to humiliate him. The handcuffs cut into his flesh and caused his hands to bleed. His hands also became swollen and made it difficult for the handcuffs to be removed later on.
Mr. Ji filed a complaint against the torture. After the guards found out, they hung him up by the wrists for eight hours from 3 p.m. to 9:30 p.m. and sprayed him with pepper water again. A guard slapped him in the face more than ten times. He wasn't given any food or allowed to take a shower. The guards continued the hanging torture the next day and also ordered him to write a statement to admit his wrongdoing (for filing the complaint).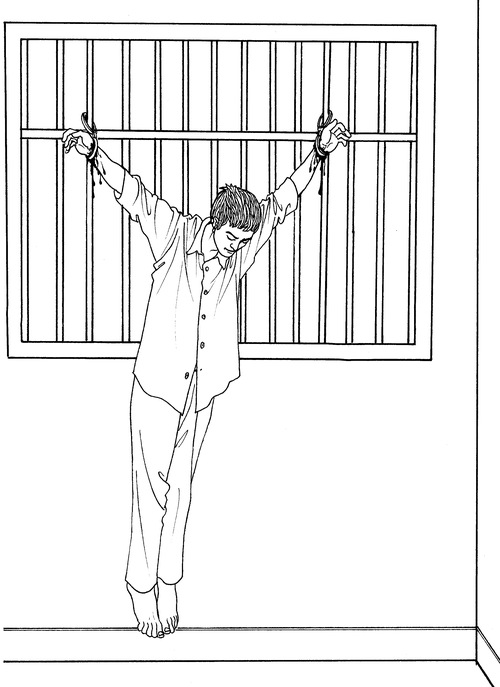 Torture illustration: hung up by the wrists
To get Mr. Ji's signature on the prepared statement renouncing Falun Gong, the guards handcuffed him, pressed his face against the desk, and forcibly held his hand to press on the statement. 
After enduring four years of non-stop torture, Mr. Ji was released on March 18, 2021.
Deaths of Two Family Members
In addition to the persecution Mr. Ji has endured, his brother and sister suffered even more severe torture and abuse that eventually claimed their lives.
His older brother, Mr. Ji Guangjie, was arrested in July 2003 and sentenced to seven years at the same Suzhou Prison. He suffered intensive torture and developed extremely high blood pressure. The prison didn't approve his medical parole until he suddenly fainted after suffering a stroke in June 2009. He remained bedridden for the next three years and died on June 3, 2012. He was 65.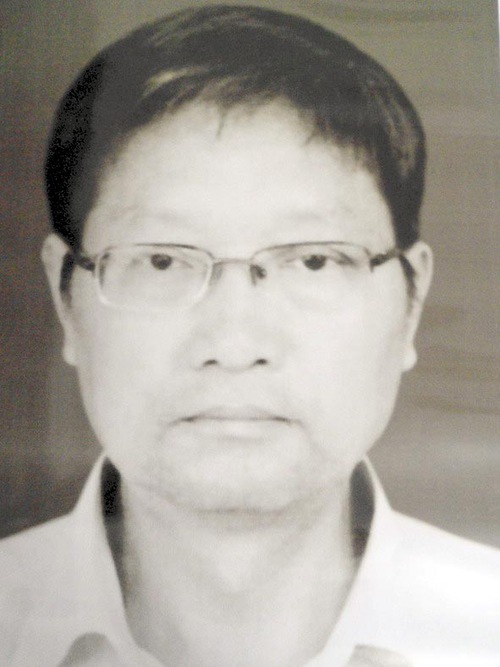 The late Mr. Ji Guangjie
Mr. Ji Guangjie's wife, Ms. Zhang Lanping, served two labor camp terms for practicing Falun Gong and almost died from force-feeding. Due to repeated arrests and incarceration, the couple only lived together with their son for three years since the onset of the persecution and before Mr. Ji passed away. 
Mr. Ji Guangjie's sister, Ms. Ji Guangxiong, an elementary school teacher, died on March 25, 2012, after enduring repeated arrests, harassment, brainwashing, and injection with unknown drugs during her detention.
The late Ms. Ji Guangxiong
Related reports:
Anhui Engineer Imprisoned With a Four-Year Term for His Belief
Anhui Man Arrested and Interrogated with Torture
All articles, graphics, and content published on Minghui.org are copyrighted. Non-commercial reproduction is allowed but requires attribution with the article title and a link to the original article.
Category: Accounts of Persecution