69-year-old Man Suddenly Dies in Prison While Serving Time for His Faith
April 29, 2021 | By a Minghui correspondent in Heilongjiang Province, China
(Minghui.org) A Daqing City, Heilongjiang Province resident passed away on April 4, 2021 while serving a seven-year term for his faith in Falun Gong, a spiritual discipline that has been persecuted by the Chinese communist regime since 1999. While the Tailai Prison claimed that 69-year-old Mr. Lu Guanru died of a stroke, his family suspects that he may have been tortured to death, as the Tailai Prison has a track record of torturing detained practitioners who refused to renounce their faith.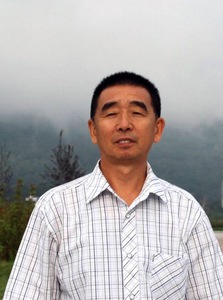 Mr. Lu Guanru
Mr. Lu was arrested on November 9, 2018, in a sweep of more than 60 Falun Gong practitioners in both Daqing and Harbin City, the capital of Heilongjiang Province. While he was held at the Daqing City Detention Center, the police interrogated him, forced him to stand for long hours and wear shackles. His arrest was approved by the Ranghulu District Procuratorate on December 15, 2018.
When Mr. Lu went on a hunger strike to protest the persecution, the guards force-fed him, which caused him to vomit blood and suffer heart failure. He was on the verge of death, and was resuscitated at the hospital several times.
Mr. Lu was indicted by the Ranghulu District Procuratorate on March 30, 2019, and he appeared in Ranghulu District Court on June 6, 2019. His two lawyers entered a not guilty plea for him, and he testified in his own defense. The judge sentenced him to seven years with a 40,000 yuan fine on July 1, 2019. He appealed the verdict, but the Daqing City Intermediate Court upheld his sentence without a hearing on July 23.
Despite his serious medical condition, the detention center took him to Hulan Prison on July 30, 2019 to serve time, without notifying his family. The prison guards said that they would accept him even if he was incapacitated.
Mr. Lu was transferred to the Tailai Prison in November 2019 and died there on April 4, 2021. Details about his death are being investigated.
Past Persecution
Mr. Lu, a former construction finance manager, took up Falun Gong in 1994 and credited the practice for curing his medical condition.
After the persecution started, he was detained twice and served more than one year of forced labor. At the labor camp, he was beaten, subjected to freezing temperatures, and had his hands tied with thin ropes. He was also forced to do hard labor, which caused him to age rapidly. After his release, Mr. Lu was forced to live away from home for the next 18 years to avoid further persecution.
When his daughter got married in 2006, Mr. Lu and his wife could only afford to purchase a new set of clothes for the newlyweds. His daughter cried while they were clothes shopping together.
"I knew she didn't want us to do anything more for her, knowing how hard it was for us to make a living. But this [buying clothes] was the only thing I could do for her," Mr. Lu recalled.
Arrested for Appealing for the Right to Practice Falun Gong
Mr. Lu and his wife, Ms. Sun Zhongping, who also practices Falun Gong, went to Beijing to appeal for their shared faith on April 12, 2000 and were arrested. The officers body-searched them, confiscated all of their cash, and brought them back to Daqing City. Mr. Lu was detained at Longfeng Detention Center, while Ms. Sun was kept at Daqing City Detention Center.
During the one month detention there, Mr. Lu was subjected to savage beatings by the detainees. They also shaved his head and took away all the new clothes he specially wore for the trip to Beijing.
Not long after release, Mr. Lu and his wife were arrested again on June 18, 2000 for doing the Falun Gong exercises outdoors with other practitioners.
The police kept Mr. Lu in an isolated room and interrogated him. One officer scraped his buttocks and beat his head with his leather shoe for four hours. Even the officer had to take a break from the beating once in a while.
Mr. Lu's head swelled severely, and his eyes were almost squeezed shut. His buttocks were covered with dark bruises and became numb from the beatings.
He was later given one year of forced labor, during which he suffered more forms of torture as a way to force him to renounce Falun Gong. His term was extended by one month and seven days.
Details of Torture in the Daqing Forced Labor Camp
Before the labor camp system was abolished in 2013, the Daqing Forced Labor Camp had been actively persecuting Falun Gong practitioners. One of the most notable cases was computer engineer Mr. Wang Bin, who sustained a ruptured carotid artery, ruptured blood vessels, and fractures as a result of torture there. His tonsils and lymph nodes were ruptured as well. The backs of his hands showed infected cigarette burns. Cigarette butts were inserted into his nose and burned him. He was covered with bruises. After he was beaten to death, his organs were removed.
For Mr. Lu, he was subjected to being tied up, freezing and standing torture as documented below.
Tied up
Because Mr. Lu was found doing Falun Gong exercises in the labor camp, the guards wrapped half-inch-thick rope around his arms and tied it up behind his back. Four people tightened the rope every 15 minutes. When they loosened the rope, his arms were pale and had deep dents. He screamed in pain. A guard taped his mouth shut and kicked him. He fell to the ground, but was unable to make any sound despite the extreme pain. "The suffering felt like they were skinning me alive." he recalled.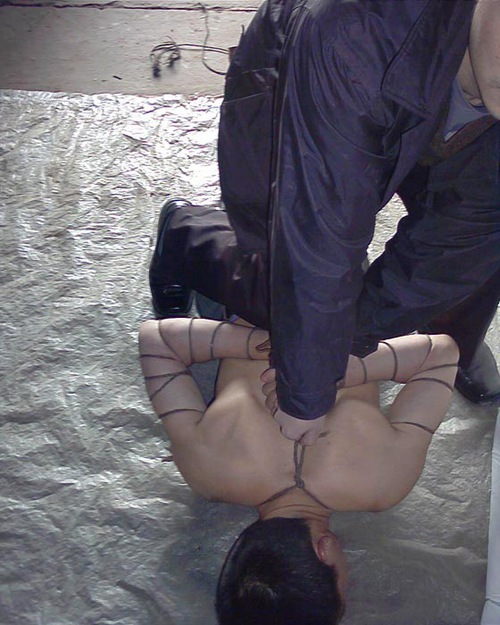 Torture reenactment: tied up
Freezing
February is the coldest month in Heilongjiang, the northernmost province in China. The temperature is usually well below freezing. Because Mr. Lu did the Falun Gong exercises, the guards took off his coat and pants and tied him to the metal pole of a basketball goal outdoors for two hours. It was so cold that his limbs lost feeling and his mind went blank. Even the guards, who wore snow pants, had to put on a thick blanket to warm up after they went inside.
Standing torture
The labor camp often ordered practitioners detained there to write statements to renounce their faith. When Mr. Lu refused to write such statements, the guards left him outside and exposed him to mosquito bites and scorching sun in the summer.
At night, he was forced to stand facing the wall for hours, with his head lowered and his arms stretched behind his back. As his sweat kept dripping, the guards beat his head with a mop handle. Several sticks broke from the beatings.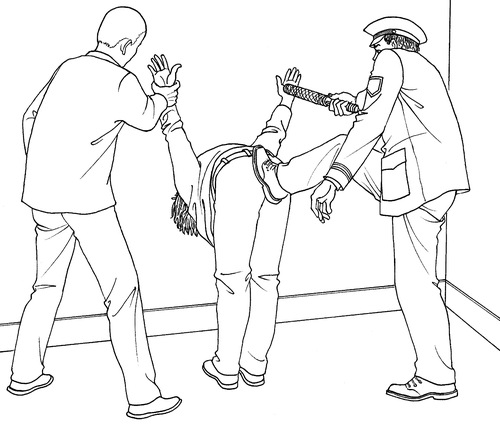 Torture reenactment: standing with arms stretched behind one's back
Related reports:
Man in Serious Condition Secretly Admitted to Prison to Serve Seven Years for His Faith
Snapshot of Falun Gong Practitioners Whose Copies of Lawsuits Against Jiang Zemin Were Received by Minghui on July 15 and 16, 2015
Three Heilongjiang Residents Tried for Their Faith
One of 119 Arrested in One Day, Daqing Man Faces Indictment for His Faith
All articles, graphics, and content published on Minghui.org are copyrighted. Non-commercial reproduction is allowed but requires attribution with the article title and a link to the original article.
Category: Reports of Death Cases