Sichuan Woman Sentenced to Four Years, Suffers Hanging Torture in Detention Center
Feb. 26, 2021
|
By a Minghui correspondent in Sichuan Province, China
(Minghui.org) While being held at a detention center following her arrest for practicing Falun Gong, a Xichang City, Sichuan Province resident was hung up several times by her wrists and tortured by guards. Ms. Luo Mingchun was sentenced to four years in December 2020 and has yet to be taken to the prison.
Falun Gong, also known as Falun Dafa, is a spiritual and meditation discipline that has been persecuted by the Chinese communist regime since 1999.
Ms. Luo was arrested on August 12, 2019 at home by five plainclothes officers. Her Falun Gong books, related materials, photo of Falun Gong's founder, and computer were confiscated. Her father, Mr. Luo Congwen, was also taken to the Hedong Police Station with her, but was released that evening.
Ms. Luo was later transferred to the Liangshan Prefecture Detention Center before being taken to the Xichang City Detention Center, which was in the same facility.
Because Ms. Luo refused to wear the detainees' clothing or answer roll call upon arrival at the detention center, guard Song Jianping locked her to a utility pole for the entire morning of August 18.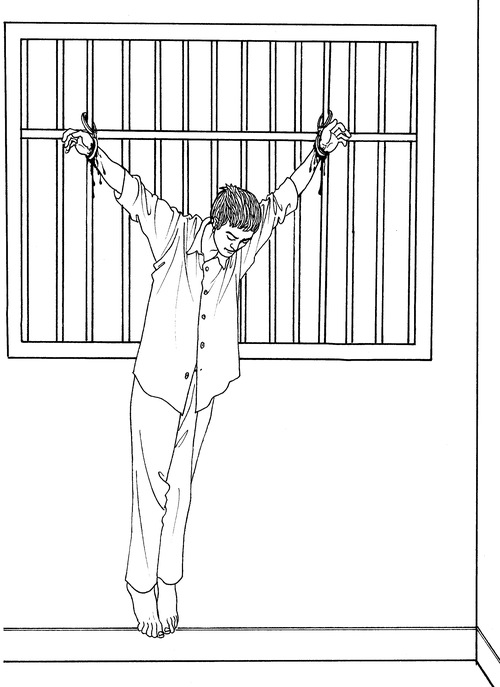 Torture illustration: hung up
When Ms. Luo resisted an inspection at the detention center at a later time, guards Song and Yang Hongping ordered armed officers to drag her out. Her clothes were torn as she was dragged along the sidewalk.
The officers hung Ms. Luo up by her wrists on the door frame, with her toe-tips barely touching the ground. Her hands became bruised soon after. As time went on, her whole body became painful. She had difficulty breathing and she felt exhausted and thirsty. The guards kept her hung up for the entire morning. When she was let down, her arms were already injured and unable to hold things.
Guard Yang ordered the officers to hang Ms. Luo up for the third time in early December 2019 when she resisted to wear the inmates' clothing again. To punish her, they threw away all of her own clothing and didn't allow anyone to give theirs to her.
When Ms. Luo's lawyer came to visit her, an officer named Wang Kai handcuffed her behind her back. While walking to the visitation room, he pushed her, pulled the cuffs to make it tighter and also verbally abused her.
Ms. Luo was tried by the Xichang City Court on May 28, 2020 together with five other Falun Gong practitioners and one of their spouses. The seven of them were sentenced to six months to five years on December 9, 2020.
Among them, Ms. Xu Shaoqiong and Ms. Yu Hongying, who were sentenced to 14 and 18 months, respectively, have been released after serving their time.
Ms. Luo, Mr. Huang Biao (sentenced to five years) and Ms. Zhao Jun (sentenced to three years) are now held at the Xichang City Detention Center. Ms. Zhou Xianrong (sentenced to two years) is being detained at the Liangshan Prefecture Detention Center. Ms. Zhou's husband, Mr. Pan, who was sentenced to six months and doesn't practice Falun Gong, was said to still be held at the Xichang City Detention Center at the time of writing.
Related reports:
Seven Sichuan Residents Sentenced to Prison, Families in Distress
Six Falun Gong Practitioners and One Spouse Stand Trial
Four Sichuan Residents Indicted for Their Faith, File Appeals to Have Cases Dropped
Six Falun Gong Practitioners and One Husband Face Trial
Sixty-four Falun Gong Practitioners Arrested in Two Weeks in Sichuan Province