(Minghui.org) Mr. Chen Xinye is still detained incommunicado, four months following his arrest on July 22, 2021, for practicing Falun Gong, a spiritual discipline that has been persecuted by the Chinese communist regime since 1999.
It's reported that the 45-year-old Shenyang City, Liaoning Province resident is being held in a secret location, not any of the local lockups or detention centers. A special task force was established under the Shenyang Public Security, which threatened and monitored his family members in an attempt to collect information of more local Falun Gong practitioners.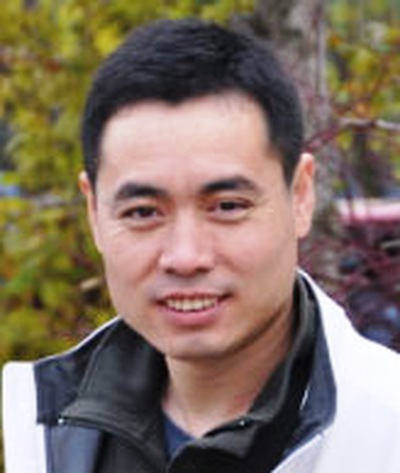 Mr. Chen Xinye
Mr. Chen was arrested at around 8:20 p.m. on July 22, 2021, when he went to the restaurant where his wife Ms. Chen Lihui worked, to take her home. Nearly 30 plainclothes officers stormed in and forced the customers to leave. When Mr. Liu Xianyong, a customer who also practices Falun Gong, tried to resist, the police pushed him down and handcuffed him.
The police handcuffed Mr. Liu, Mr. Chen, Ms. Chen, and the 11 other restaurant employees and forced them to half-squat while searching the restaurant.
Not finding anything related to Falun Gong, the police dismantled all the surveillance cameras in the restaurant. At around 10 p.m., they put black hoods on all 14 people, put them in the police van, and made them squat in the back.
Eight plainclothes officers ransacked the Chen couple's home and confiscated their Falun Gong books, the photo of Falun Gong's founder, computer, and cellphone. When their daughter asked the police where her parents were, no one answered her.
When the restaurant employees didn't return home, some of their family members went to the restaurant to look for them. One employee's relative tracked her cellphone location and saw that she was in a hotel in Faku County. After being interrogated overnight, the 11 employees were released the next day. Mr. Liu, Mr. Chen, and Ms. Chen remained detained.
On the evening of July 23, a Xindong Police Station officer informed the Chen couple's daughter that her mother was under house arrest but refused to tell her where her mother was being held. The police refused to divulge any information about Mr. Chen except to say that details about his case would be available on July 28.
When the daughter called the police on July 28, she was directed to the Dadong Police Department. On July 29, the Dadong Domestic Security Office called the daughter and told her to bring daily necessities for her parents to the Dadong Police Department, but they still refused to say where the couple was being detained or who was in charge of their case.
Over the next three weeks, the couple's daughter, in her 20s, went to 16 government agencies, including several police stations, police departments, detention centers, Domestic Security Office, Political and Legal Affairs Committee, the local government office, appeals office, and the procuratorate, to look for her parents, only to be told that their case was confidential and she should just go home and wait for the update.
On August 21, Ms. Chen was released, after being fined 5,000 yuan.
Mr. Chen and Mr. Liu remain in custody. Mr. Liu's elderly mother went to the Faku County Detention Center to demand his release but to no avail.
Mr. Chen's family recently learned that he was once held near a military base in Shenyang and is now possibly detained at the Caili Business Hotel in Xinmin City, a county-level city under the jurisdiction of Shenyang. Zhang Qi of the Dadong Police Station and director Wei of Dadong District Domestic Security Office are involved in his case. 
Another Practitioner Arrested for Rescuing Mr. Chen
At 4 a.m. on October 9, 2021, Ms. Guo Xuhong, a 50-year-old resident of Faku County, which is under the administration of Shenyang, was arrested on her way to work. It's reported that she is also held at the Caili Business Hotel in Xinmin and the police targeted her as she was involved in the efforts to rescue Mr. Chen.
According to Ms. Guo's husband, she was arrested by seven plainclothes officers, who arrived in unmarked cars with civilian plates. The police also arrested the husband and interrogated him about what Ms. Guo was doing recently. While ransacking their home, the police also took away several cell phones used by her husband. 
Two Previous Prison Sentences of Mr. Chen
Mr. Chen, a native of Tieling City, Liaoning Province, took up Falun Gong in 1997. During the 2008 Beijing Olympics, when their daughter was 8, the police arrested him and his wife in front of the little girl. She was so terrified that she shook uncontrollably. Mr. Chen was later sentenced to four years. 
Shortly after he was released in 2012, he found a job as the sales manager of a precision instrument company, only to be arrested while on a business trip to nearby Dandong City. He was tortured and later sentenced to another four years in prison. 
Below is his own account of his two prison sentences.
First Four-year Sentence
"In May 2008, officers of the Santaizi Police Station broke into my home. They tied me up and pressed me against the ground. They stuffed my mouth, put a black hood on my head and took me to the Yuyinglou Hotel. I heard over 60 practitioners were arrested around the same time.
"They interrogated me in the hotel. They slapped me in the face with a slipper dozens of times. They stripped my clothes and shocked me with electric batons. Feeling that the electric current wasn't strong enough, the police poured water over my body and electrocuted me again, until the battery ran out. They took turns beating me with a black rubber mace about two feet long, for two consecutive days. They also stuffed me under a small chair and then had a heavy officer sit on it. I was suffocated and the feeling was impossible to describe.
"The police later transferred me to the Huanggu Detention Center. The guards forced me to recite the detention center rules and would beat me if I didn't cooperate. I was given the uniform for death-row prisoners and forced to wear shackles. The steamed buns they gave me were black and the vegetable soup was loaded with sand. 
"Thirty inmates shared the room with a maximum capacity of twenty people. We had to sleep on our side. Every day, I was only allowed to use the restroom twice. Some practitioners' families made 2,000 or 3,000 yuan deposits for them, yet the guards only gave them a bag of peanuts. When our families sent clothes to us, the inmates always picked it first and gave us whatever they didn't want. 
"After fourteen months at the detention center, I was sentenced to four years and taken to the Kangjiashan Prison.
"Upon arriving at the prison, I was forced to sit on a small stool from 6 a.m. until 6 p.m. I had to sit up and couldn't move, or I would be beaten or verbally abused by the inmates. In the hot summer of July, over twenty people shared a bottle of water every day and everyone only got a sip of it. Four inmates monitored me around the clock and they reported everything I did and said to the guards.
"After one month of intensive torture, they began to have me do forced labor. I was assigned to polish synthetic diamonds, with sizes ranging from a sesame seed to a soybean seed. The long-term work caused my vision to decline quickly and I developed diplopia as a result.
Second Four-year Sentence
"I found a job as the sales manager of a precision instrument company shortly after I was released in 2012. I went on a business trip to Dandong on December 11, 2012. A hotel staff member knocked on the door in the morning. After I opened the door, a group of plainclothes officers broke in. I was arrested again and taken to the Zhenxing Police Station. When the temperature was -10 °C outside, they left me in a metal chair overnight in a room without heat.
"The next morning, my father and supervisor at work went to the police station to demand my release. The deputy police chief told me about it. I said to him, 'My father is in his 80s. Now his only son is arrested. It's normal for him to worry about his son, who didn't do anything wrong, but only tried to be a good person. You also have parents, and I believe you know how my father feels.'
"The police still restrained me in the metal chair and didn't give me any food to eat. When I refused to cooperate with them in signing the case document, they beat me and knocked me to the ground.
"After having a physical at the hospital, I was taken to the Dandong Detention Center, where I was detained for six months. I was later sentenced again to four years and taken to the notorious Benxi Prison.
"The Benxi Prison is a persecution base in Liaoning. For many years, the prison used all kinds of torture methods on Falun Gong practitioners in order to force us to renounce our faith.
"I was held at the third ward in the prison. The guards arranged for me to make plastic bags. My nails were broken and I had multiple injuries on my hands. The guards would beat me or shock me with electric batons if I didn't finish the daily quota.
"Although I was forced to write a statement renouncing Falun Gong in the prison against my will, I published another statement in Minghui after I was released to nullify the renouncing statement."
Related reports:
Two Liaoning Men Remain in Custody Two Months after Being Arrested for Their Faith
Three Liaoning Residents Detained Incommunicado
Beaten and Tortured in Custody, Shenyang Man Escapes House Arrest
Mr. Zhen Zhanbo and Mr. Chen Xinye Illegally Tried by Court in Shenyang City
Practitioners Mr. Chen Xinye and Mr. Han Chunlong Arrested During Business Trip to Dandong City
Families File Complaints to Protest Police Crimes Against Mr. Chen Xinye and Mr. Han Chunlong
Severe Mistreatment of Mr. Han Chunlong and Mr. Chen Xinye by Police and Judicial Departments
So-called Public Trial Permitted Only One Family Member to Witness the Proceedings
Two Families Severely Persecuted During the "Harmonious Olympics"
Han Chunlong and Chen Xinye Tortured During Interrogation, Police Attempt to Have Them Sentenced Illegally