70-year-old Woman Passes Away After Two Decades of Persecution
(Minghui.org)
Chinese Name: 王香菊Gender: FemaleAge: 70City: DandongProvince: LiaoningOccupation: N/ADate of Death: August 5, 2021Date of Most Recent Arrest: March 2009Most Recent Place of Detention: Liaoning Province Women's Prison
Since the Chinese Communist Party began to persecute Falun Gong in 1999, Ms. Wang Xiangju has been sentenced twice to a total of nine years. She barely survived the constant torture, only to be subjected to more harassment after she was released. The authorities has also suspended her pension, her only income source, since 2016. The long term persecution took a toll on her health. She suffered a cerebral hemorrhage and became incapacitated. The Dandong City, Liaoning Province resident passed away on August 5, 2021. She was 70.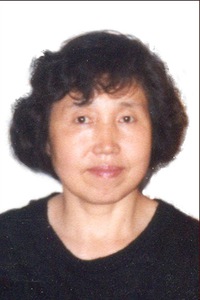 Ms. Wang Xiangju
Early Arrests
Ms. Wang took up Falun Gong in 1998. For talking to people about Falun Gong after the onset of the persecution, she was arrested in March 2000. The police confiscated all of her Falun Gong books at home. One officer tore the photo of Falun Gong's founder off a Falun Gong book and stepped on it. They also ordered her to write a statement to renounce Falun Gong. She refused to comply. Ms. Wang was held at the Baifang Detention Center for a month on charges of "disrupting social order." She was also forced to work without pay.
Ms. Wang was arrested again and detained for five days in the fall of 2001 after being reported for distributing informational materials about Falun Gong.
Sentenced to Five Years
Ms. Wang was arrested one more time in late August 2002, after being reported for distributing Falun Gong materials. At the Sidaoqiao Police Station, the police hung her up by the wrists inside a metal cage for three days. They removed her shoes, leaving her feet barely touching the ground. The police also arrested her husband and son and held them in the police station for one night, in an attempt to weaken her willpower.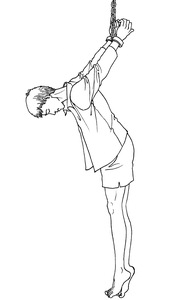 Torture illustration: hanging up
Ms. Wang was later indicted by the Zhenxing District Procuratorate and sentenced to five years by the Zhenxing District Court. The Liaoning Province Women's Prison denied her family visits and forbade her from buying daily necessities, with the excuse that she didn't renounce Falun Gong.
When her family was finally allowed to visit her, they were ordered to persuade her to give up Falun Gong and they weren't allowed to say anything positive about Falun Gong, or the visitation would be terminated immediately. Several guards usually monitored the visitation and constantly interrupted the practitioners' conversation with their families. Most visitation lasted from ten minutes to half an hour. The guards also checked all the correspondence the practitioners had with their families.
The prison posted high rewards and annual bonus for the guards to transform the practitioners. The inmates who took part in it would also receive term reductions.
While being held at the seventh ward, Ms. Wang was once kept in solitary confinement for ten days. Her use of the restroom was restricted. The inmates verbally abused her with foul language.
In addition to the physical torture, Ms. Wang was also forced to do intensive labor without pay. The fatigue and malnutrition caused her to develop high blood pressure. Her calves were severely swollen and she was unable to put on her shoes. Her skin color also turned dark. Despite her condition, the guards continued to force her to work.
As Ms. Wang refused to renounce Falun Gong when she was released in August 2007, the police constantly harassed her at home, called her and monitored her daily life.
Paralyzed After Second Four-year Prison Term
Ms. Wang's last arrest was in March 2009 when she was talking to people at a farmers' market. As she refused to reveal her name and address, Zheng Xiangyang, the deputy police head, threatened to sentence her to several years in the prison. Zheng also ordered the officers to fabricate evidence against her. One officer also pretended to be a witness and testified against Ms. Wang.
When Ms. Wang's lawyer went to the Yuanbao District Court to review her case document on July 28, 2009, a day before her hearing, the court's vice president Wang Yujuan and presiding judge Ma Shuhe didn't allow him to do so. They also said that he wasn't allowed to enter a not guilty plea for Ms. Wang or talk about whether the persecution has a legal basis or not.
Judge Ma said to the lawyer, "Don't cause any trouble for me. If you don't do as I told you, I will have you removed from the court."
During the hearing, the judge indeed frequently interrupted the lawyer. When the lawyer requested the witnesses to appear in court to accept cross examination, the judge ignored him and said that the evidence had been destroyed as it posed tremendous harm to the society. Ma also claimed that the more the lawyer defended Ms. Wang, the heavier her term would be.
On the second day of the hearing, the judge sentenced Ms. Wang to four years. Her family wasn't informed of it until days later. They appealed the verdict on her behalf with the Dandong City Intermediate Court, which ruled to uphold the original sentence without a hearing or any explanation.
While Ms. Wang was held at the Dandong City Detention Center, a guard often smeared Falun Gong. Ms. Wang tried to explain to her the facts about Falun Gong, but was slapped in the face by the guard.
After Ms. Wang was transferred to the Liaoning Province Women's Prison on October 20, 2009, a guard and two inmates tortured her for twenty days, including forcing her to stand or squat from 6 a.m. to 10 p.m., as well as beating, verbally abusing and spitting on her. She was also forced to watch slanderous videos against Falun Gong as the guards tried to force her to renounce her faith.
The guards began to force Ms. Wang to work from 7 a.m. to 7 p.m. after she was transferred to the ward for elderly practitioners on November 9, 2009. Sometimes she was forced to work overtime when the guards increased the work load.
When Ms. Wang refused to work at night, the guards arranged seven inmates to work as a team to torture her on February 22, 2010. They all worked hard to get term reductions. In the beginning, they didn't allow Ms. Wang to sleep and restricted her in using the restroom or washing herself. As soon as she closed her eyes, they threw objects on her head, face or her body, as well as dragging her arm and pulling her clothes.
At 3 a.m. on February 28, 2010, an inmate ordered Ms. Wang to stand without sleep, while she was drinking wine and having peanuts on the side. As Ms. Wang was too sleepy to keep her eyes open, the inmates poured water on her body, twisted her ears, pinched her cheek, pulled her nose and hit her chest, causing excruciating pain. The inmates also pulled her clothes and pushed her to the ground. Then they dragged her up and hit her against a metal ladder.
Ms. Wang suffered intensive pain on her back after the torture. It became even difficult for her to take off her clothes. After an examination in the hospital, she was found to have comminuted fracture of lumbar spine. She began to have difficulty walking and she became bedridden and had to use a wheelchair to get around. Her family applied for medical parole for her, but was rejected by the prison.
When Ms. Wang was released in 2013, the guards took away her verdict notification. After enduring two terms of nine years in prison, she was very weak and haggard. She suffered a cerebral hemorrhage and had four major craniotomies within four months. She was bedridden and relied on her family to care for her.
After struggling with poor health for a few years, she passed away on August 5, 2021.
In December 2016, the local social security bureau also suspended her pension. The withheld amount totaled over 80,000 yuan at the time of her death.
Related reports:
Ms. Wang Xiangju Is Sentenced to Four Years in Prison As the Court Warns, "The Greater the Defense, the More Severe the Sentence"
Judiciary Officials of a Dandong Court Stop a Lawyer's Defense
All articles, graphics, and content published on Minghui.org are copyrighted. Non-commercial reproduction is allowed but requires attribution with the article title and a link to the original article.