Woman Extensively Tortured in Prison Before Her Passing, Authorities Cite Cirrhosis as Cause of Death
(Minghui.org)
Chinese Name: 付贵华Gender: FemaleAge: 55City: ChangchunProvince: JilinOccupation: N/ADate of Death: July 25, 2021Date of Most Recent Arrest: August 15, 2019Most Recent Place of Detention: Jilin Province Women's Prison
Ms. Fu Guihua passed away on July 25, 2021, two months after she was taken to the Jilin Province Women's Prison to serve a 7.5-year term for practicing Falun Gong. While the prison guards claimed that Ms. Fu died of cirrhosis of the liver, her family suspects foul play, as she was extensively tortured before she died.
Falun Gong, also known as Falun Dafa, is a spiritual discipline that has been persecuted by the Chinese communist regime since 1999.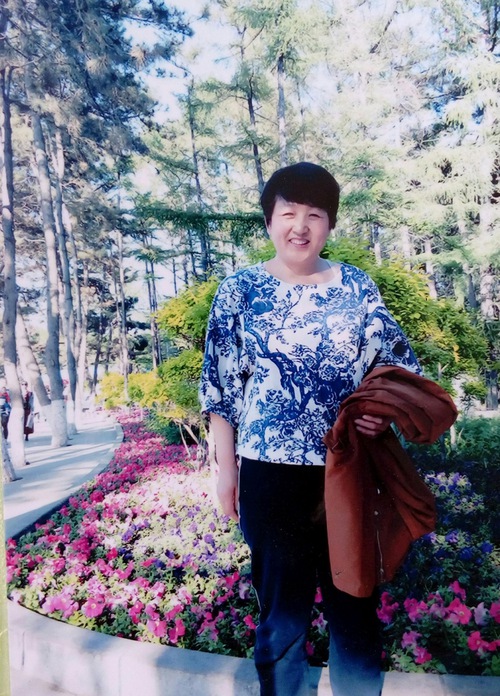 Ms. Fu Guihua
The Notorious Prison
Guards at the eighth ward of Jilin Province Women's Prison have been very actively participating in persecuting Falun Gong practitioners in the past two decades. After Qian Wei joined it as the new ward director in 2020, he personally intimidated each newly admitted practitioner and ordered the inmates to transform them.
On each of the four floors at the eighth ward, the guards designated a room and a group of six inmates to torture the practitioners. The inmates were told to use all possible torture methods on the practitioners and would be exempt from responsibility should they torture any practitioner to death.
After Ms. Fu was taken to the eighth ward on May 27, 2021, she was first held on the first floor for two weeks. As she refused to renounce Falun Gong, Qian moved her to the designated room on the third floor and treated her as a key "transformation target." Qian also barred her family and lawyer from visiting her and didn't allow her to call them.
Tortured Before Death
At room 310, Qian instigated inmate Guo Lihua, a scammer who was sentenced to 23 years, to persecute Ms. Fu. Guo forced her to sit on a six-inch-deep stool with uneven surface every day for over twelve hours. She placed a piece of paper between Ms. Fu's legs and would verbally abuse her if the paper dropped.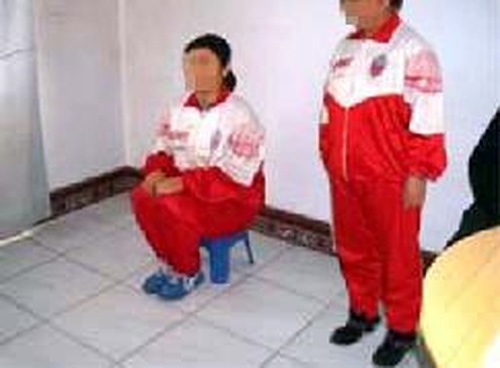 Torture reenactment: sitting on a small stool
During the hot summer, Ms. Fu's buttocks began to bleed and had pus oozing out. The back of her pants was covered with stains.
Guo also forbade Ms. Fu from drinking water, a torture that has been used on many practitioners. Ms. Fu was so thirsty that it was difficult for her to have her meal. Only then would Guo give her a small sip of water. Some practitioners were so thirsty that they rushed out of the cell in the middle of the night and drank water used for cleaning.
As Ms. Fu still refused to give up Falun Gong after spending 43 days in cell 310, Qian transferred her to the next room, 311, for more intensified persecution. Inmate Lyu Xinmiao deprived her of sleep and continued to bar her from drinking water. Ms. Fu passed away within three days.
At 1 a.m. on July 25, the day when Ms. Fu died, inmate Ji Kexin (a 16-year-old convicted murderer) bragged to another inmate at the end of her shift of monitoring Ms. Fu that she didn't allow her to close her eyes for 1.5 hours.
By 3 a.m., Ms. Fu was carried out from the cell and she died later that evening. It's not clear what Qian and inmate Lyu did to her from 1 to 3 a.m.
The next day after her death, inmate Guo was very scared. She fell sick and was bedridden for two days. After she recovered, she said, "Since I'm a long-term inmate, even if I'm responsible for her death, what can they do to me."
Qian also forced every inmate in cell 310 to write a false testimony that "Ms. Fu died of a medical condition, which she kept to herself without telling the guards."
When her family demanded to see her body at the hospital, the doctor said, "Let me clean up the blood and the operating room. I will let you see her after that." When her family later asked again, the prison guards used all kinds of excuses to keep them from seeing her body.
The authorities later moved Ms. Fu's body to the Chaoyanggou Funeral Home without informing her family. The funeral home also prevented her family from seeing her body and insisted that they only see it in the presence of a prison guard.
Ms. Fu's daughter said that she had called the prison numerous times, including on July 24, one day before her mother's death. Guard Gao Yang kept telling her that her mother had been healthy.
Related Reports:
Mother Dies in Custody Under Suspicious Circumstances, Daughter Abused in Prison
Jilin Woman Dies Two Months Following Imprisonment, Family Suspects Foul Play
All articles, graphics, and content published on Minghui.org are copyrighted. Non-commercial reproduction is allowed but requires attribution with the article title and a link to the original article.